Heinz shakes things up with ketchup pasta sauce
Meeting controversial consumer demand Kraft Heinz has announced that it will be releasing a ketchup pasta sauce for a limited time.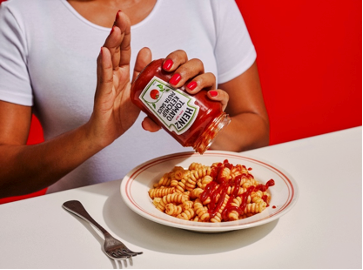 When you think of pasta sauce do you automatically think of ketchup? Well according to a survey carried out by Heinz, 24 percent of Brits do.
It appears to be the younger demographic that is most passionate about this controversial combination, with 36 percent of 18-34 year olds saying it was "right to put ketchup on pasta".
Whether you love or hate the concept and think its "right or ridiculously wrong", Heinz' Tomato Ketchup Pasta Sauce will be hitting Tesco supermarket shelves in October.
But how will consumers respond to this new product? Especially as a total of 59 percent of those surveyed said that they thought the concept of ketchup on pasta is "unacceptable" and would rather use it strictly with other food such as chips (or French fries for our US readers).
Heinz has said that, "right or wrong", it believes ketchup "goes with everything", and to meet demand it has created an exclusive recipe using sun-ripened Italian tomatoes.
 "Never say never! Whether ketchup was originally intended to go on pasta or not, we couldn't help but listen to the love our fans share on social media for the combination," said Caio Fontenele, Heinz New Ventures Director.
"For the ones who said they would be keen to use the sauce in their home cooking, prepare to have your pasta game changed forever. And if you're on the side of people who think having ketchup on pasta is totally unacceptable, don't worry, we still have seven other delicious Heinz Tomato Pasta Sauce recipes ready to tempt your tastebuds".
Responding to consumer demand appears to be something that Heinz takes seriously, as earlier in 2023 that is released a Vodka Pasta sauce following videos on popular social media platform TikTok of people adding vodka to their tomato sauce based pasta dishes going viral.
Kraft Heinz has said that this limited edition release is part of its larger transformation to bring "insight-driven innovation faster to consumers than ever before and grow our taste elevation platform around the world".
But how will consumers respond? And will other companies take a leaf out of Kraft Heinz' book when it comes to observing demand, bottling it and putting it on shelves in rapid time?