Pizza Huts opens 3,000th restaurant
Yum China Holdings has celebrated the opening of Pizza Hut's 3,000th restaurant in China which includes "advanced sustainability solutions".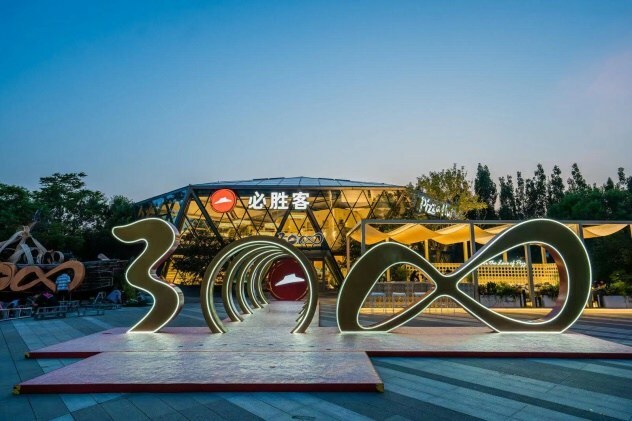 Pizza Hut's 3,000th store in China
Pizza Hut has opened its 3,000th restaurant in Qinhuangdao, China, a coastal city in Hebei province. This milestone marks Pizza Hut's 33 year growth journey in China.
The new restaurant reportedly exhibits "advanced sustainability solutions", including an IoT-based intelligent energy management system and outdoor solar lamps. What's more, the restaurant is said to incorporate renewable and recycled materials in its decoration and layout.
"The opening of Pizza Hut 3,000th store is more than a landmark moment for store expansion. It demonstrates Pizza Hut's strength as a "pizza expert" and reaffirms our commitment to growing the brand in China," said Joey Wat, CEO of Yum China Holdings, a fast food restaurant company based in Shanghai that has 10,600 restaurants worldwide.
"This milestone also underscores our focus on continuous innovation, from menu innovation and digitalization, to a range of new store formats. We believe the brand holds tremendous growth potential in China, and we are committed to actively pursuing expansion opportunities to further grow the brand," Wat continued.
Pizza Hut first set up shop in China in Beijing in 1990. Since then the chain has grown to be the "largest casual dining restaurant brand in China", according to Yum China Holdings.
"Pizza Hut is extremely proud of its heritage as the first restaurant chain to introduce pizza and Western-style casual dining to China," said Jeff Kuai, General Manager of Pizza Hut China.
"From our first store in Beijing to now 3,000 stores nationwide, we have always grown together with our customers. We'll continue to expand our store portfolio, while staying true to our commitment to innovating great food and experiences for our customers."