Smile gluten, you're on camera!
Researchers in Spain have created a new biodetection system which can identify the presence of gluten using your mobile phone in less than two hours.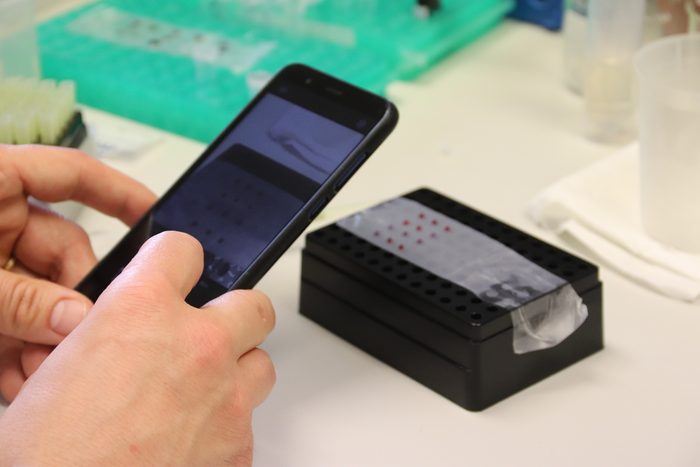 Credit: UPV
Researchers have achieved a big win for those with celiac disease and gluten intolerances, with a new and allegedly easier way to test for gluten – and it involves taking a snap on your mobile phone.
The system designed by a team from the IDM Institute of the Universitat Politècnica de València (UPV) will indicate the presence of gluten through a simple change of colour, with red signalling gluten.
Similar to an antigen test, you only need three droplets from the sample, which are deposited onto a plastic membrane. The user can then take a picture with their phone to find out if the food contains gluten.
The prototype is also capable of identifying how much gluten is in the food by how deep the shade of red is.
"The redder it is, the more gluten concentration there is in that food," explained, Luis A. Tortajada Genaro, one of the team members behind this new device.
"Our prototype is designed to help control foods from the moment they are produced, in such a way that when they reach the table, they are 100 percent safe for the consumer," Genaro continued.
The main advantage of this tool is the ease of use and response time, the researchers noted. Rather than a sample being sent to the lab where it is assessed by a specialised team – with results on average taking at least five hours – this system can detect the presence of gluten in less than two hours.  
"The process is very simple: we take a food sample, we grind it up, extract the DNA and amplify it. Once the sample has been prepared, we mix it in a vial with gold nanoparticles, and in just 10 minutes, it's ready to measure and that's where the cell phone comes into play," described Tortajada.
Preventing fraud in meat products
The team also believes this new test has a place in food fraud detection, specifically to identify adulteration within meat products.
"During the preparation of certain meat products, to improve its properties, grains are added, even though the regulations establish a limit. In our case, we apply the test to detect a specific gene from these grains, with the objective of controlling it to not exceed that maximum quantity," explained Tortajada.
Based on their study's results, the team says it is confident the biodetection system is competitive and will allow for better product control in the future.