60 percent of Brits keen to grow food at home, says Samsung research
Electronics giant Samsung hopes that connected technology can enable more Brits to grow their own produce at home as it launches the UK's first urban-farm-to-table pizzeria.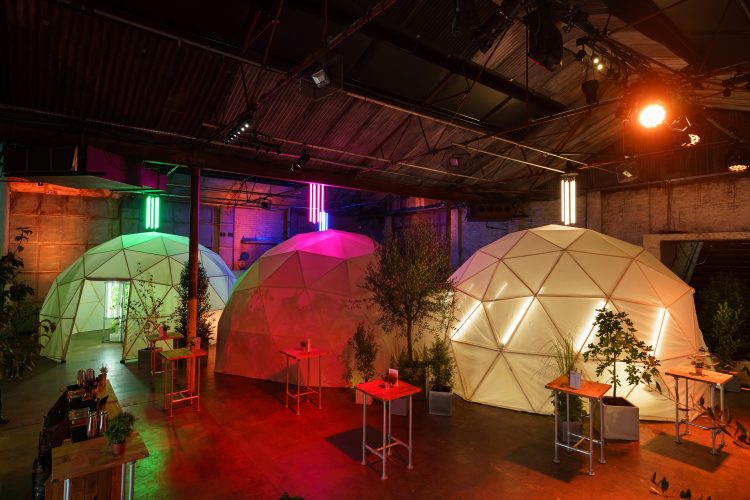 *** FREE FOR EDITORIAL USE *** Samsung has today announced the launch of an exciting new initiative, Project Plant; the UK's first urban-farm-to-table pizza pop up. Powered by Samsung technology and supported by sustainable pizza partners, Purezza, and social enterprise GreenLab, the initiative explores how Samsung's roots in connectivity and tech can inspire the way we select, grow and consume food. Showcasing exciting opportunities in urban farming and allowing them to experience a functioning urban farm. The event runs 15th-17th of October at The Film Shed, Dalston.
Samsung has today released research which shows that millions of Brits living in towns and cities across the UK are keen to start growing their own food. The findings reveal that 60 percent would like to grow their own produce at home, but it's Gen Z urbanites who are proving themselves to be the next green-fingered generation, with almost three quarters (72 percent) of 18-24 year olds tending to mini crops or plants on windowsills (23 percent) and bedrooms (20 percent).
Several reasons have been cited for the home-farming boom – 37 percent of Gen Z said it was to have access to fresher food, to save money (35 percent) and do their bit for the planet (33 percent).
However, for some the green fingered inspiration has yet to strike, with over a third (38 percent) putting it down to their lack of knowledge and a further 41 percent citing lack of space or light (32 percent) as their main barriers to growing at home. An honest third, (32 percent) came clean and cited 'lack of headspace' or simply 'forgetting' to care for their plants – an issue which technology can help to overcome.
The study of 1,500 Brits living in urban areas was released in line with the launch of Project Plant, Samsung UK's new initiative, the UK's first urban-farm-to-table pizzeria in collaboration with social enterprise GreenLab.  
The launch of Project Plant supports a wider trend of people living in cities turning to technology to take the guesswork out of growing their own, with over half (55 percent) using technology when growing from home to enhance the growth of plants; from adapting nutrients to controlling temperature and moisture. In addition, 40 percent of urban Brits said they would welcome digital reminders via apps to water their plants and over a quarter (28 percent) would benefit from a connected hub to switch on growing lamps during colder months when needed
"We are encouraged to see that so many people are already growing their own produce, and that connected technology is viewed as an integral part of shaping the future of our homes and cities," said Amy Campbell, Director of Corporate Marketing, Samsung Electronics UK & Ireland.
"Through Project Plant, we hope to further inspire our customers, and demonstrate how connected technology can help power small space growing."
"We've loved supporting Samsung UK bring Project Plant to life as it's important for us to challenge the way things have always been done in relation to how we produce, shop and consume. Small space growing, especially when enabled by connected tech, is great as it makes use of 'dead' spaces within the home. In addition, small space growing is low cost, it brings us closer to the source of where our food comes from and it's incredibly satisfying on a personal level too," added Andrew Gregson, Director and Founder of GreenLab.