Could Mount Everest's drinking water be polluted?
Heather Clifford, a doctoral student from the University of Maine, has conducted what is thought to be the first analysis of Khumbu ice – and her findings are concerning.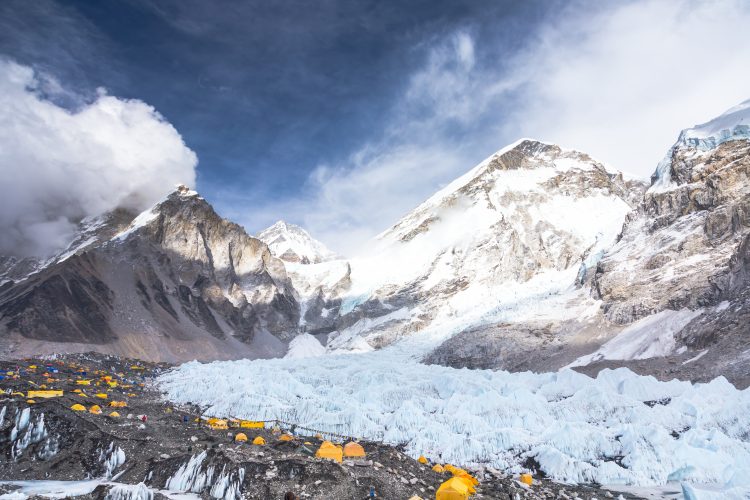 Mount Everest's Khumbu Glacier is responsible for much of the local drinking water supply
Increased tourism and toxic substances transported to the mountain from around the world could be causing high concentrations of metal-pollution in the drinking water around Mount Everest.
That's according to new research from Heather Clifford, a doctoral student in the Climate Change Institute at the University of Maine, which she conducted after taking part in the 2019 National Geographic and Rolex Perpetual Planet Everest Expedition. 
"While our results are preliminary, we find there could be concern regarding the health of those who depend on the Khumbu Glacier melt for drinking water and irrigation," she said.
"Further spatial environmental monitoring, specifically looking into the chemical and biological makeup of the streams, could help to assess health impacts, water quality and potential sources of heavy metals."
Heavy metals do occur naturally within the environment. But human activity can result in significantly higher levels in the atmosphere and in the soil, which can in turn affect the food and drinking water supply.
In the case of the Khumbu Glacier, which can be an often deadly obstacle to would-be climbers of Mount Everest, it is thought that helicopter and generator fuel, as well as batteries and incinerators could be contributing to pollution. Even human waste could be degrading the water supply, according to Clifford.
However, in addition to local pollution sources, mining, metal smelting, oil and coal combustion from miles away could also be factors, as the seasonal South Asian monsoon can carry deposit chemicals from some distance.
In 2019, Clifford analysed the chemical composition of pre-monsoon samples of stream water at 4,300–5,250 meters and snow at 5,200–6,665 meters from Mount Everest, Mount Lobuche, and the Imja Valley, in addition to a shallow ice core recovered from the Khumbu Glacier at 5,300 meters.
Clifford believes this is the first such analysis on Khumbu Glacier ice and the first detailed characterisation of pre-monsoon snow/water elemental chemistry for the region.
The study says meltwater from the Khumbu Glacier is responsible for 65 percent of the local water supply during the dry, pre-monsoon season. In addition to the 3500-6000 locals who depend on this water for cooking, drinking, and irrigation, some 57,000 climbers can make the trek to Mount Everest Base Camp each year, putting even more strain on the water supply.
Clifford says more research needs to be done and more environmental monitoring conducted in an area that is only set to become more vulnerable to heavy metal pollution as tourism around the world's greatest peak continues.