Hospitality industry demands more support as reopening roadmap unveiled
The food and drink industry has called on the UK Government to provide more support as hospitality venues start their countdown to reopening.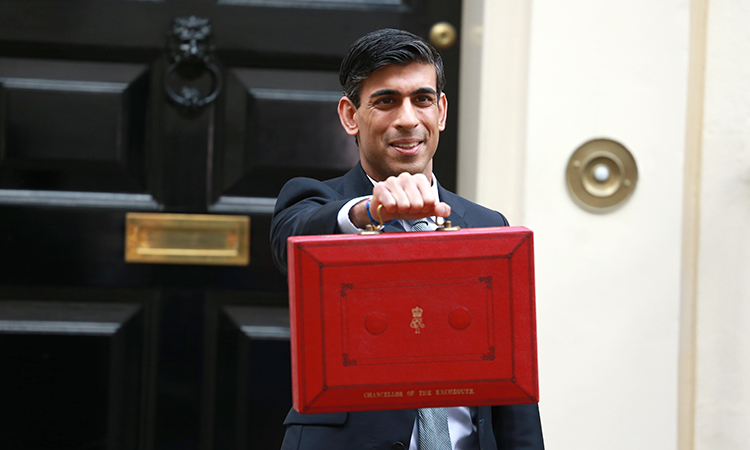 This week's budget was perhaps one of the most important in the UK's history
UK Prime Minister Boris Johnson yesterday laid out the Government's plan to lift lockdown restrictions in what he himself described as a cautious, but optimistic approach. Four stages, each five weeks apart from the last, will gradually open up the country once more after what has been an on/off hibernation for the best part of a year.
Crucially, hospitality venues may soon be afforded the respite from a brutal 12 months they have been craving. 12 April has been slated as the date for outdoor spaces in pubs and restaurants to open, with indoor hospitality resuming on 17 May. Both of these dates are merely the earliest restrictions could be eased, with the exact timing depending on the success of the vaccine rollout and the data that we have all grown accustomed to reviewing remaining positive.
Nevertheless, these dates are still some distance away, and many organisations representing the hospitality industry are calling on the Government to provide additional support in the meantime, specifically in next week's budget.
Chancellor Rishi Sunak will set out the country's financial direction with the famous red briefcase on 3 March, with some newspapers already speculating that the furlough scheme will be extended until the summer months (it had been due to finish at the end of April).
More support required 
The Food and Drink Federation (FDF), which represents the food and drink manufacturing industry in the UK, has demanded more support from the Treasury.
"For a great many of the food and drink manufacturers supplying the hospitality and food service sectors, a return to 'business as usual' seems an awful long way off," said Ian Wright CBE, FDF Chief Executive.
"As such, it is only correct that the Chancellor outlines significant extensions to the furlough and credit insurance schemes as part of his Budget announcement next week. The food and drink industry is the UK's largest manufacturing sector. It will therefore be key to the country's economic recovery, with a footprint in every region.
"Now is the time for government to provide additional support to ensure those businesses most at risk can play their part in putting the country back on its feet."
These calls were echoed by a statement released by James Calder of the Society of Independent Brewers (SIBA), who threatened that some smaller companies were "destined to fail".
"Under the Prime Minister's roadmap published today, many small breweries and community pubs are now destined to fail, just as the vaccination programme should be providing hope and optimism," he said.
"These businesses face an agonising 10 days, given they will only survive if the Chancellor announces significant and immediate financial support next week.
"Although it is welcome that nonsense restrictions like 10pm curfew and substantial meal have been dropped as part of steps two and three of the plan, the vast majority of pubs simply do not have the outdoor space or facilities needed to operate viably and profitably in April," Calder added.
"We know many 'wet led' pubs and craft beer bars will struggle to operate profitably with table service only indoor or outdoor. Whilst takeaway beer from 12 April will help our members, it has only ever been a trickle and is no replacement for a swift and simple re-opening.
"17 May when pubs might be allowed to welcome indoor patrons is 84 days away. In that time the average independent brewery will burn through around £12,500, even with pubs partially open. We need to see brewery grants of between £10k and £30k, based on their size as introduced in Scotland."
Make sure this is the final lockdown to stop food waste 
Though the frustration from the hospitality sector is audible, it is the Government's belief that a cautious reopening will ensure that this raft of measures is the last, avoiding the situation the UK found itself in last Autumn where a swift reopening led to resurgence in COVID-19 transmission.
To many in the hospitality sector though, ensuring the steps are irreversible is more important than rushing to bars and tables. Wasted food and drink as a result of enforced closure has been a much talked about issue during the pandemic, so bars and restaurants will want to ensure that when they open this time, it's for goof.
"What is crucial is that the government does not continue to move the goalposts at short notice after this point, as was the case more recently," said Paschalis Loucaides, UK Managing Director of Too Good To Go – an app which connects consumers with businesses about to throw away food.
"This led to food being wasted on an astronomical scale across the whole supply chain, not to mention the economic burden this has imposed on businesses.
"Not only does wasted food and drink waste the money and resources that have gone into producing it, but it also causes irreparable damage to the environment.
"Having risen to every challenge so far, now is the time for food businesses to see the light at the end of the tunnel and for food waste to be prevented at every turn."