Plant-based protein innovations within the formula category
We discussed Nature's One novel approach of using organic pea protein in baby and toddler formulas with the company's CEO, Jay Highman.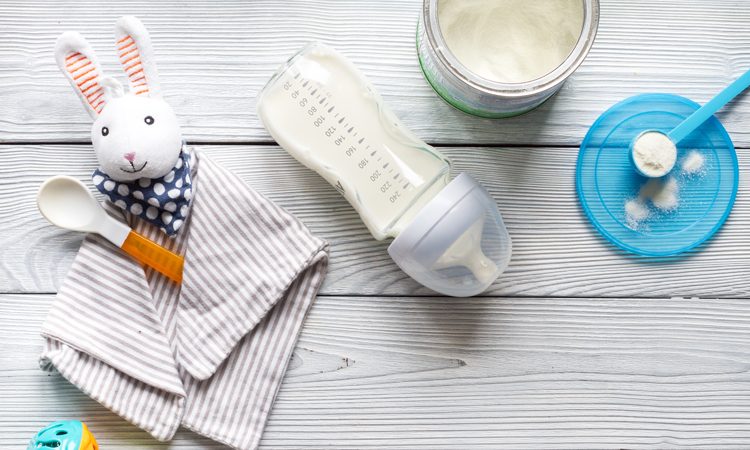 According to Lux Research, plant-based protein could represent one-third of overall protein by 20541. Furthermore, The Good Food Institute shows that US sales of plant-based foods have grown 11 percent in the past year, bringing the total plant-based market value to $4.5 billion2. In fact, the pea protein isolate category is experiencing nearly a 23 percent compounded annual growth rate3.
Whether its protein powders, veggie burgers, or even bakery4, the use of pea protein is on the rise. Given its high nutritional profile, amino acids, and the fact that it is easily digestible, pea protein isolate is a common go-to for manufacturers tapping into the plant-based trend.
The fact that it is easily digestible makes it a logical choice when formulating for fussy eaters and sensitive tummies within the infant formula and baby food category. 
We spoke with Nature's One President and CEO, Jay Highman, about Nature's One new novel approach into using organic pea protein in formulas for babies and toddlers.
What made you look into pea protein as a protein alternative in formula?
"Soy protein is very high in phytoestrogens that may cause hormonal imbalance; pea protein has almost none. For Nature's One, finding a solution to nearly eliminate phytoestrogens was our greatest motivation – especially for baby. Soy also has a tendency to absorb minerals and contaminants from the soil while growing.
"Baby formula nutritional specifications need to be precise. Pea is a preferred plant–based protein with little variability in minerals and is less prone to absorbing contaminants from the organic soil, if present."
Are there any special quality assurance or quality control parameters you needed to consider when formulating with pea protein? 
"Nature's One fully qualifies all ingredients before formulated into our pediatric formulations. There are some minor issues with limiting amino acids in pea, but we are able to carefully formulate with added amino acids to assure a complete protein supporting a child's optimal growth and development."
What has been the consumer and the retailer response?
"Due to demand, sales are restricted and the product is only available on Nature's One Direct website to consumers. Major natural food retail approvals are in-hand and slated for early 2020 shelf placement."
If you were to provide any advice to a manufacturer that is toying with the use of pea-protein, what guidance would you give? 
"Check for metalloids and the amino acid profile of the protein selected and monitor routinely. Not all pea proteins are made equal. Also, there is organic pea protein coming from China that may need higher scrutiny due to the lack of organic integrity and quality assurance oversight.
"We are seeing regional differences in the USA as well that may impact nutritional precision and functionality. Therefore, work with a reputable source that has the highest standards that can be verified."
Expect to see more plant-protein innovations across the food and consumer products categories.
Biography
Jaclyn Bowen MPH, MS is the Executive Director of Clean Label Project and a food safety and quality systems engineer. Prior to joining the Clean Label Project, she spent 15 years at the World Health Organization Collaborating Centre, NSF International, working on the creation and enforcement of food safety and water quality standards and compliance systems. 
References
1. Lux Research [Internet]. Members.luxresearchinc.com. 2019. Available from: http://members.luxresearchinc.com/research/report/16091
2. Simon M. U.S. Plant-Based Retail Market Worth $4.5 Billion, Growing at 5X Total Food Sales – Plant Based Foods Association [Internet]. Plant Based Foods Association. 2019. Available from: https://plantbasedfoods.org/2019-data-plant-based-market/
3. Research A. Pea Protein Market Is Expected to Reach 32.09 Million by 2025 [Internet]. GlobeNewswire News Room. 2019. Available from: https://www.globenewswire.com/news-release/2019/05/15/1825212/0/en/Pea-Protein-Market-Is-Expected-to-Reach-32-09-Million-by-2025.html
4. Pea proteins showing up in more bakery products [Internet]. Food Dive. 2019. Available from: https://www.fooddive.com/news/pea-proteins-showing-up-in-more-bakery-products/547474/