The latest innovation helping to create a net zero food system
EIT Food's Andy Zynga highlights the latest exciting innovation happening across the European food and beverage sector which is helping to shift the dial on the climate crisis.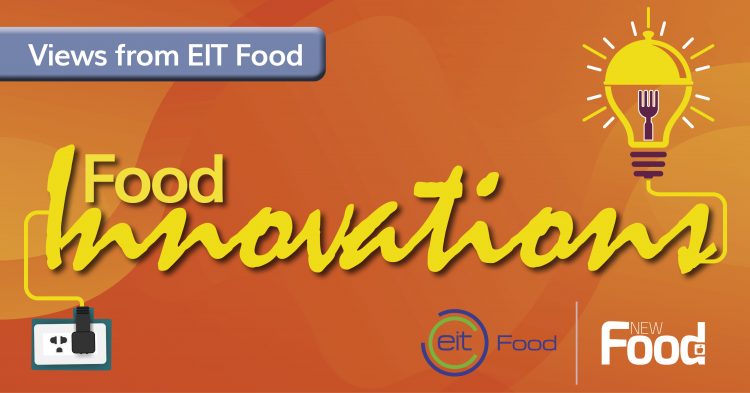 With the inclusion of the first ever Food Systems Pavilion, the recent UN climate conference COP27 gave us both cause to celebrate and the momentum to push even harder to accelerate the transformation of our food system. There is an urgent need to halt global warming, and while the food system is a significant contributor to emissions, it also holds many of the solutions needed to tackle the climate crisis. Only by leveraging a diverse range of innovations will we be able to achieve a net zero food system which can sustainably feed our growing population for decades to come.
While we have known for several years that our global food system is responsible for at least one-third of greenhouse gas emissions, a study published in 2021 revealed that between one-fifth and one-quarter of anthropogenic emissions are generated by on-farm production and related land-use change.1 The inclusion of food in last month's COP27 cover text, with particular reference to food production and security, indicated that even at a global policy level, there is increasing recognition of the need to transform the way we produce our food to protect our planet and livelihoods.
To do this, we need to adopt an inclusive and integrated systems approach, which involves collaboration between thought leaders, farmers, innovators, SMEs, corporates and investors across the agrifood sector. By bringing together these different perspectives and expertise, the food community can accurately identify challenges in production processes, propose high impact solutions and put these solutions into action backed by purposeful funding. Opportunities include protecting and nurturing soils, empowering food producers with data and technologies to adapt and mitigate for environmental impacts, and scaling the production of low-emitting, protein-rich alternatives that can sit alongside traditional food sources.
COP27 was a crucial reminder that farmers and food producers are our biggest innovators – with many already adapting and trialing new approaches as they are directly faced with the impacts of the climate crisis. Only by placing support for food production at the heart of systems transformation will we become closer to reducing emissions and achieving a net zero food system.
Reducing emissions by protecting soil health
A clear starting point for transforming food production is to consider how we can make the land healthier and more productive through regenerative practices that improve soil quality, protect primary forests, or restore land back to its natural state. As the world's largest terrestrial carbon sink, soil not only has significant capacity to store carbon, but can do so for thousands of years under healthy conditions and sustainable management practices, which include minimising the use of heavy machinery, maintaining a protective organic cover on the soil surface, and promoting a greater level of biodiversity.
Accurate monitoring and data are crucial to informing our understanding of sustainable soil management, and innovative startup Deep Planet is making strides in this area with a multidisciplinary approach to monitoring agricultural trends worldwide. Using a combination of AI, satellite imagery and agricultural data, Deep Planet maps out soil moisture, soil carbon, nutrient density, yield maturity, deforestation trends and the regenerative potential of land with up to 90 percent accuracy. This technology is currently being used to monitor vineyards, and it holds great potential for combating crop losses, food waste, land-conversion and carbon emissions when applied on a wider scale.
Last month, startup Soil Capital was recognised as one of the EU's most promising upcoming innovators at the EIT Summit in Brussels. Soil Capital unlocks carbon payments for farmers, using a digital software to measure whether farmers are sequestering or emitting carbon dioxide based on their farming practices, and over 500 farmers across France, Belgium and the UK are already participating in the scheme. By financially rewarding regenerative practices, Soil Capital hopes to incentivise farmers to increase soil and human health, plant immunity, biodiversity and food quality.
Empowering and enabling food producers
Another area of innovation that continues to be critical to transforming food production is advances in software and technologies that provide real-time data, predictions and insights about crop performance, as well as changing weather and climate conditions. Having access to this information can be an empowering tool for farmers to improve their productivity, as well as adapt to the climate impacts already faced by many.
Farmforce is an example of a mission-led startup delivering widespread impact through monitoring and collecting data which can be used to improve farmer yields while optimising for environmental impact. Designed to be practical in even the most remote locations, its software can measure crop growth, harvest potential, carbon footprints and market value, whilst also offering farmers training in sustainable farming practices. The monitoring tool has been used by over 800,000 farmers, many of these smallholder farmers, across the globe.
Another approach demonstrated by German innovators at Computonics GmbH uses machine learning to offer food producers insights about adapting crops for different environments and climates. Technologies such as this provide a critical solution which will allow crops that are usually produced in very specific climates to grow in more regions worldwide, supporting farmers to address the dual challenges of food security and the need to adapt to shifting climatic conditions.
Innovation in protein diversification
The European Commission's Farm to Fork Strategy identifies alternative protein sources as vital to achieving a sustainable food system, and it is clear they can offer environmental and ethical advantages over meat products. Several game-changing biotech companies are cultivating alternative food sources with low-emissions and protein-rich ingredients that could replace the need for high-emitting livestock production in traditional agriculture processes, enabling farmers to prioritise regenerative techniques.
By feeding yeast with sugars, minerals and vitamins in bioreactors, French innovators at Nutropy are bioengineering microorganisms to produce more complex proteins, fats, vitamins and sugars, which are both cholesterol and lactose-free. Their environmentally-friendly technology uses fewer natural resources and emits less GHGs to produce the same ingredients which are found in dairy.
Taking a different approach, Aliga Microalgae is cultivating high quality, protein-rich Chlorella algae through techniques of selective propagation and mutagenesis. The algae can be added to a wide variety of meat and seafood alternatives as a functional and protein-rich ingredient. Additionally, it can be used as a dietary supplement or in aquafeed as a highly nutritious paste, and if upscaled, could offer a solution towards decoupling the aquaculture sector from over-exploited wild fish stocks. The production processes that Aliga has developed result in less than 1kg of CO2 per kilogram of biomass cultivated – lower even than wild fish, which is commonly considered a low-carbon food.2
Collaboration is key
This breadth and diversity of innovation demonstrates that a systems approach is key to transforming food production in a just and equitable way. Now is the time to strengthen collaboration between food system stakeholders, shifting towards a circular model and bringing together farmers, indigenous peoples, innovators, businesses, policymakers and investors to urgently turn solutions into tangible, net zero action.
About the author 
Dr. Andy Zynga is the CEO of EIT Food, the world's largest food innovation community working to build a future-fit food system that produces healthy and sustainable food for all. Based in Leuven, Andy has international experience in food systems, innovation, telecoms and technology services and a proven track record in building profitable businesses in the USA and Europe.