Will this new technology revolutionise fish farming?
Meet the new piece of technology which could transform the shrimp farming industry. Dr Faik Hamad, and Dr Poo Balan Ganesan discuss how micro-bubble technology could be change fish farming in developing countries.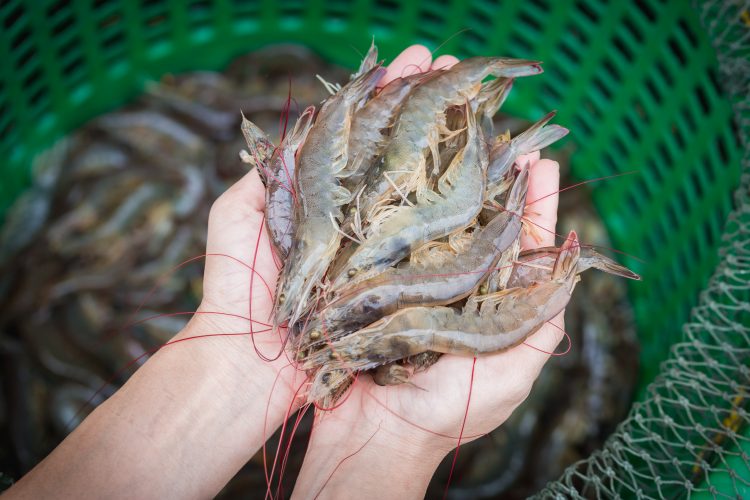 Micro-bubbles could change the way shrimp are farmed around the world
Fish farming can be traced back to between 3,000 and 4,000 years ago in some form, but over recent decades, there has been a substantial increase in aquaculture.
What has been coined the 'blue revolution' has seen a huge surge in fish farming across the globe, with the amount of farmed fish now surpassing the amount of farmed beef.
However, aquaculture comes with its own challenges and has long-been known to have a negative impact on the environment, not least in developing countries, with current practices causing pollution from chemicals and pesticides. In Malaysia, aquaculture has led to the large-scale destruction of mangroves, essential ecosystems for biodiversity.
Advances in technology to overcome some of the challenges of aquaculture are vital. With the support of £93,000 funding from the Newton Fund, I collaborated with Dr Poo Balan Ganesan from the University of Malaya in Kuala Lumpur to develop a new system which would address challenges faced by shrimp farmers in Malaysia.
What is micro-bubble technology and why do we need it?
We set out to investigate how the adoption of a micro-bubble aeration system could be a potential of new direction for shrimp aquaculture, reducing the cost, maximise productivity, improve efficiency of land use, reduce energy requirements and environmental impact of shrimp farming and placing the industry on a more sustainable footing both economically and environmentally.  
Micro-bubble aeration technology uses a generator to produce microscopic bubbles which release free radicals and boost dissolved oxygen levels in water, allowing it to cleanse itself of waste products and increase productivity of seafood. 
By releasing free radicals into the water, micro-bubbles create the potential to disinfect the water through detoxification and degradation of organic pollutants. Using this technology, our aim was to improve shrimp growth and to support the circulation of beneficial bacteria known as Biofloc, whilst operating at the same or reduced energy requirements.
Our research found that the use of micro-bubbles can successfully help to increase the growth rate of shrimps and other aquaculture species including giant freshwater prawns, while reducing the amount of clean water needed to run the aquaculture facilities.
How will micro-bubbles change the game?
Micro-bubble technology offers a safer, chemical-free and low-energy alternative to existing water disinfection methods and we are thrilled that developing countries will be able to access this revolutionary technology; barriers to adoption are low and operating costs are expected to be lower than existing solutions.  
This trailblazing system is incredibly significant, as its position in cleansing water of pathogenic micro-organisms means that it can provide a safer, chemical-free alternative to disinfectants.
And the versatility of the project also opens up the possibility for this technology to be applied in a multitude of key sectors where water is critical to industrial processes. This includes health, agriculture and aquaculture.
Most recently, I have been involved in a project funded by THYME which is focusing on the capabilities of micro-bubble technology in water disinfection and the generator is already due to be tested against the presence of E. coli in contaminated water.
I look forward to seeing the positive implications of our new system as we strive to optimise industry practice through more efficient and sustainable approaches to farming and food production.
About the authors 
Dr Faik Hamad, Associate Professor in Engineering at Teesside University.
Dr Hamad specialises in fluid mechanics, heat transfer, multiphase flow, aerodynamics, and turbomachinery. His pioneering research has led to key developments within engineering and game-changing advancements in aquaculture.
Dr Poo Balan Ganesan, Associate Professor in Engineering at the University of Malaya.
Dr Poo Balan Ganesan, Associate Professor in Engineering at the University of Malaya, CFD and MATLAB modelling, microbubble and heat transfer, Solidification and Melting), Energy Technology.
Related organisations
Related regions