Top of the flavour charts
Want a taste of what's trending? New Food's Editor interviews Kerry Taste & Nutrition's Christina Matrozou to find out about the current and emerging flavour trends of 2021.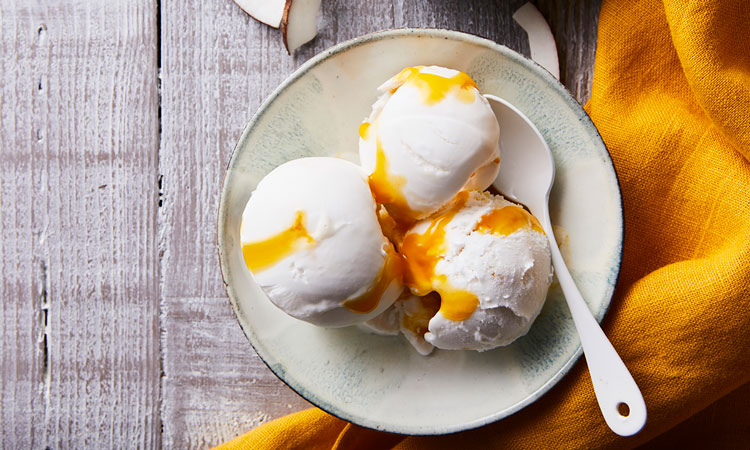 Earlier this year Kerry Taste & Nutrition released its annual Taste Charts, which uncovered the flavours and ingredients that are set to inspire innovation and taste excellence across the food and beverage sector.
"The Taste Charts delivers a tool that enables product developers, marketeers and foodies around the world to unfold the lifecycle of taste," Christina Matrozou, Marketing Manager Taste Europe and Russia, Kerry Taste & Nutrition, Amsterdam, told New Food.
"The methodology has evolved," she continued, explaining that they are now "analysing product launches in different databases, social media trends through AI proprietary tools like Trendspotter, and menu penetration as primary sources of data to uncover the world of flavours in retail as well as foodservice.
"All these insights are further screened through the eyes of our own internal experts, chefs, baristas, mixologists and local market experts to create the four pillars of taste lifecycle."
An interesting combo of novelty and comfort
This year novelty and nostalgia rules, according to the Taste Charts.
Despite comforting flavours and new experiences being polar opposites, given the year we have had, it's not surprising that some consumers are looking for solace while others seek excitement.
Flavours and ingredients are segmented into categories within the Taste Charts, including sweet, savoury and beverages, and then further divided under groups of either 'key', 'up and coming' or 'emerging'.
Matrozou elaborated, using snacks as an example: "Let's look at the mainstream tastes which immediately come to mind, including cream and onion, BBQ and paprika flavours. Moving further to the 'key tastes', you may find tonalities that consumers appreciate, like oregano, cheese and beef flavours. Moving to 'up and coming' and 'emerging' pillars, you may find flavours that have delighted consumers' taste buds in very recent years.
The trending approach towards a sustainable future and sustainable nutrition is here to stay
"In the snack category, fermented notes, such as pickled onion or yoghurt and special chilli varieties such as Habanero, have generated interest. Finally, seafood tonalities like prawn and crab, or specific cuisines from around the world such as Texas BBQ have been favourites in the last year."
The Taste Charts are designed to empower the food sector to learn more about taste and develop a comprehensive understanding of current and budding trends, so that producers can either launch mainstream products with confidence or break boundaries and differentiate themselves with new flavours.
The pandemic's effect 
The novel coronavirus had a big impact on our lives as a whole. Food is a huge part of life – obviously as a necessity for survival, but it also has emotive qualities. People eat for enjoyment and our preferences towards food change depending on emotions and the world around us. 
Matrozou believes that the COVID-19 crisis accelerated food trends that were already coming to the fore, such as foods with wellness and sustainability in mind. This, she explained, is because the pandemic created "a feeling of urgency"; with the virus sweeping the world, we became not only aware of our own and the planet's health, but we also recognised the importance of taking action – now.
"At the same time, in an attempt to cope with the stress of the pandemic, consumers have been seeking – and are continuing to do so – ways to comfort and indulge themselves," she added.  "My sense is that changes that arose from the pandemic may become permanent; however, the level of urgency will settle down.
"The trending approach towards a sustainable future and sustainable nutrition is here to stay, as consumers continue to demonstrate an increased interest in the inherent wellness benefits of products, incorporating simple and recognisable natural, organic, non-GMO and free-from ingredients."
The Taste Charts also indicated a win for traditional, mainstream flavours like vanilla, chocolate and barbecue. "These have fared well during the pandemic because they fulfil the need for nostalgic taste that provides comfort during stressful times."
Taste trends in Europe
 Along with being split into food and trend categories, the Taste Charts are further divided into regions – namely, Asia Pacific, Brazil, Canada, Europe, Latin America and the US.
"In Europe, we are noticing an increased focus on flavours that are associated with holistic health. Fermented notes across categories is an emerging trend that Kerry researchers have found. Some interesting examples from the Kerry Europe & Russia Taste Charts include pickled onions in the snacks category and fermented fish and kimchi in the savoury one. While the beverage category is experiencing an increased interest in botanicals such as lavender and turmeric." 
Matrozou continued: "Kerry research is showing an expanded consumer appetite to travel the world with the senses. Flavours from different cuisines around the world are becoming popular in Europe. Masala and miso are of strong interest in the savoury category, while Texas BBQ is popular for snacks.
"Exotic citrus tastes, such as yuzu and calamansi, have an excellent chance to be an absolute hit in the sweet and beverage categories."
The results also found that comforting flavours will continue to be a strong trend in Europe. "Dessert-inspired flavours are emerging in the beverage category and alcohol notes, such as gin and whiskey, are rising in the sweet category," Matrozou pointed out.
"Mainstream tastes were important for European consumers in 2020 and will continue to resonate in 2021, as people continue to seek the old-time classics we all know and love.
"Time-honoured flavours such as chocolate and vanilla are popular in the sweet and beverage category, as are mushroom and tomato in savoury."
She added: "It is exciting to see similar trends emerging in Taste Charts that focus on other regions. Being part of a global taste team, the Taste Charts is just one of the tools we have been using through the years to inspire our customers at local, regional and global level to leverage new flavour and ingredient trends. Our experts are continuously monitoring the evolving consumer trends and translating them into flavours to inspire our customers' next development. Meanwhile our proprietary tools such as Trendspotter™ provide timely data on consumer preferences and needs."
Conclusion
According to the Taste Charts, vanilla is here to stay and despite a rising interest in health, consumers still have a sweet tooth. However, delivering flavours in the most natural formulation possible, while also taking care to sustainably manage the natural sources that form the basis of these tastes and flavours, will remain a pinnacle focus.
"It is vital to ensure that natural sources can be replenished; sustainability is a key priority for the Kerry taste programme, which offers a range of intriguing possibilities covering different profiles," Matrozou said. "Some exciting examples in the citrus tonality area include Citrus de Menton and Iranian Black Lemon. There are many other interesting possibilities to be found in the Kerry SimplyNature™ Citrus Collection for Europe and Russia."
She concluded: "The Kerry Taste Charts are a great tool to provide food and beverage manufacturers with an overview of flavours across categories to help accelerate new product development. The Charts are designed to make it easier for food and beverage product developers to make faster and better decisions in selecting flavours during the brainstorm and development phase."
Christina Matrozou

Christina is an experienced B2B marketeer with a strong technical background. Her career in the flavour industry has enabled her to understand the key role that flavour plays in every food and beverage formulation. She has experience in flavour innovation, product positioning and commercialisation.