Whitepaper: The Hygienic Design of Food Industry Brushware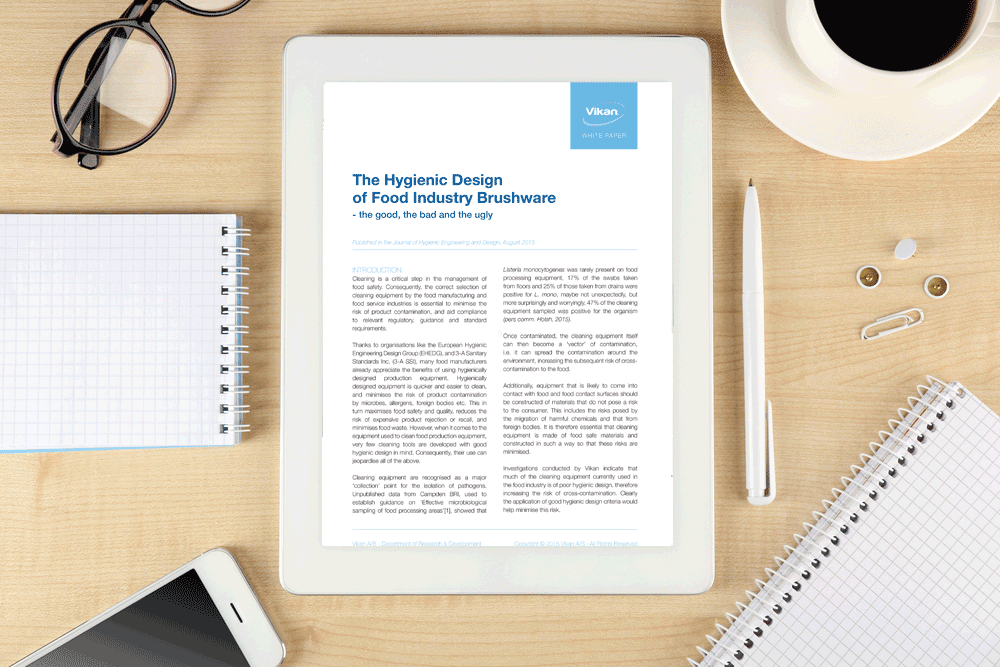 Cleaning is a critical step in the management of food safety. Consequently, the correct selection of cleaning equipment by the food manufacturing and food service industries is essential to minimise the risk of product contamination, and aid compliance to relevant regulatory, guidance and standard requirements.
Thanks to organisations like the European Hygienic Engineering Design Group (EHEDG), and 3-A Sanitary Standards Inc. (3-A SSI), many food manufacturers already appreciate the benefits of using hygienically designed production equipment. Hygienically designed equipment is quicker and easier to clean, and minimises the risk of product contamination by microbes, allergens, foreign bodies etc. This in turn maximises food safety and quality, reduces the risk of expensive product rejection or recall, and minimises food waste. However, when it comes to the equipment used to clean food production equipment, very few cleaning tools are developed with good hygienic design in mind. Consequently, their use can jeopardise all of the above.
Cleaning equipment are recognised as a major 'collection' point for the isolation of pathogens. Unpublished data from Campden BRI, used to establish guidance on 'Effective microbiological sampling of food processing areas'[1], showed that Listeria monocytogenes was rarely present on food processing equipment, 17% of the swabs taken from floors and 25% of those taken from drains were positive for L. mono, maybe not unexpectedly, but more surprisingly and worryingly, 47% of the cleaning equipment sampled was positive for the organism (pers comm. Holah, 2015).
Related topics
Related organisations