The canned wine revolution
In an interview with Canvino's MD, Marc Laventure, New Food finds out more about the canned wine trend and where the future is heading.
Newly launched for 2021, Canvino is the all-natural, vegan-friendly, 100 percent recyclable canned wine. In this interview, New Food's Bethan Grylls finds out more about the way in which consumers consume wine has – and is – changing. 
Marc Laventure, MD and Co-Founder of Canvino, delves into how packaging can influence taste, Canvino's specific process, flavour trends, and the future of wine. Watch the video below.
About Canvino
According to Canvino, this naturally sparkling wine comes in lightweight cans that can be conveniently packaged up for on-the-go occasions, plus they are designed to stay fizzy and cooler for longer. Canvino is available in two flavours, Rosé and Bianco, at £3 per can from Canvino.com, Amazon and other selected retailers.
The two variants come from grapes sourced from a family-owned vineyard in Lombardy that has been making wine for a century using the traditional Charmat method. Bianco is a lightly sparkling, crisp and dry white wine, which is medium-bodied and easy to drink, and although dry or 'Secco' in style, it is fruity and fresh with light floral tones. Alternatively, the Rosé is medium-dry and lightly sparkling with well-balanced fruit notes. The pale blush colour is indicative of Northern Italian wines.
Canvino holds several prestigious accolades within the drinks category; their naturally sparkling wines picked up two awards at the IWSC 2021, two at the Drinks Business Autumn Tasting 2020, and one at the International Canned Wine Competition 2021.
About Marc Laventure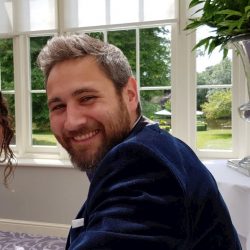 Marc has 15+ years sales experience with a passion for bringing new consumers into drinks categories that are screaming out for innovation, previously within cider, whisky and now wine. One of the earliest notable roles was with Kopparberg, where Marc helped the brand reposition cider within consumer's eyes and make it much more relevant for a younger audience, which before long helped them become a household name. Having joined at an early stage in the brand's lifecycle, Marc was able to climb the ladder within the sales team to cover virtually every role within the channel over a 7-year period. These previous commercial roles and development of a young drinks brand put him in an ideal position to go on to consult for start-ups such as Hawkes Cider and 8O8 Whisky for 2 years, before eventually launching House of Canvino in 2019 with his co-founders, where he is now MD.
Related topics
Related organisations
Related people