10-year-olds in the UK have consumed 18 years'-worth of sugar, says research
Children have already exceeded the maximum recommended sugar intake for an 18-year old by the time they reach their tenth birthday, according to Public Health England (PHE), with figures based on their total sugar consumption from the age of two.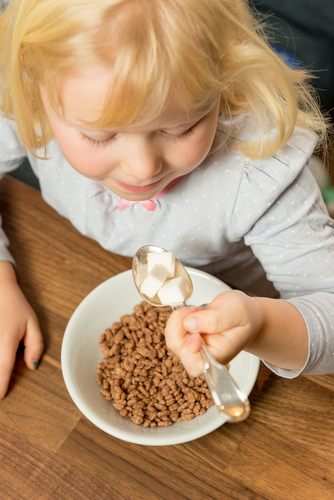 The  figure comes as a new Change4Life campaign launches today (2 January 2019), supporting families to cut back on sugar and to help tackle growing rates of childhood obesity. While children's sugar intakes have declined slightly in recent years, they are still consuming around eight excess sugar cubes each day, equivalent to around 2,800 excess sugar cubes per year, PHE's research suggests. To help parents manage this, Change4Life is encouraging them to, 'Make a swap when you next shop', by, for instance,  swapping a higher-sugar breakfast cereal (such as a frosted or chocolate cereal) for a lower sugar cereal, to cut back from 3 cubes to half a cube per bowl
Severe obesity in 10 to 11 year-olds has now reached an all-time high. PHE points out that overweight or obese children are more likely to be overweight or obese as adults, increasing their risk of heart disease and some cancers, while more young people than ever are developing Type 2 diabetes. Excess sugar can also lead to painful tooth decay, bullying and low self-esteem in childhood.
Families are being encouraged to look for the Change4Life 'Good Choice' badge in shops, download the free Food Scanner app or search Change4Life to help them find lower sugar options. Popular brands – including Nestlé Shredded Wheat, Nestlé Low Sugar Oat Cheerios, Petits Filous and Soreen (malt loaf) – will display the 'Good Choice' badge online, in-store and throughout their advertising, to help parents find healthier options.
In May 2018, PHE published progress against the first-year sugar reduction ambition of five percent, which showed an average two percent reduction in sugar across categories for retailers and manufacturers.
Related topics
Related organisations
Related regions