Mobile plastic-free supermarket arrives in The Hague at Ocean Summit
The Mobe-Aisle has been designed to show shoppers that a plastic-free future is ready to be realised today.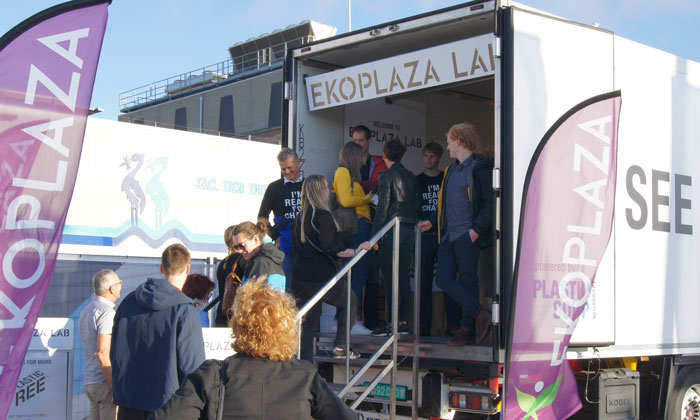 PLASTIC FREE: Supermarkets around the world are making pledges to cut plastic waste
A mobile supermarket aisle stocked exclusively with plastic-free food and drink products has arrived at a landmark global ocean summit in The Hague.
Featuring some 300 products, the Mobe-Aisle consists of a host of food and drink items free from plastic packaging including rice, chocolate and cereals.
Earlier this year campaign group A Plastic Planet launched the world's first Plastic Free Aisle in a branch of Dutch supermarket chain Ekoplaza. Now campaigners have created a mobile version of the aisle that can move between cities across Europe.
Transported in a shipping container on a flatbed truck across the Netherlands, the Mobe-Aisle has today (June 28) arrived at The Hague where it has been installed at the Volvo Ocean Race Ocean Summit.
Campaigners say Plastic Free Aisles represent the future of food and drink retail. Earlier this year UK Prime Minister Theresa May backed the measure in her first major speech on the environment.
The Mobe-Aisle showcases packaging alternatives using pulpboard, fibre, cotton, card, paper, glass, metal and other biomaterials.
Goods within the Mobe-Aisle will all bear the Plastic Free Trust Mark, a new front-of-pack consumer mark, created by A Plastic Planet to help shoppers quickly identify products that are free from plastic packaging.
The Mobe-Aisle is stocked with goods from Ekoplaza, which earlier this year rolled out 1,370 plastic-free products in all of its 74 stores across the Netherlands.
Ekoplaza wants at least 75 per cent of the products across all its own-brand ranges to be plastic-free by the end of this year.
The Ocean Summit in The Hague marks the finish line of the 2017/18 edition of the Volvo Ocean Race – a gruelling challenge that sees the world's greatest sailors battle for supremacy across 45,000 nautical miles, four oceans, and six continents.
The summit will bring together leading lights from the worlds of sport, science, government, and campaigning to discuss safeguarding the future of global oceans from plastic.
A Plastic Planet Co-Founder Sian Sutherland said: "In a world suffocating in plastic, Plastic Free Aisles offer our best chance of freedom. They give shoppers who no longer want to be part of the plastic problem the choice to be part of the plastic solution.
"The last 18 months have been a huge wake-up call for all of us. Now we know what we know about the result of our plastic addiction, let us not be the generation that caused this but did not do enough to change our ways. The Plastic Free Aisle is a symbol for change. Without choice, we cannot change.
"The Volvo Ocean Race is a celebration of what humans can do when presented with insurmountable difficulty. We must be inspired by these extraordinary sailors to combat this plastic madness we have created over recent years."
Ekoplaza Chief Executive Erik Does said: "Plastic Free Aisles are the accelerator we need to innovate faster in finding alternatives to plastic. They have inspired our customers to eliminate plastic from their weekly food shop. We are proud to be working to create a truly plastic-free future for food and drink retail."
Related organisations
Related people