Major British retailer unveils till-free future
The misery of supermarket queues may soon be a thing of the past in Co-op stores as the British retailer trials till-free shopping.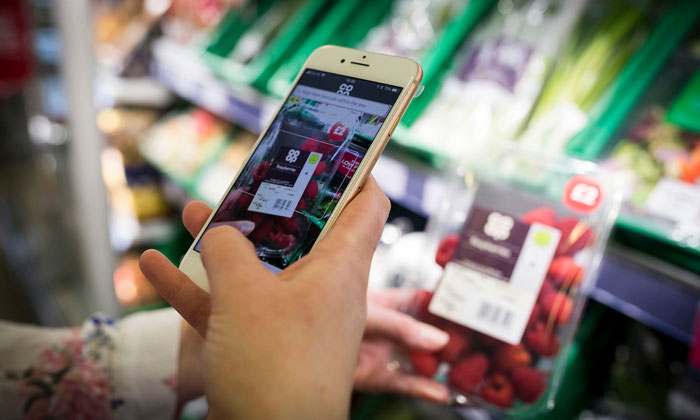 QUICK SHOP: The tech is being trialled in Manchester
Yesterday, Co-op announced it will try its 'shop, scan and go' initiative at its support centre in Manchester, with a wider roll-out beginning as early as this summer which is expected to include a further trial at the Co-op's store located in the UK HQ of Microsoft, Reading.
Shoppers will soon be able to pay in the aisle and avoid visiting a till all together as they use their own phone to purchase goods at the Co-op with an app built with Mastercard's secure digital payments.
The technology sits alongside conventional payment methods in store – such as self-service tills and manned checkouts. The innovative move, which harnesses the latest technology, allows customers to scan products on their own device as they walk around the store – known as a "frictionless shopping experience".
When they have finished shopping, the amount they owe will then be deducted from their account with a single click.
The community retailer is seeing the number of cash transactions in its stores rapidly reduce in favour of alternative payment methods. Cash transactions have dropped by more than one fifth over the last five years, with a 15 per cent reduction in the last 18 months alone.
Matthew Speight, Director of Retail Support at the Co-op, said: "It is a challenging market place for retailers, and the Co-op is responding positively. Our ambition is to harness technology to deliver the shopping experience that our diverse customer-base requires – when, where and how they need it.
"It is all about consumer choices and convenience. We listen to our Members and customers and we are investing in our stores, people, prices, products and technology. We recognise there are many communities where customers pop in to their local Co-opand enjoy a friendly chat – it is all part of the service. Whereas for others, perhaps with a train to catch or on a school run, every second can count as consumers seek increased convenience."
Elliott Goldenberg, head of digital payments at Mastercard UK said: "Technology is bringing unprecedented change to retailing right before our eyes, however the challenge for all of us who play a part in the retail experience is meeting the needs of all consumers who are moving at different speeds in the adoption of technology.
"With the Co-op we are bringing our online and mobile capability – Masterpass – into the physical store, and offering consumers who want a fast and frictionless buying experience, a secure and reliable way to pay. By scanning products using Co-op's mobile app, shoppers can checkout using payment card details securely stored within Masterpass, and leave the store, with both the Co-op and them knowing they have paid."