Europe's food system needs a 'comprehensive' shake-up, advisory board says
Several measures to create a more sustainable food future have been offered by a European committee set up as a bridge between citizens and the executive.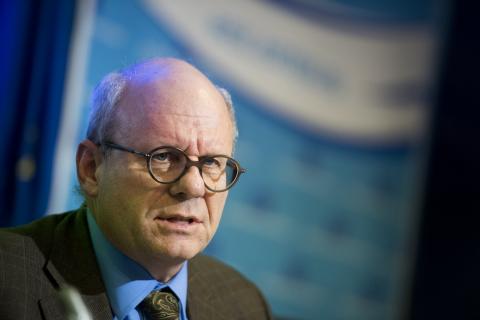 CHANGE IS NEEDED: Peter Schmidt spoke out for a comprehensive, EU-wide policy
An over-arching, detailed food policy is urgently needed to restore the value of food and affect the UN Sustainable Development Goals, an EU advisory board has said.
The European Economic and Social Committee (EESC) made the call at its plenary session last week.
The committee is an advisory group made up of representatives of workers' and employers' organisations and other interest groups.
It said that the current EU framework is not adequate for the move to more sustainable food systems.
EESC adopted an own-initiative opinion calling for a comprehensive European food policy, with the aim of providing healthy diets from sustainable food systems and linking agriculture to nutrition and ecosystem services while ensuring supply chains which safeguard public health for all people in Europe.
"The challenges ahead force us to reinvent European food policy and make it more comprehensive, respecting the whole supply chain", said Peter Schmidt, a representative of the Workers' Group. 
"We need to bring more fairness into the market and we need to make people understand the value of food."
Commissioner Vytenis Andriukaitis, Commissioner for Health and Food Safety, welcomed the very timely EESC opinion and underlined the importance of civil society's support in food policy, especially when it comes to tackling food waste and health issues.
The EESC said that this should be achieved by taking major steps at EU level, such as:
Maintaining and promoting a culture that values the nutritional and cultural importance of food, establishing closer links between producers and consumers and ensuring fair prices for producers so that farming remains viable;
Creating an enabling environment for civil society's initiatives that are flourishing at local and regional level (e.g. alternative food systems, short food supply chain, etc.);
Developing an Action Plan on Food Sustainability with the aim of implementing the food-related SDGs accompanied by an EU sustainable food scoreboard, which would provide indicators for monitoring progress towards meeting the targets set;
Exploring the creation of a dedicated Directorate General for Food which would be responsible for food-related policies and the source of regulation, legislation and enforcement.
According to the committee, a comprehensive modern food policy must be complementary to, but not replace, a reshaped CAP. It should also meet multiple criteria, such as food quality, health, environment, sound economics and good governance. "Europe needs to set the standards", outlined Mr Schmidt.
Consumers need to be taught to become "food (responsible) citizens", who are aware of the worth of sustainably produced and healthy food. This should be supported by a smart system of sustainable food labelling.
"While it is important to focus on nutritional and health aspects, we also need to inform consumers about the environmental and social impact of food", said Mr Schmidt.