IFST outlines the risks associated with foodborne Campylobacteriosis
New Food decided to speak exclusively to Julie Ashmore, CSci FIFST at IFST with respect to the issues we face regarding foodborne Campylobacteriosis.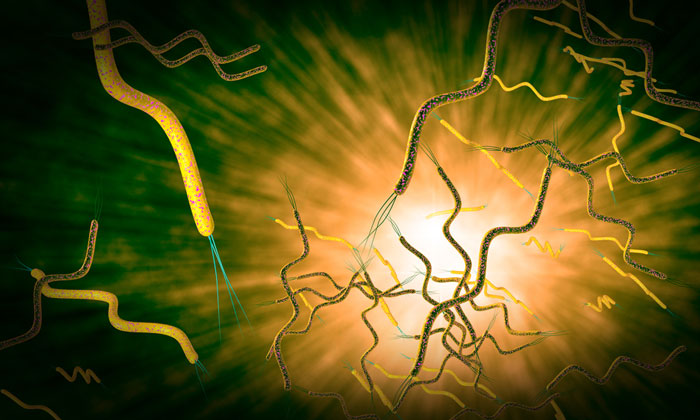 What can you tell us about the current situation regarding foodborne Campylobacteriosis?
Campylobacter is the most common bacteria causing human gastroenteritis in the world (1 of the 4 main causes of diarrheal diseases) and the most common cause of food poisoning in the UK. Campylobacteriosis is predicted to remain as one of the top 10 causes of death and disease in developing countries by 2020(1).  Chicken is thought to be the most important food through which Campylobacter is transmitted to humans.
How worried should we be?
It is estimated that campylobacter causes in excess of 100 deaths a year in the UK, and costs the economy about £900 million, with four in five cases of food poisoning cases in the UK coming from contaminated poultry. As part of a 2 year survey, the Food Standards Agency is conducting a  microbiological survey of Campylobacter contamination in fresh whole UK-produced chilled chickens at retail sale; during  the survey period from July 2015 to March 2016, the proportion of Campylobacter species on fresh whole chicken at retail outlets in the UK in was 61.3%.
Some foods pose a greater risk for getting campylobacteriosis including raw or undercooked poultry, beef, pork and lamb, unpasteurised (raw) milk, unpasteurised milk products and shellfish. Hand washing is one of the best ways to prevent the spread of camplyolobacter.  Contaminated foods may look and smell normal – a concern as consumers will not know whether their food is contaminated. Consumers have a role to play in reducing risk and preventing Campylobacter infections. The majority of incidents of food poisoning in the home are preventable and consumers should ensure they:
Thoroughly cook chicken (74ºC for chicken pieces and 82ºC for whole chicken) using a meat thermometer to take the internal temperature.
Avoid raw milk and products made from raw milk. Drink only pasteurized or boiled milk.
Wash hands thoroughly and frequently using soap, in particular after contact with pets or farm animals, or after having been to the toilet.   
Can more be done by regulators and the industry in general?
There have been improvements in the number of cases of foodborne disease, although this will continue to be a matter of concern in the foreseeable future. Industry, the Food Standards Agency and Defra have been collaborating since March 2013 to identify and implement interventions that will reduce campylobacter; this partnership has led to decrease in the number of birds with campylobacter on them and also those with the highest level of contamination. This collaboration needs to continue in the future and include researching more efficient measures in preventing and eliminating Campylobacter using advance techniques in cleaning equipment, environmental monitoring and increasing our understanding of Campylobacter.
Regulators and industry can also put more focus on public education, as this is a key factor in improving food safety practices in the home. This would help to reduce the number of incidents of foodborne illness due to food handled and cooked in homes.
What is IFST doing at present to ensure we tackle this issue?
IFST support through the publication of information statements (such as the recent publication of the updated Campylobacter Information Statement) and propagation of industry standards such as the GMP document  and SALSA scheme for small producers. We also promote professional standards for food safety personnel.
1 Emerg Infect Dis. 2002 Mar; 8(3): 237–243. doi:  10.3201/eid0803.010233. PMCID: PMC2732465. Human Campylobacteriosis in Developing Countries. Akitoye O. Coker,* Raphael D. Isokpehi,* Bolaji N. Thomas,* Kehinde O. Amisu,* and C. Larry Obi†