Looking back at Vitafoods Europe 2017
Vitafoods Europe has enjoyed another record-breaking year, with visitor and exhibitor numbers both significantly up on 2016.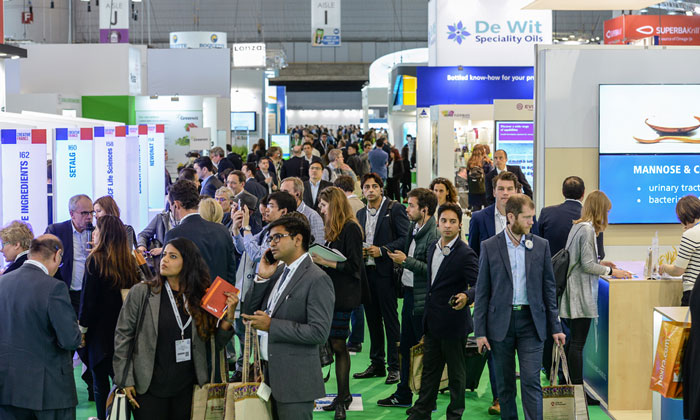 Credit: Vitafoods
Almost 20,000 (19,951) visitors attended the global nutraceutical event in Geneva between 9 and 11 May –13% more than last year. Furthermore, a record 1,034 companies exhibited – up 15% on 2016.    
Exhibitors came to Switzerland from 56 different countries, with visitors from 108 breaking previous event records. 
One example was Inga Freimane, visiting from Aptiekas Produkcija, who said:
"The whole exhibition was bigger than before, and we enjoyed it even more.  The atmosphere was great, and we were able to use the event from both sides – to meet customers and suppliers at the same time.  I made some very good contacts.  We'll definitely be back next year." 
Exhibitors enjoy increased traffic
Many of the exhibitors said that they had noticed increased traffic to their stands, and that visitors had come from a wider range of countries.
Marie Blondel, Marketing Communications Manager, Europe, for Roquette, said:
"More and more Vitafoods Europe feels like a very international event, which is great for us because we do business all over the world.  It was great to build new relationships – we mainly met European customers, but also people from Asia and the US.  For us, this is really an event that's unmissable."
Megan DeStefano, Probiotics Global Marketing Leader at DuPont Nutrition and Health, said:
"We had great booth traffic and a lot of interest in HOWARU(R) Shape, our new clinically proven probiotic for weight management. There was a very wide range of visitors, especially from across Europe. We had great meetings with current customers, and lots of really good discussions with potential customers.   The visibility that we got has been fantastic."
Stephane Vouche, Operational Marketing Manager, Capsugel Europe, said:
"Vitafoods Europe is where the whole industry comes together so we get all kinds of visitors to our stand. It's an opportunity to really communicate with the right people at the right place and in the right moment, and that really brings us value."
Erin Miller, Director of Marketing at Ganeden, Inc. said: 
"International expansion is a large focus for us, and Vitafoods is one of the main and most well-respected food, beverage and dietary supplement shows in Europe. We had visitors from all over Europe, and even some from the Middle East and Malaysia, which was a valuable opportunity for building global relationships."
Alexis Manfré, Global Category Manager at Naturex, said: 
"Vitafoods Europe is key because it's the biggest exhibition for the supplement market in Europe.  Every year it's getting bigger, and we find that's a unique way to meet all the industry and all our main customers.  That's great in terms of visibility, but also to listen to market & customer needs, and to help the industry progress."
A wider range of advice and attractions
This year, old favourites such as the Vitafoods Tasting Centre and the Omega-3 Resource Centre were joined by a number of new features. These included the Vitafoods Innovation Centre in association with analyze & realize, which offered free consultations on areas such as regulation and marketing access.   
One of the companies that shared their expertise was Bird&Bird, whose Senior Associate, Nicolas Carbonelle, said: 
"I think it made sense for people visiting the show to have a place where they could meet people with a high level of knowledge who could address questions in respect of any business issue they had. My impression was that the show was even more successful than last year.  It shows that the industry is a successful and active one.
Robert Van Wanrooji, Key Account Manager at VSI, is among those who believes the event's success lies in its diversity. He said:  
"It's a great event and a good opportunity to meet people interested in ingredients as well as finished products.  Only Vitafoods Europe has that combination, so we meet a lot of new people. There's no one single element – the value of Vitafoods Europe is in the full range of features. It's always a nice atmosphere – people love to come."
Also making a debut was the Probiotics Resource Centre – a new dedicated knowledge hub.  Organised in association with the International Probiotics Association, it explored the latest breakthroughs in probiotic technology and market trends.
Rosanna Pecere, Executive Director of International Probiotics Association Europe, said, "This was a very good opportunity to exchange with professionals, marketing people and scientific experts on interesting topics in several dedicated forums. There's currently a high level of interest in probiotics – in both science and consumer trends – and the opportunity to engage with people from across the industry was fantastic."
Vitafoods Europe 2018 will take place at Palexpo between 15 and 17 May 2018.
Related topics
Related regions