Global edible insects market
Europe remains lucrative during 2016 to 2024.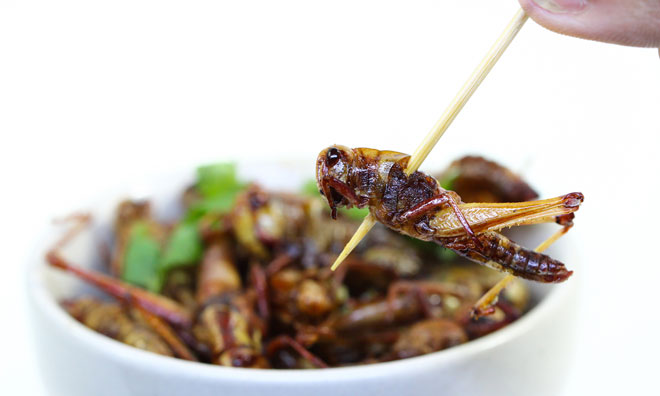 Nurturing of insects involves low costs as compared to other livestock such as swine, chicken and cattle. Decreasing resources and significantly increasing global population are factors driving demand for alternative food resources. As per United Nations, the global population is estimated to reach 9 billion in 2050, which will outgrow available food resources. Insects comprise of amino acids and high protein which can be a food source sustaining the requirements of ever growing population. The global edible insects market is estimated to witness a healthy 6.1% CAGR, during the forecast period, 2016 to 2024, according to the report by Persistence Market Research (PMR).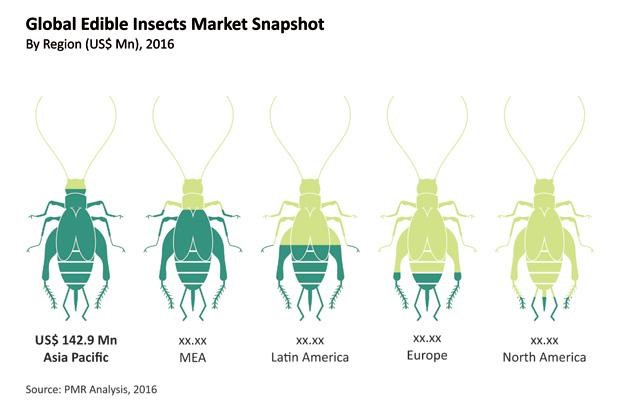 Affordability of Edible Insects to be Advantageous for Low-Income Population
Nutrients required by humans like minerals, vitamins, fibre, fats and proteins are present in insects making them highly nutritious. Some people are unable to devour soy, milk or egg derived protein owing to related allergic reactions, for example milk sugar causes severe allergic reactions such as bloating, diarrhoea, bloating etc. Insects comprise of amino acids and high protein, owing to which few manufacturers add insect protein to several food products. No artificial colours, fillers or sweeteners are present in insect protein and it is organic. Insects reproduce rapidly and are found all around the world. Farmers are provided with entrepreneurship opportunities by harvesting and farming of edible insects. Since edible insects are affordable, low-income population would have an advantage over this food source.
Tree Bugs and Orthoptera Insect Type Estimated to Witness Relatively High Growth During 2016 to 2024
Based on insect type, the global edible insects market is categorised into hymenoptera, beetles, tree bugs, caterpillar, orthoptera and others. Tree bugs and orthoptera are estimated to account for comparatively high CAGRs of 7.3% and 8.1% respectively during the forecast period. Based on product type, the market is categorised into product as an ingredient and product as a whole. Product as a whole is categorised further into raw, BBQ and steam or fried. While Product as an ingredient is categorised further into insect confectionery, snack & baked products, drinks and others.
Europe Remains Lucrative in Global Edible Insects Market
Region-wise, the market is categorised into North America, Europe, Middle East & Africa (MEA), Latin America and Asia Pacific (APAC). Europe and North America are estimated to witness highest CAGRs of 7.3% and 6.9% respectively during the forecast period. In 2015, Middle East & Africa held 28.4% market value share and is estimated to hold 28.9% by 2024 end. Europe, the fastest growing edible insects market, is estimated to witness 7.3% CAGR during 2016 to 2024. Among the European countries, EU5 is estimated to register highest growth of edible insects market during the forecast period.
Rapid global population growth, egg and diary protein alternatives, low capital investment, ease of harvesting & processing, food safety and low disease risk, less water consumption and compact space for farming are factors influencing the growth of global edible insects market. Key market players in the global market for edible insects include Thailand Unique, Nordic Insect Economy Ltd., Enviro Flight LLC, Entotech, Eat Grub Ltd., Kreca, Entomo Farms, Proti-Farm Exo Inc., and Deli Bugs Ltd.