Boston Beer Co and Beam Suntory launch Sweet Tea Whiskey
Do sweet tea and whiskey mix? Boston Beer Co. and Beam-Suntory will be hoping they do after the two beverage manufacturers launched a new product that does just that.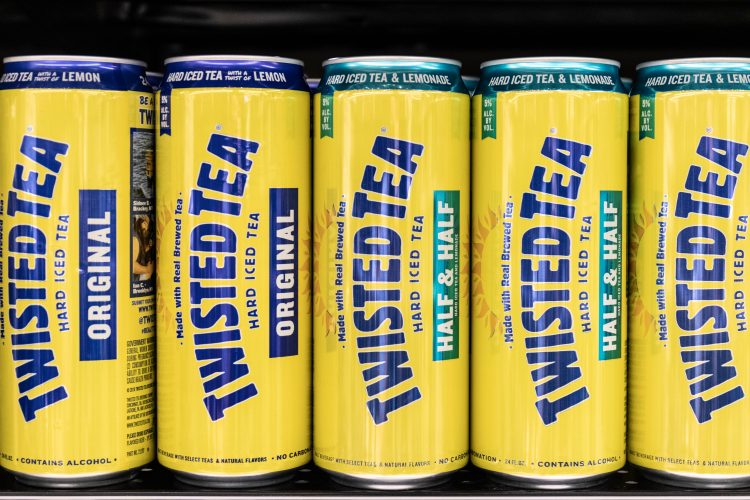 The Twisted Tea brand has a new product in its lineup...
Popular hard iced tea brand Twisted Tea has joined forces with one of the world's biggest and renowned whiskey producers to launch Twisted Tea Whiskey, which launch across five markets, including Maryland, Rhode Island, Ohio, Missouri, and Texas.
Boston Beer Co., which owns the Twisted Tea brand, has partnered with Beam Suntory to develop the product. In its extensive portfolio, Beam Suntory boasts household whiskey brands such as Jim Beam, Laphroaig, and Makers Mark.
Twisted Tea Whiskey is made with real brewed tea and inspired by the brand's flagship product, Twisted Tea Hard Iced Tea Original flavour. The manufacturers say the new Sweet Tea Whiskey packs "the classic sweet tea taste balanced with real, well-rounded whiskey for a deliciously smooth blend of oak and bright lemon."
 The product is being sold in 50mL, 750mL and 1L bottles, and has been developed both as a standalone beverage and cocktail component. It will have an ABV of 32.5% ABV / 65 proof.
"We put our fans first in everything we do – from printing their photos on our cans, to including them in our commercials, to bringing them the flavours and pack styles they ask for," said Erica Taylor, brand director for Twisted Tea.
"Many of them are already shopping for flavoured whiskey, so this is our way of giving them something they can call their own."
In July 2021, the Boston Beer Company and Beam Suntory, a world leader in premium spirits, announced a long-term, strategic partnership to extend select iconic brands into some of the fastest-growing alcohol beverage segments, with Twisted Tea Whiskey an example of how the partnership can work.  
"We are excited to continue our partnership with Boston Beer Company and to bring Twisted Tea into the whiskey space," said Stephanie Kang, Senior Director, Strategic Ventures at Beam Suntory.  
"We're taking the great taste of Twisted Tea Hard Iced Tea and reimagining it as a whiskey to deliver on the bold and unexpected experiences consumers are looking for."