Chick-fil-A most searched for fast food brand in 27 US states
Chick-fil-A was the most searched for brand in more than half of the 50 US states, while regionally-based fast food firms also did very well.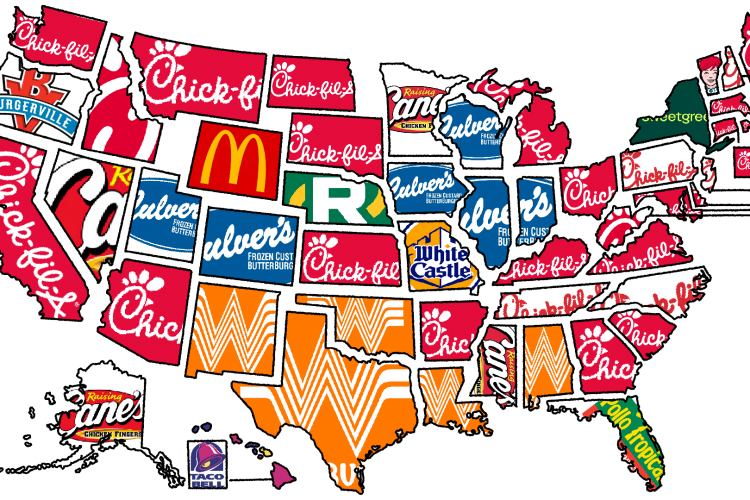 What did your state search for? Credit: My Telescope
What's the most searched for fast food brand in your state? Well, the results might surprise you, with Chick-fil-A locations the most searched for brand in 27 of the US' 50 states.
Market intelligence firm My Telescope compiled the data by examining the Share of Search metrics for each individual state to find out which brand was most popular in that state.  
"Share of search measures search data combined with sentiment analysis to give a more accurate measurement of consumer and business purchasing intent and demand," explained Rodrigo Graviz, CEO of My Telescope.
"Data can be geo-fenced by state or country to give an accurate look into what people in the area are searching for. When combined with specific keywords, Share of Search data can give valuable insights on what people are going to do, what they think, how they feel, and what they're going to buy."
Interestingly perhaps, it was regional-based firms that came out on top over more well-known brands. For example, Texas-based Whataburger achieved dominance in Texas, Oklahoma, New Mexico, and Louisiana, while Wisconsin's Culver's came out on top in Wisconsin itself, as well as neighbouring Illinois and Iowa.
But Chick-fil-A was the most searched for brand in states across the US, ranking highest for search volume in states such as Georgia and South Carolina on the East Coast, all the way to California and Arizona in the West.
Interestingly, McDonald's topped the bill in just one state: Wyoming. It's perhaps worth bearing in mind however that the search term studied was for the location of a brand in that particular state. Perhaps consumers in the other 49 US states know exactly where their local McDonald's or Wendy's is!