Tyson Foods opens IT hub in Europe
Tyson Foods opens new IT hub which is expected to create hundreds of new technology jobs.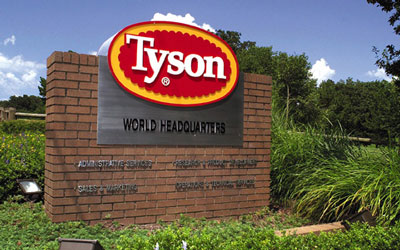 Tyson Foods, the world's second largest processor and marketer of chicken, beef and pork, has announced the opening of a new Information Technology (IT hub) in Lisbon, Portugal which is expected to create more than 200 technology jobs.
"We chose Lisbon as our European IT Hub because of the excellent talent, quality of living, support structures and its vibrant international technology scene," said Dan Barrett, Vice President of IT Europe at Tyson Foods. "This is a critical next step for our expansion within our international practice to leverage quality talent to help deliver the latest ideas for human and food safety. This will really help drive our global service efforts forward." 
The food company has stated that Lisbon is "emerging as a key IT hub in Europe with international accessibility and employee benefits, such as job and life skills training, a safe workplace and competitive compensation". It adds that the new facility will "play an integral part in establishing the people, systems and processes for the company's anticipated growth in the European market".
"Tyson Foods' decision to set up an IT Hub in Lisbon marks a high point in a record-breaking year for foreign investment in Portugal. We are extremely pleased to welcome this operation into the country and to once more witness how the highly-skilled, multilingual talent pool we have has been a key decisive factor for this positive outcome," said Luís Castro Henriques, Chairman and CEO of Portugal's Trade & Investment Agency. "The focus on innovation and technology development that Tyson Foods will further bring to the local ecosystem – and which we share in our DNA – will help boost Portugal's positioning as a leading European Tech Hub."