How well was your Thanksgiving turkey treated?
As Thanksgiving draws nearer, the Animal Welfare Institute has asked questions of the welfare standards of turkeys in the US, particularly around the slaughter process.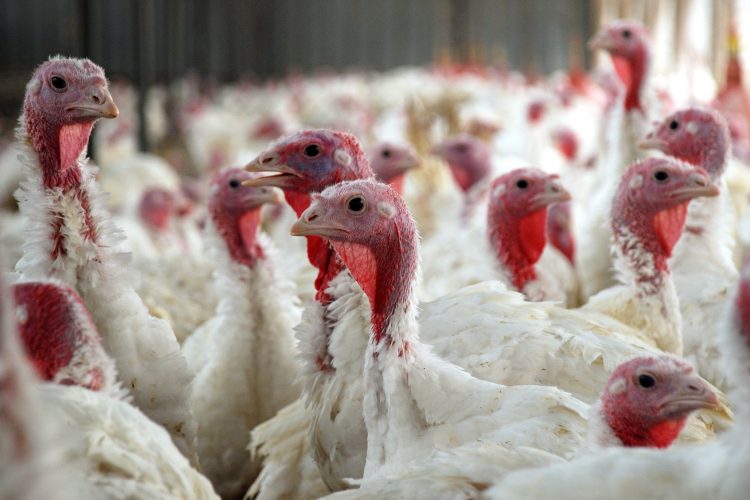 As families start shopping for their Thanksgiving menus, a new survey commissioned by the Animal Welfare Institute (AWI) claims that a majority of poultry purchasers think conventional turkey production practices are "unacceptable."
According to an online survey conducted by The Harris Poll among more than 1,700 US adults who purchase poultry products at least once a month, 70 percent said it was totally or somewhat unacceptable for conventional turkey producers to deny these animals access to fresh air and sunlight.
The AWI also claims that more than three in five of these poultry purchasers found it totally or somewhat unacceptable that producers confine turkeys indoors for their entire lives (64 percent), expose the animals to continuous, artificial light for 20 hours a day (61 percent), subject them to beak trimming and other physical alterations without pain relief (63 percent), and use growth promoters or non-therapeutic antibiotics to raise them (61 percent).
"Families are increasingly demanding more compassionate food options when gathering for the holidays, yet the vast majority of birds found on supermarket shelves continue to suffer in overcrowded, disease-ridden factory farms," said Dena Jones, farm animal program director for AWI.
"Fortunately, there are higher-welfare poultry alternatives and plant-based options that can easily be incorporated into your favourite recipes without subjecting farm animals to a grim existence." 
Each Thanksgiving, 85 to 90 percent of people nationwide collectively consume an estimated 46 million turkeys, according to the National Turkey Federation. However, the AWI claims that many of these birds suffer maltreatment throughout their life. A 2020 AWI report claims some birds face heat or cold stress and are not sufficiently stunned at slaughter to render the process painless. In addition, the report calls the US Department of Agriculture response to the alleged abuse as "inadequate".
This Thanksgiving, the AWI has provided what it calls a "comprehensive guide to animal-raising claims commonly found on meat, egg, and dairy products." The guide divides claims about how farm animals are raised into "best choices," (such as Certified Animal Welfare Approved by AGW and Global Animal Partnership, Steps 4, 5 and 5+), along with "next best choices," "fair choices," and "beware of these labels" (including "cage free" and "no added hormones" for turkeys and chickens raised for meat, and "natural" for all animal food products).