Labour and the role of automation in food safety
The UK food industry has always relied more on manual labour than our European competitors. Now the UK has to start taking automation seriously if it is to compete effectively in world markets. Rob Chester, Managing Director of Food for NSF International in the UK, considers the implications for food safety.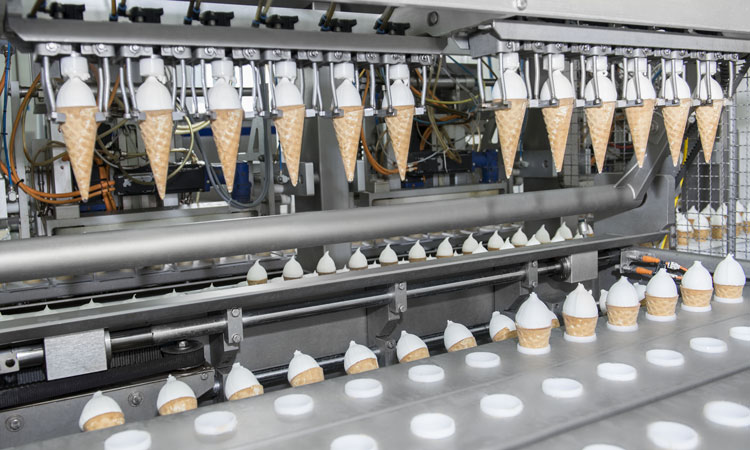 In the face of Brexit and the new competitive challenges for the UK, the government has signalled its determination to support modernisation and technology development. Chancellor of the Exchequer Philip Hammond has pledged more than £500m for digital, data and technology projects, including artificial intelligence. Michael Gove, Secretary of State for Environment, Food and Rural Affairs, gave a strongly worded message to the food industry recently, saying we must not rely on low-skilled labour or we will be overtaken by others who do invest in automation.
Productivity is the name of the game and Brexit has thrown this sharply into focus. The average German worker can make £1.35 in the time it takes a British worker to make £1. But why is the UK behind the rest of Europe when it comes to automation? In 2016, the UK took delivery of just under 2% of global industrial robots for food and beverage production, compared to France and Germany at 5% and 6% respectively. In France, and to a lesser extent Germany, restrictions on working hours and limits on redundancies make hiring workers more costly than in the UK. This encourages French and German firms to invest in the latest machinery and limit employment.
It also appears that in the UK we have a more cautious (some may say more short-sighted) view of return on investment. Payback periods are often as little as one year, meaning that installing expensive capital equipment is not a good option when the work can be done instead by cheap labour. However, all that is now changing.
The Office for National Statistics said last August that net migration had fallen to its lowest level for three years, with more than half the drop caused by
European Union citizens leaving and fewer arriving since the Brexit vote. According to the Association of Labour Providers, 70% of labour providers to the agriculture, food manufacturing and distribution sectors are unable to meet all their clients' labour needs and 36% of labour providers were not expecting to be able to source and supply sufficient workers for Christmas 2017.
In fact, this is not simply a UK or Brexit problem; quality of life has improved in many countries that have until now been good sources of labour for the UK, France and Germany, and people are less willing to move. The population is ageing and there are increasingly onerous responsibilities and therefore costs for employers. The introduction of the new National Living Wage will raise the minimum wage by 4.4%.
Investing in automation
In these circumstances investment in automated systems starts to look like a sensible option. A recent survey by the Agriculture and Horticulture Development Board reported that many growers see robotics as a solution to labour availability issues, with a third of respondents saying they had begun developing their own in-house solutions, and a further third already involved in R&D projects. The most recent advances in automation have been in planting, harvesting and grading. Almost a third of growers use 'some element of robotics', incorporating feedback and sensing.
Mike Wilson, Chairman of the British Automation and Robots Association, explains that sophisticated systems incorporating robots can already undertake tasks ranging from picking and wrapping pancakes to handling and packing eggs. He says: "Automatic handling of primary food still presents challenges, because it is not uniform in size and shape and it is less easy to control where it is on the line, but manufacturers are now developing vision-control systems that can cope with this."
Using robot-controlled automated systems makes sense in terms of productivity, food safety, and health and safety. Machines are faster and more precise. Each robot can carry out 110 to 140 picks per minute. A UK business, Boomf, which makes personalised marshmallow confectionery, reports that a cutting and knife cleaning procedure that previously took five minutes now takes 17 seconds using new robotic equipment, and now takes the place of 10 workers.
Removing the human element takes out potential food safety problems such as poor handwashing, transmission of foodborne disease and infection between workers. Packing, lifting and palletising heavy boxes also represents health and safety risks to workers such as repetitive strain and back injuries. One of the biggest egg-producing farms in Thailand has raised its productivity by 30% by using a robotic system that stacks heavy boxes and baskets of eggs onto pallets. Before this, workers would manually stack the cartons and baskets of eggs onto the pallets, with a single worker lifting about 15 tons of eggs a day. This role was rotated among seven workers throughout the week to minimise safety risks that could arise due to the high intensity of the job. The farm now involves automation at every step of the process, including feeding chickens, clearing manure, collecting, inspecting, sorting and packing thousands of eggs daily.
Similarly, automated systems have the advantages of being able to function in environments that are risky for humans, such as in extreme temperatures or precarious heights. However, use of these automated systems does bring its own hygiene problems.
Hygiene challenges
At NSF International, we offer globally respected certification and registration programmes for verifying the hygienic quality of commercial foodservice equipment. These are important for export markets, and essential for North America. Ann Willems, the NSF Food Equipment Manager in Europe, reports that although the numbers of machines incorporating robotics are still small, they can present significant challenges in terms of acceptability in the American markets: "We are increasingly seeing systems like automated pizza-making and chip-frying vending machines, 3-D printers or precision cutting tools with sensors such as for kebabs or fancy cake-cutting. As equipment becomes more sophisticated with more moving parts, cables, openings etc, they become more difficult to dismantle and clean. They also use more lubricants."
It is a requirement that the machines can be manually cleaned without specialist equipment in a commercial kitchen or restaurant environment. Operators can often be unskilled or non-English speaking, and machines must be simple to clean and designed to minimise contact between the motor parts and the food zone.
Willems says: "Cleanability is often the last thing considered by the system designers. We would urge any manufacturer to involve the certification body at an early stage.
Too often we have seen time and money wasted when machines need to undergo costly design updates to meet US public health requirements."
Mr Wilson also emphasises that you cannot totally remove the human element from industrial systems. "Robots are highly reliable and rarely fail, but problems may be caused, for example, by a faulty sensor or a moving part. In that instance a backup manual process may be needed. Humans are still needed to monitor equipment as it works, carry out preventative maintenance and troubleshoot if there are problems." Training is key. If an operator mistakenly removes filters from a commercial dishwashing machine, hygiene is totally compromised.
"Common sense is still required," says Ms Willems. "The software may be telling you the oven is baking at the right temperature, but a visual check may prove different."
Remote sensor monitoring on equipment now provides accuracy and control in areas where human record-keeping has proven to be all too fallible. Monitoring fridge and oven temperatures and humidity is already common practice and sophisticated industrial machinery often operates with remote monitoring and diagnostics provided by the system builder. But what happens if the internet connection goes down? Mike Wilson says: "We still rely on people being able to pick up the phone or make a visit when things go wrong."
In many ways we are just at the start of discovering how technology can enhance food safety. There are many developments facilitated by technology that have obvious potential for applications in food. Examples include monitoring and control of handwashing via wearable sensors and intelligent packaging that warns when a product is about to go out of date. Smart wearables will soon enable us to monitor the health signals of workers in food preparation areas, in order to spot when they may be ill. We are also seeing a growing use of portable devices, such as hyperspectral cameras that can accurately assess in an instant the composition of a product, taking the place of expensive and slow lab testing.
Transforming auditing
Auditing of multi-outlet manufacturing and retail chains is an expensive, resource-hungry activity. Auditing all sites on the same set frequency, whether they are good or bad, is not very efficient or effective. We can now use predictive analytics to understand how and where risks are arising in our own or supplier sites and to schedule preventative activity on a targeted and prioritised basis. NSF International is already doing this for a number of clients.
We have spent more than two years developing a remote auditing system called EyeSucceed. An operator not trained in food safety can conduct an audit wearing smart glasses anywhere in the world, while a trained auditor back in the UK office can see what they see, direct the audit and communicate with the wearer from the comfort of their own desk. The savings from not having to send auditors to distant parts of the worlds will be huge. But even more exciting is the potential that the glasses have to help train people and ensure they are following correct practices. You can embed routines into the glasses so that people doing critical tasks on production lines can obtain guidance and correction instantaneously.
Perhaps the most exciting possibility is being able to draw on global knowledge to build better food safety practices. Every business involved in the food industry is creating policies and processes to define and control key aspects of what they do. There is a worldwide database of food industry practice in the manuals of every business and in the head of every expert. Why can't the food safety industry harness that? It is within our grasp to create a seamless collaboration between businesses, experts, academics, NGOs and others to create the very best policies and processes shared by all and to the advantage of all.
The possibilities are endless. Technology is a wonderful thing. However, running through every thread of technology is the human story. Machines will still, for a long time at least, need operators of some sort. Food producing businesses still need leadership and the fostering of healthy cultures to avoid malpractice and maintain high standards. Embraced effectively, technology can be a big part of the solution. But as famous management consultant Peter Drucker once said: "Culture eats strategy for breakfast." I'll always put my money on that.
About the author
Rob Chester is UK Managing Director of Food at NSF International, leading its food safety services and operations. Before joining NSF he worked for Walmart in the UK, the US and China. While in China he was the Chief Compliance Officer, and in the US he ran Operations Compliance across Walmart's 5,000 US stores. Prior to Walmart he held several global compliance roles for Tesco. He holds an LLB and postgraduate diploma in Legal Practice from the University of Central Lancashire.