University of Nottingham innovators win sustainable food awards
Two winning teams from the University of Nottingham discuss their success in the EcoTrophelia competition and why they think sustainable food innovation is essential.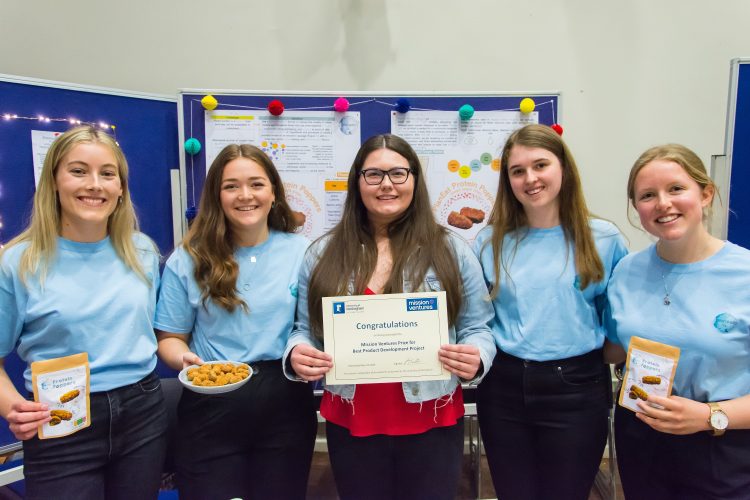 The PlanEat team
Two teams from the University of Nottingham (UoN) took part in the 2023 EcoTrophelia finals, held at Sainsbury's HQ in London on 7 June.
Showcasing their innovative novel products, the teams came away with first and second place at the competition – an amazing result for the University. The winning team "PlanEat" will be attending the European finals in Germany later this year, presenting their BBQ pork-flavoured insect bites.
The winner of the competition, Team 'PlanEat', was made up of Isabel Parks, Jess Stinton, Hannah Stodart, Jess Limb and Jess Kerr, who ideated and created snack bites made with 41 percent sustainably-sourced mealworm protein. PlanEat's 'Protein Poppers', are made of a succulent, sausage-like core, coated with a gluten-free pea crumb, and flavoured with smoky BBQ pork flavour. The Poppers are air-fried to create a crunchy coating, without the negative nutritional connotations of deep-fat frying. They are also high in fibre, protein, and have all green and amber traffic light coding.
The team were passionate about developing a great-tasting, nutritious and sustainable snack product, for active students, young professionals on-the-go, or as a quick meal solution for busy weeknights. They encountered many challenges throughout the six-month development process, but applied their food science knowledge, determination and desire to see more consumers educated about the benefits of insect protein ultimately producing a multisensory, consumer-acceptable insect snack, which was loved by judges and fellow competitors at the EcoTrophelia finals.
The second-place winners known as "Hey Pesto!" created vegan, super-seed pestos which were free of all declared allergens. They created two unique flavours, a fresh and zesty "Parsley, Lemon and Garlic" super-seed pesto, and a smoky and spicy "Chipotle Red Pepper and Tomato" super-seed pesto. The group consisted of five university students: Catherine Child, Lydia Newton, Elizabeth Page, Grace Jackson and Fin Gale. The super-seed base came from a combination of different seeds mixed with a blend of rape and olive oil, producing a healthy and nutritious foundation.
Creating a winning product
In the months prior to the competition both teams completed the journey of producing their products from scratch. Both teams were given an industry partner for the initial development stages of their products, with "Hey Pesto!" being partnered with Origin Kitchen, and "PlanEat" working with "The Healy Group".
The development of the products was undertaken alongside a university new product development module, with both teams aspiring to take the products further and enter the finals of Ecotrophelia.
The finalists
After completing a dossier and application for the competition, both teams were thrilled to be chosen for the finals and be able to continue developing their products. EcoTrophelia is a widely-known competition, particularly amongst food science students, and members of both teams had wanted to enter the competition before beginning their degrees, which made the successful applications, and awards at the Finals, and even greater reward!
Prior to the EcoTrophelia Finals, the products were presented at a University showcase, where "PlanEat" won the "Mission Ventures Award for Innovation", and "Hey Pesto!" won the "People's Choice Award". After success at the showcase both teams were excited and determined to go to the Ecotrophelia finals and do the best they could – which they did.
Both teams thoroughly enjoyed the Finals, which also presented a great opportunity to network with industry professionals from a wide range of major companies, including the likes of PepsiCo, Mondelez, Nestlé, Marks and Spencer and Quorn. Following a showcase in the morning, in which students met the judges and displayed their products, both teams delivered a 15-minute pitch to the 13 judges, informing them about their products and development process, and selling their product to the judges.
Both teams would like to thank all of the staff who have been so heavily involved from the UoN, both of their industry partners, and all those who coordinated the joint IFST-Campden BRI Finals. After a long day of presenting and networking, the teams were delighted with their victories.
As the food industry continues to expand, the continued development of innovative and sustainable products is vital to help drive the world towards being a more eco-conscious and environmentally-friendly place. The work undertaken by students within EcoTrophelia, as well as companies around the world, is imperative to reach this goal and ensure we look after our planet, whilst also enjoying the food we are eating.
About the authors

Catherine Child: Cat is a final year Food Science and Nutrition student at the University of Nottingham. She was part of the team placing second at the competition named "Hey Pesto!". After completing her course she has secured a job with the company "Pilgrim Food Masters" as a R&D Co-ordinator.

Jessica Stinton: Jess is a final-year Food Science and Nutrition student, who spent a year in Research and Development at Cereal Partners worldwide learning the inner-workings of Shreddies and Shredded Wheat. She has a passion for innovation which puts consumers and the planet at the centre, and delights in thinking of new ways to do things. Following an internship, working with refugees at her local church in Nottingham, Jess is planning to set up a social enterprise bakery with another Food Science graduate, in Nottinghamshire.
Related topics
Related organisations
Related regions