CBD products: The importance of child-safety
Lifestyle Packaging's Steve Brownett-Gale answers all the important questions surrounding child-resistant packaging for the CBD industry.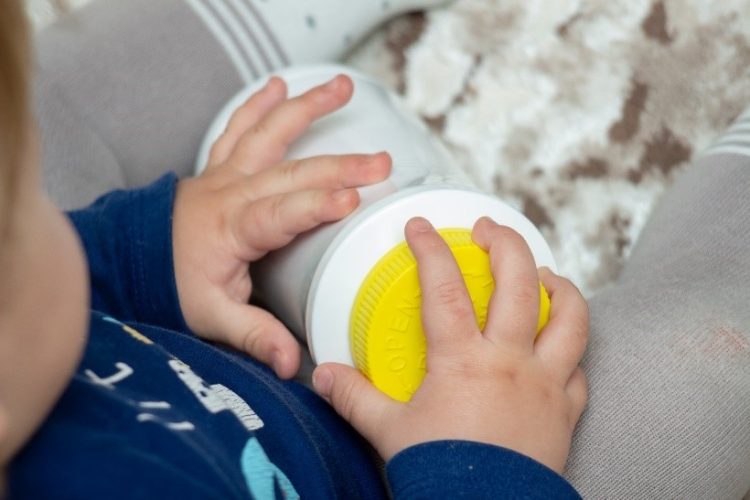 Since it became available to purchase in the UK in 2018, the CBD market has rapidly expanded – expected to triple in value from £690 million in 2021 to £1 billion by 2025.  
However, while CBD products are now easily available to purchase, it's important to ensure they're kept out of reach of children.  
What CBD products are safe? 
Consumers should educate themselves on CBD products, conducting desktop research to see what it is, as well as ensuring the products they're using are safe and legal. 
Cannabidiol (CBD) is a chemical found in marijuana that doesn't contain tetrahydrocannabinol (THC) – the psychoactive ingredient that produces a high. 
Products should legally contain less than 1mg of THC and are available in the form of food, drinks, supplements, sprays, skincare and vapes. 
As of 2020, UK regulations require manufacturers of CBD oils, foods or drinks to submit a novel food application to the Food Standards Agency (FSA) for safety assessment prior to sale.  Requirements include the strain and variety of the cannabis raw material, source country, outline of the manufacturing process, quality control measures, extraction method and product specification. Vapes products must also meet General Product Safety Regulations and cosmetics containing it must meet Cosmetic Products Enforcement Regulations. 
While many products are tested for THC content, research does suggest that some are mislabelled and contain more than the legal amount. 
Something else that could confuse consumers is the availability of CBD and THC versions of products, such as edibles, drinks or oils. 
For example, CBD gummies are available to legally purchase in the UK free from THC or containing less than 0.3 percent, as an easy way to ingest CBD. However, statements issued by local authorities in recent years have warned parents to be aware of cannabis edibles being offered to young people by gangs.    
Several studies have been conducted that reveal the negative impacts of regular cannabis use, such as impaired judgement, difficulty learning or concentrating and increased risk of anxiety and depression – especially for adolescents. 
Why CBD should be kept away from children 
Each year an estimated 500 children under five are rushed to hospital after ingesting a poisonous substance. 
Despite regulatory approval, users should remain vigilant to ensure children don't come into contact with CBD products. 
That's because while CBD is not inherently harmful to children or adults, there is limited research to suggest it has any benefits, so experts advise parents against exposing children to it. 
Although it is not life-threatening if accidentally ingested, even a small amount could result in cannabinoid poisoning, with a study finding mild traces in children three weeks after ingesting hemp seed oil, which is weaker than CBD but can still cause symptoms such as agitation, lack of basic co-ordination, and even seizures.   
Plus, CBD products can be harmful if ingested alongside other supplements. CBD is broken down in the liver, just like supplements, and can ultimately speed up or slow down the absorption rate of other ingested substances and impact a child's well-being if these other substances are important for their health. 
What businesses can do 
To ensure children can't access CBD products easily, businesses should invest in child-resistant packaging designed to prevent young children from accessing and consuming contained substances and is distinguished from regular packaging solutions by this targeted specification.   
This type of packaging was first circulated in the late 1970s in the UK and has since become globally standardised due to its effectiveness in reducing accidental poisonings.   
British regulations currently advise that packaging deemed child-resistant should not be able to be opened by 80 percent of children under the age of five but should be able to be easily opened by much older children and adults.   
The UK government passed the Child Resistant Packaging Safety Regulations in 1986, which requires all packaging solutions to pass requirements and checks set by the British Standards Institute before a product becomes available for purchase.   
However, as CBD is predominantly sold as a food supplement and available to purchase over-the-counter it is considered a novel food and packaging regulations such as the ISO 8317, ISO 13127, and ASTM D3475-20 do not apply like with medicinal cannabis.  
Although child-resistant packaging, like dual-action design mechanisms, is not a requirement for CBD products, it's still important that the packaging isn't attractive to young consumers. The colour of packaging has become a well-discussed topic, as research indicates that colour and imagery impact children and their attraction to brightly coloured packaging. To prevent this, standardised packaging has become the new norm to reduce the appeal of products that pose a risk to young people.  
Additionally, the product packaging should include relevant information about what it is, how to use it and safety instructions on what to do if it is ingested accidentally. 
What consumers can do  
Ensure children can't open it
Consumers should invest in products with child-resistant packaging to avoid any chance of their young ingesting potentially harmful chemicals. 
Before selling, CBD vendors must ensure they meet packaging requirements and include the product name, product identity, dosage, health warnings, CBD purity, any ingredients, a best-before date, anti-tamper seals and storage conditions.  
Child resistance isn't the law for CBD products available for consumer purchase, but it's recommended to buy products that children can't open easily.  
According to BSI, current standards state that child-resistant packaging should be impossible to open for 80 percent of children under five. Child-proof CBD packaging is available in various forms, such as jars, bottles and clamshell containers, with extra-safe features like click-lock caps which are often too complicated for children as users are required to push or squeeze the lid while turning it.  
Another consideration when choosing products is their appearance, as a product resembling something aimed at a young audience, such as a toy or packet of sweets, could attract the attention of curious young minds.  
Store them out of harm's way 
It's vital to keep potentially dangerous products or medicines in their original packaging and out of the reach of children. 
The original packaging will hold all the information about the product, such as its strength, dosage and health warnings – which could prove crucial if users suffer any side effects and have to seek medical advice.  
However, if consumers want to be extra cautious, they can invest in a zip-lock bag to place the CBD product in when it's not in use. Ziplock bags have a single-entry design which requires mature dexterity to open and access.  
Plus, when not in use, the CBD products' child-lock cap should be put back on and stored in a cabinet or drawer above counter height that children can't get to or see. 
Biography

Steve Brownett-Gale is Marketing Lead at Lifestyle Packaging. Lifestyle Packaging designs, customises and supplies packaging to a range of industries – including CBD, perfume and home fragrance, skincare and aromatherapy – and is a market leader in child-resistant packaging.   
Related topics
Related organisations
Related regions