Making a success of low-carb pasta
New Food hears how It's Skinny is breaking the mould in a traditionally high-carb category and the ways in which the business is evolving.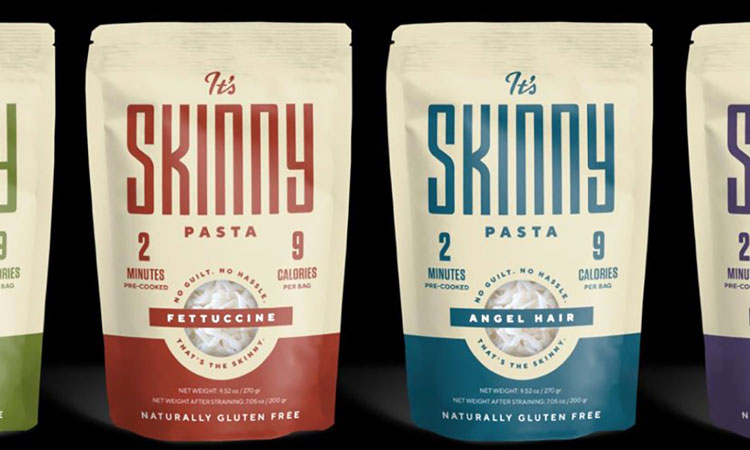 Bryan Guadagno, Co-founder and CEO of It's Skinny Pasta, spends most of his time crossing the country with Co-founder Barb Axelson, delivering presentations to executives of major grocery chains. Their mission: to further the strong growth of the It's Skinny line of konjac-based alternative pasta products.
At the same time, the brand's seven-person team remains highly focused at its Austin Texas HQ, on testing, refinement and expansion of the online marketing that has already landed It's Skinny a top-selling spot on Amazon.
The challenge, according to Guadagno , is to establish a pace that allows the two-year-old company to continue to scale up without putting undue stress on its financial structure.
But the market opportunity is straightforward. One in every seven consumers in the US seeks a low-glycaemic diet, commonly following a diagnosis of diabetes. Previous alternative pasta products created from rice or legumes such as chickpeas are high in calories and carbohydrates and don't meet the requirements of low-glycaemic consumers.
The root of It's Skinny's success
Konjac, a root vegetable grown and produced predominantly in Southeast Asia, has long been identified as a pasta alternative, but consumers have been put off by its slimy, rubbery texture, translucent colour and fishy odour.
The It's Skinny line, developed by Guadagno and Axelson, overcomes each of these obstacles with products (spaghetti, fettuccine, angel hair and rice) that meet the taste, smell and appearance tests. And at nine calories, zero net carbohydrates and 10mg of sodium per serving, it also meets the requirements of shoppers who carefully study ingredient labels.
Drawing on the contacts developed by Axelson during her career as a sales leader with Unilever and Campbell Soup Co., It's Skinny found early success with regional rollouts in mainstream grocers including Food Lion, Publix, ShopRite and Safeway. High levels of repeat sales to satisfied consumers have proven to be an important selling point for the brand.
At the same time, Guadagno is delivering presentations to national chains that include Walmart and Costco, as well as health-conscious retailers such as Whole Foods Market and Sprouts Farmers Market.
Where business is growing
Yet while It's Skinny builds a growing footprint in bricks-and-mortar retail, online sales remain the largest portion of its business. Guadagno says that sales through Amazon account for about half the company's revenues, and its own e-commerce sales generate another significant portion.
The two channels have proven complementary, he added. Amazon attracts new consumers as well as those sensitive to shipping costs. The It's Skinny e-commerce site, meanwhile, draws shoppers who are strongly loyal to the brand.
Online sales remain the largest portion of [It's Skinny]'s business
A cadre of influencers builds authentic engagement with consumers and It's Skinny runs constant testing of messaging on social media and other digital platforms. However, this careful testing sometimes presents a challenge to the fast-paced team. "We need to have good testing, but testing takes time," he noted.
The even bigger challenge that faces Guadagno in his role as CEO, however, is ensuring that the growth of It's Skinny continues to build on a solid financial foundation.
How business is growing
It's Skinny recently landed a significant investment from Decathlon Capital Partners, the nation's largest provider of revenue-based financing. While details of the transaction were not disclosed, It's Skinny will repay the debt from its future revenues. If revenues dip for a month or two, the required repayment will dip, too. If revenues boom, It's Skinny will have the capability to repay the entire amount without any pre-payment penalties. 
That flexibility, Guadagno says, is important for a fast-growing company like It's Skinny —in fact, it outweighs the effects of borrowing costs that are modestly higher than those on traditional debt financing.
Another benefit, he explains, is the revenue-based financing did not require It's Skinny to give up any equity or management control. That's important to protect the interests of the early-stage venture investors in the company.
Guadagno draws on more than a decade of experience as an investment banker, financial adviser and operating executive as he works with investors like Decathlon.
The significant capital provided in the latest revenue-based financing transaction will be used by It's Skinny to expand its marketing function and build the necessary inventories to support its expanding sales, both online and through traditional channels. Guadagno says the company will also devote a portion of the investment to the development of new products.
John Borchers, Managing Director of Decathlon Capital Partners, says his analysts were impressed by the innovative development of successful products by the It's Skinny team, as well as the company's savvy traditional and digital marketing techniques.
"We were impressed too by the ability of the It's Skinny team to balance their desire for rapid growth with a sophisticated understanding of the need to manage their capital carefully," Borchers commented. "That can be a very demanding challenge for an entrepreneurial company."
One lesson Guadagno holds in high esteem is that balance is vital.
"We have a lot of runway, and we have a lot of opportunities. Now it's up to us to scale in a way that continues to deliver success," Guadagno concluded.
Biographies

Bryan Guadagno is It's Skinny's CEO and Co-Founder. He was a former CPG investment banker, and has more than six years of category experience working with both distressed and high-growth businesses.

Barb Axelson is It's Skinny's Head of Sales and Co-Founder. She is a sales expert with more than 20 years at Unilever, nearly nine years at Campbell Soup, and another seven years working with various startups in CPG.