What is high moisture extrusion and why everyone in plant-based should be talking about it
In a Q&A with New Food, Michel Mellema, Global Innovation Director and Alexander Lamm, Principal Food Designer at IFF's Nourish business division explain the purpose and advantages of high moisture extrusion and how the company's recent collaboration with Coperion will benefit the plant-based category.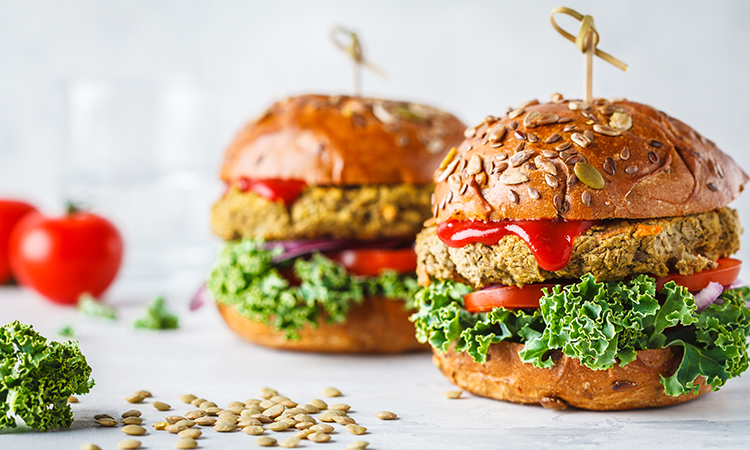 In this article, IFF'S Global Innovation Director and Principal Food Designer explain the benefits of using high moisture extrusion and discuss how the organisation's partnership with Coperion will offer the plant-based category some serious gains.
Q: What is high moisture extrusion?
A: High-moisture extrusion (HME) is a process technology used to replicate the appearance and fibrous texture of conventional whole-muscle meat. HME provides higher juiciness and more fibers than other processes. In other words, it's a technique that is often used to help mimic the taste and texture of meat-based and seafood products in plant-based meat. HME currently accounts for approximately 20 percent of global plant-based meat products and is expected to grow by double digits by 2030, as more producers worldwide turn to this process.
Q: How does it work and where in the process of plant-based products is it used?
A: In essence, HME is a continuous cook-and-stir process similar to what can be found in kitchens. One can tailor and obtain uniqueness by, for example, the geometry of the pipe, how water and protein are mixed under certain temperatures and pressure. Depending on the recipe, we can co-create the unique features with our customers; especially in the special cooling part of the process where the desired meaty texture is obtained.
Q: Can you tell New Food readers about the collaboration between IFF and Coperion to create a new HME technology?
A: We're delighted to collaborate with Coperion, an industry leader in plant-protein extrusion solutions, to integrate HME into IFF's PRODUCT DESIGN™.
IFF's PRODUCT DESIGN™ aims to deliver end-to-end product creation, combining recipe and flavour design expertise with advanced industry insights. This approach allows us to lead the way towards uncommon product innovation, to develop the next generation of food and beverages.
Coperion and IFF each have dedicated specialists on both ends, to support future innovation on HME products. Coperion supports the engineering work, which is open for adjustments based upon the recipe requirements, while IFF focuses on complete product design to deliver the desired taste and texture.
This collaboration will strengthen our expertise and therefore aid our recommendations to the industry in the future, not only about the product design, but also the best ways to incorporate such technologies into various process stages. Ultimately, it will allow our customers to develop successful products faster.
Q: What opportunities will the partnership create for you and your plant-based products?
A: This collaboration allows us to support manufacturers throughout the entire process, starting with development from bench or lab trials, through to the upscaling stage of HME.
We will be able to provide best-in-class plant-based recipe recommendations that suit our customers' equipment to help them meet their plant-based innovation and product development targets.
Q: How is this technology different from other HME tools/techniques?
A: There are other technologies on the market today for structured plant proteins, but HME is one- of-a-kind. HME offers plant-based food manufacturers the opportunity to adjust to different parameters, depending on the product design. With this technique, one can introduce a wider variety of plant-based meat alternative innovations to the plant-based industry, whilst providing a product that is able to compete with meat on texture and fibrosity. We believe HME could be the answer to meeting consumer demands for a plant-based product that offers an experience akin to eating meat.
By coupling Coperion's engineering and technology with IFF's wide portfolio of ingredients and flavours, manufacturers can design products that consumers love and purchase time and time again.
Biographies
Michel Mellema is the Global Innovation Director for IFF's RE-IMAGINE PROTEIN® programme. He has more than 20+ years of experience in leading major technology and innovation projects. Michel currently leads a collection of projects aimed at launching new and innovative ingredients for novel protein/plant-based protein foods for the Nourish Division of IFF.
Alexander Lamm is the Principal Food Designer for IFF's RE-IMAGINE PROTEIN® global innovation programme. Alexander has more than 25 years in food and food ingredients industry, in the last five years he has placed his focus in new protein culinary design. He has a Master's in food science and is an advisor and panellist in various plant-based ecosystems.
References