Fancy a cup of hemp tea?
In an interview with Caroline Rose, brand controller at Clipper Teas, New Food finds out more about the company's hemp infusions.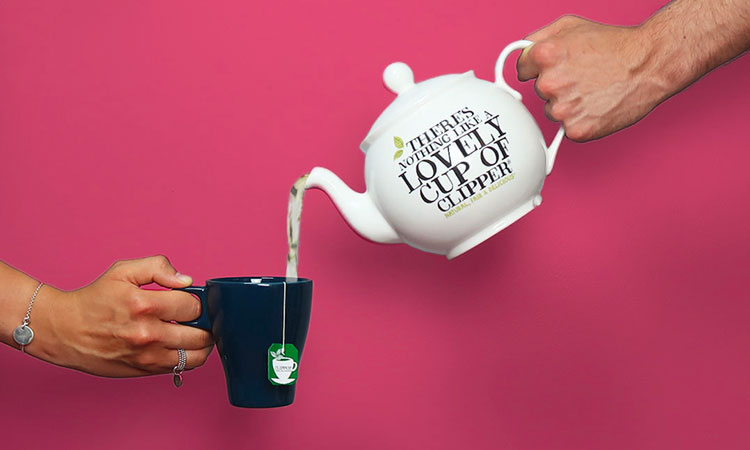 Q: Who is Clipper?
A: Clipper Teas is a different kind of tea company. With a 20 percent market share of the ethical tea market, we're a pioneer in ethical, organic and sustainable tea production – and have been since 1984.
In 1994, Clipper became the UK's first Fairtrade tea company and contributed to writing the original Fairtrade standards. Today, it is the world's largest Fairtrade tea brand, supporting 114,000 producers and their families around the world.
As the fastest-growing black and green tea company presently in the UK, we're committed to creating teas that taste delicious and deliver on quality while having a positive impact on the planet. Clipper focuses on organic and ethically sourced ingredients, alongside sustainable packaging solutions, and has launched the world's first fully biodegradable, non-GM and unbleached heat-sealed tea bags.
Tea is the most popular drink in the world after water, so making the switch to an organic and ethical brand like Clipper makes a huge difference.  
Q: What led you to launch a hemp infusion?
A: The infusions market is buoyant. Clipper is maximising its range of infusions to appeal to the growing number of health-conscious customers seeking functional options with perceived health benefits.
Hemp and CBD are trending, and given that Clipper is a pioneering brand, we wanted to create a range of calming hemp infusions that appeal to our growing Gen Z conscious shoppers – a consumer tribe we refer to as 'Generation Tea'. These consumers care about what they put into their bodies and how it impacts the world around them.
Clipper's hemp infusions are robust in taste and are paired with other botanicals and natural ingredients that have good traditional uses for relaxation – such as chamomile and lemon balm. We wanted to maximise the use of hemp in a sustainable way, but ultimately the range is focused around great taste and quality organic ingredients, perfect for those much-needed 'me' moments.
Q: What flavours work well with hemp?
A: Clipper Organic Karma Mama Hemp is infused with hemp seed, chamomile, lavender, lemon balm and tulsi (holy basil). Meanwhile, the Organic Groovy Ginger Hemp flavour uses hemp seed and warming ginger root, alongside lemongrass and chamomile. Both variants are packed full of flavour and deliver a relaxing 'hug in a mug'.
For our teas we use hemp seed rather than hemp leaves that have a strong, grassy taste. This allows Clipper to blend with carefully crafted botanicals to deliver the delicious and distinctive Clipper taste experience, while harnessing the natural benefits of the ingredients.
Using hemp seed for taste trials offered some interesting flavour variations. Hemp seed has a mild, pleasant and woody taste that marries well with most ingredients. Alongside our chosen SKUs (stock keeping unit), other complementary flavours that were developed but not launched included peppermint, spearmint and eucalyptus as well as cocoa shells with honeybush, which provided a subtle sweet and smooth chocolatey taste.
Following the initial feedback and strong sales, we can certainly foresee a range extension. The hemp taste is so subtle, and there is no detectable THC in our teas, so any fragrant, soothing blend would work well and really bolster the range.
Q: What do you believe is driving an uptake in hemp?
 A: Alongside popular culture and the 'cool factor' of hemp as an ingredient, the use of hemp in products is incredibly functional. Following the pandemic, consumers are heavily focused on their health and functional teas fit well in this trend. Hemp is known for its relaxing properties and has a pleasant taste profile.
Hemp teas are perfect for wellbeing and self care and are generally well received. Clipper has a point of difference in that we are known to our customers for being a health-first brand. The wellbeing of our shoppers and our planet is important.
Aligned with our brand principles, the organic ingredients in our hemp SKUs offer an extra point of interest, alongside the Clipper standard of great taste.
Q: How do you ensure that the tea contains a suitable amount of hemp – and what is the optimum level?
 A: We opted to use hemp seeds pomace, which is a by-product from hemp seed oil production. Ordinarily discarded, this reduces product waste by upcycling the leftover material and utilises an area of the hemp plant which has an enjoyable mellow taste and no detectable THC.
Our hemp SKUs have not been created to make a CBD claim. Our focus is on the balance of blend and taste. The result, we believe, is an overall pleasant tea, made with care for a calming moment that offers functional benefits for the drinker.
Q: How do you see the hemp drinks market evolving in the future?
 A: As with all trends, there is often a level of uncertainty about the future. That said, I think hemp is a trend that is here to stay. Shoppers are continuing to care about health and the functionality of products. Hemp is incredibly versatile as an ingredient too. It's not just used in tea but many products – from 'strengthening' shampoos to relaxing pillow mists. The opportunities for hemp are abundant across multiple categories.
I believe there will be a big focus on hemp in the health food trade in the coming years. Grocers are interested, but it's a slower commitment. Some food trends are a flash in the pan but take a look at turmeric; this is a trend that really made a mark because of its digestive benefits. Hemp could be a similar story.
One thing we can be sure of is millennial and Gen Z customers that show a keen interest in our planet, will be investing in CBD and hemp products. Hemp is a great ingredient that is in ample supply and has a minimal environmental impact. We are confident our use of organic ingredients will add even more appeal to the range too. The hemp and CBD market is booming and we're excited to be part of it.
About the author
Caroline Rose is the brand controller at Clipper Teas.