The new chocolate bar?
New Food hears from protein bar brand, Barebells, on how its functional snacks are treading the lines between confectionary and health bar, and the demand for portion controlled treats.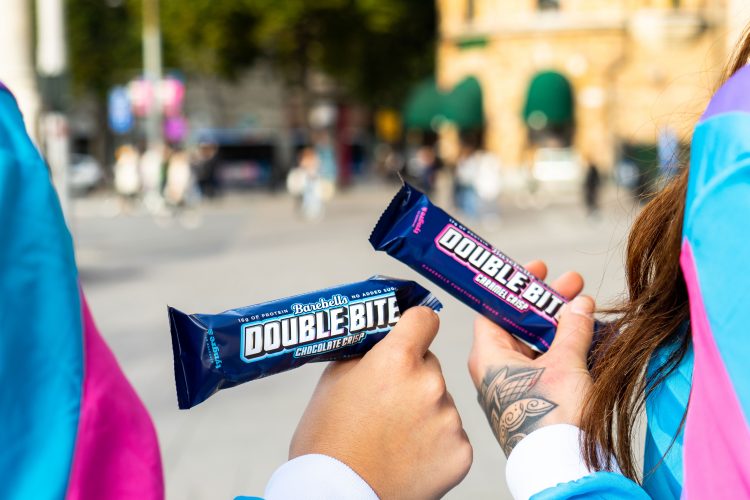 Q: When did you begin to witness the surge in protein rich foods?
A: We started to notice a switch in consumer habits as people began making healthier choices at the checkout in the mid 2010s, and shortly thereafter, Barebells was born. In the last few years, that has intensified even further.
As consumers are keen to improve their eating habits, we have witnessed the ever-growing rise of the 'conscious-snacker' audience, who are greatly influenced by how a brand might impact their health and well-being.

Q: What has driven this demand?
A: People have been embracing much more active lifestyles and the desire for finding alternatives to classic confectionary products is drastically rising. What a few years ago was a niche, today is becoming the mainstream. Now more than ever, people expect to find functional foods to fill their baskets during their regular grocery shopping.

Q: How has the company evolved since its inception?

A: We are committed to an inclusive and encouraging culture and are constantly evaluating our range, which has grown rapidly since the launch of the brand. With products now available in four different categories (Protein Bars, Vegan Protein Bars, Double Bite Bars and Milkshakes), it is safe to say that Barebells is for everyone!
We are also doing our part to become more sustainable and help mother nature, so we say "no" to palm oil across our entire product range.

Q: What was the inspiration behind these latest flavours?
A: Double Bite is the start of a whole new category for Barebells, where consumers no longer have to choose between a confectionary treat and a protein bar.
Double Bite still delivers the high protein content that our active community enjoys, without the high sugar content you can find in traditional confectionary snack bars, whilst not compromising on flavour.

Q: Why a 'Double Bite'?

A: Double Bite comes in a convenient two-part pack, allowing consumers the option of a lighter snack, to share a bar, or to split their treat before and after their workout.
According to recent research, portion-controlled chocolate bars appeal to a large part of the adult population in the UK, particularly the healthy-eating crowd. Among those who are concerned with healthy eating, 73 percent said they would absolutely be interested in these products.1
Moreover, our Double Bite Bars are offering retailers a point of difference in their ranges and therefore a clear incremental sales opportunity. 

Q: What was the most challenging part of developing this latest snack offering?
A: It's not exactly a challenge, but a key focus for us is always taste. We will not release a product if it does not taste great. And with Barebells Double Bite, we really feel we have created something that sits very well alongside traditional confectionery…think Toffee Crisp, but enriched with protein and no added sugar!

Q: The protein trend has made the market quite competitive, what do you do to stand apart?

A: Consumers are looking for much more than traditional sports nutrition brands these days. They want brands they can relate to, brands that fit in their lifestyle and ultimately, brands that offer a great tasting snack. Barebells was born to combine the nutrition and healthier profile that consumers want, with products that tastes much more indulgent than their nutritional info suggests!
Additionally, consumers want and expect brands to be more environmentally and socially conscious. Just as important as providing consumers with amazing snacks, is compensating for the emissions caused by the transport of getting them from us to our retailers, and furthermore, caring for the communities that we operate in and the people that are a part of them.
For the emissions we have not yet been able to reduce, we compensate via a renewable energy source: a zero-emission power project in Hindustan, India. The project harnesses renewable natural resources, ultimately leading to sustainable economic and environmental development.2
Q: In terms of protein claims on packaging – what must brands adhere to achieve a 'high protein' status?

A: To legally advertise a product as being 'high in protein', a minimum of 20 percent of the full product must come from protein. Our Original Protein Bars contain 20g (36 percent), our Vegan Bars 15g (27 percent), and our newest addition, the Double Bite Bars, 16 – 17g (30 percent).
Q: Do you believe the demand for protein is here to stay and how will you evolve to meet future needs?

A: Yes! With consumers searching for healthier, low sugar alternatives when shopping, and more people educating themselves on the nutritional contents of the products in their baskets, I believe the demand is here to stay.
With accessible snack options like our Protein Bars and Protein Milkshakes in the sport and fitness, retail, and convenience sector, we make it easier for consumers to choose a healthy snack that doesn't compromise on taste wherever they go!
About the author
Maria Ledesma is Trade Marketing Manager at Barebells UK & Ireland. Maria joined the Barebells team full-time in 2018, after having worked with them on a freelancer basis since 2017. On a day-to-day basis, Maria looks after the internal linking up of the marketing and sales departments, PR, general brand appearance and E-commerce.