How contaminated oils are cleaned and upgraded
Most crude oils, both vegetable and animal, become contaminated during cultivation and transport. Modern refining processes are available, however, to prevent process contaminants forming, remove existing ones and preserve micronutrients.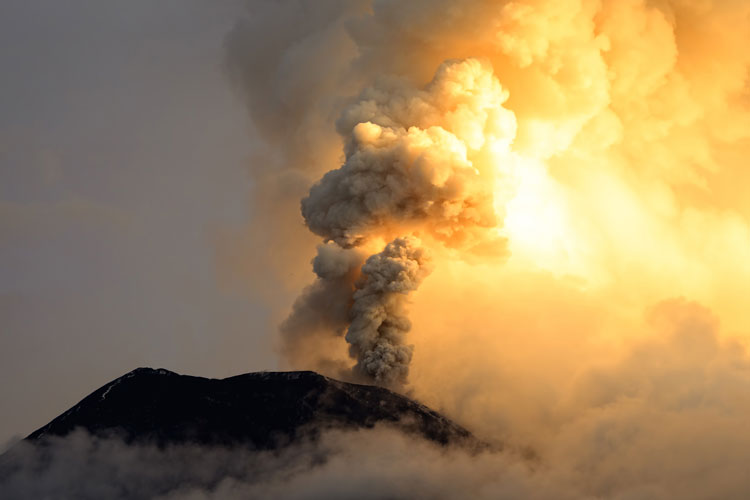 Pollutants can find their way into plants and their oilseeds from a variety of natural and manmade processes, including volcanic eruptions and agricultural systems, travelling via dust particles and rainwater for example
As their long‐term effects on human health become better understood, the detection limits for food contaminants continue to improve, which poses increasing challenges for processors and users of edible oils and fats. For products such as baby foods, the EU Commission has now set strict new limits for trans fats, plasticisers, glycidyl fatty acids esters and free fatty acids.
Moreover, in February 2021, lower limits for plant protection product-derived residues will come into force and infant/follow-on formulae will need to contain the omega-3 fatty acid docosahexaenoic acid (DHA).1,2,3 That's good news, but omega-3 oils can also be contaminated. So, where do these contaminants come from, how can they be in rainwater, in the soil and even in fertiliser. Furthermore, conventional approaches to plant protection and parasite control often involve synthetic pesticides, herbicides or fungicides, and some pesticides such as kerosene oils, are even permitted in organic farming.4 However, because they are apolar substances, just like fats and oils, they can accumulate in plants and crops.
Inputs from harvesting, transport and preprocessing
Other factors can also affect plant raw materials during harvesting and transport. They can easily absorb contaminants from the environment, such as mineral oil hydrocarbons (MOSH/MOAH), which originate, for example, from exhaust gases or jute removed, and what steps can be taken to minimise the risk of contamination along the process chain?
Cultivation-related basic loads
Pollutants regularly enter plants and their oilseeds during cultivation. Whether from weathered rocks, volcanic eruptions, mining, industry or agriculture, they can be found in atmospheric dust particles, or sisal sacks that have been impregnated with mineral batching oil, as sometimes happens in Asian or African countries.5 During preprocessing in the fields and production facilities, food might also come into contact with technical oils or additives that are needed to operate machinery. As a result, despite numerous regulations, maximum limit values are repeatedly exceeded.
Even during transport, crude oils are not safe from contamination. Each kilo of raw material or crude oil can be reloaded or pumped up to six times during transit, which raises the risk of contamination with foreign bodies. In ocean freight traffic, only the last three shipments are globally regulated. As such, the composition of a tanker's cargo or the hygienic conditions of its containers cannot be guaranteed.
Marine oils: a different kind of contamination
Owing to their health benefits and high omega‐3 fatty acid content, oils from marine sources are particularly popular, especially for infant nutrition applications. Although environmental pollutants are also present in fish oils, the biggest refining challenge here is a different one: they are highly sensitive to oxygen and react with it very quickly. The result is unwanted oxidation products, such as fatty acid peroxides and secondary degradation products such as aldehydes, which produce the typical rancid, fishy smell and dark discolouration. After a certain point, these oils cannot be saved or recovered by subsequent processing. Similarly, algae oil, which is also rich in polyunsaturated fatty acids, must be handled with care and kept in a protective atmosphere. As it does not originate from the sea, but is fermented in hermetically sealed tanks, it is practically free from contamination.
Classic refinement
The classic way to clean contaminated crude oil is to use a physical refining process that requires high temperatures (between 230 and 270°C). In a semi-continuous batch process, the crude oils are degummed and bleached before any free fatty acids are removed via steam distillation. In the bleaching process, heavy polycyclic hydrocarbons, dyes and oxidative degradation products adhere to auxiliary materials and can then be filtered out. Aromatic substances such as aldehydes and microbiologically active peptones are removed during the final deodorisation process, as are pesticides and light polycyclic hydrocarbons.
The end product is tasteless and odorless, durable and oxidation-resistant. Depending on the intended use, the oils can then be hydrogenated, transesterified or mixed with other components in further modification steps.
If the oil to be refined shows only a low level of contamination in the initial laboratory test, an alkaline process can be used as an alternative. Here, the free fatty acids are saponified and then separated. In this process, the risk of undesirable process contaminants, such as 3-MCPD or glycidol fatty acid esters, forming due to high temperatures is much lower.
Third option: Short Path Distillation
Short Path Distillation (SPD) is the method of choice for difficult‐to‐process raw materials, such as when the crude oil is heavily contaminated, the oxidation process is at an advanced stage, or the end product must be extremely pure for use in baby food or pharmaceutical products. The process has been tried and tested in the fish oil industry for many years. By augmenting the technology, Nutriswiss, a Swiss market leader for special and organic edible oils, has succeeded in optimising the application of this process, thus achieving the balancing act between gentle and yet effective purification.
We installed a plant concept suitable for a range of edible oils, palm oil and omega-3 oils from a variety of raw materials. Owing to the use of a finely controlled vacuum (with a pressure of below 0.01 mbar) and short residence times, the amount of thermal stress experienced by the raw material is minimised, which prevents the formation of process contaminants such as 3-MCPD or glycidyl fatty acid esters and maximises the yield of, for example, omega-3 fatty acids. At the same time, free fatty acids, plasticisers and pesticides are removed to an extent that is not possible with any other conventional technology.
SPD offers a range of benefits in a variety of applications. For example, studies by independent food laboratories, such as the Institut Fresenius, show that MOSH/MOAH levels can be reduced by up to 80 percent. The content of high molecular weight pesticides can be reduced by up to 90 percent, micronutrients are preserved, plasticisers including DEHP are 100 percent degraded and, in the case of extremely contaminated oils, although tocopherols are distilled off during processing, they can be added back to the purified oil at the end.
Furthermore, colouring carotenoids can be removed or retained as desired. The yield of valuable omega-3 fatty acids (DHA and EPA) is maximised and the oxidation process can be stopped and, in some cases, even reversed. In fat blends for infant nutrition, the composition of omega-3 and omega-6 fatty acids can be specifically adjusted. This also has a beneficial effect on the organoleptic properties of the end product.
Starting clever: raw material sourcing and contract farming
Cleaning up contaminated oils is a vital aspect of quality control in many industries. Advanced technologies have been developed and applied to ensure the health, safety and usability of a vast array of raw materials derived from a multitude of sources and geographies. There is, however, another aspect of ensuring that the oils, fats and other natural products you use have exactly the right attributes and characteristics you require: responsible raw material sourcing.
Nutriswiss, for example, has established an expansive network of contract farming associations and sourcing practices that place quality, sustainability and social standards in the foreground. Working with both conventional and organic producers, both locally and internationally, we have been able to implement our own standards and controls.
Not only does this promote long-term relationships with suppliers, it also provides valuable insight into raw material design, quality and even harvest dates. Behaviours such as having an independent inspector visit the plantation to review the raw material before it's loaded into the company's own ISO‐certified containers is a critical part of supply chain security. Similarly, ensuring that the containers are sealed and only opened again when they reach their destination – all the while tracked in real-time by satellite – means that the risk of contamination in transit from the country of origin to the processing plant is virtually eliminated.
For maximum effect, a combination of responsible sourcing and the application of state-of-the-art technology is the ultimate solution. With this dual approach, even those facing stricter legal limits will be able to meet the higher requirements and deliver a major quality advantage when refining edible oils.
About the author
Frank Moellering is Head of the R&D department at Nutriswiss, Switzerland. After 20 years of experience in the fields of refining, product and process development in a global company, he moved to the more specialised Swiss refinery. At Nutriswiss, he is responsible for the integration of new plant and processes and supervises his team's research activities.
References
European Commission (2019): Trans fat in food, main elements of the regulation: https://ec.europa.eu/food/safety/ labelling_nutrition/trans-fat-food_en, latest access on 

24 August 2020
ommission Regulation (EU) 2018/290 of 26 February 2018: https://eur-lex.europa.eu/legal-content/EN/ TXT/?uri=CELEX%3A32018R0290, latest access on 24 August 2020
Commission Regulation (EU) 2016/127 of 25. September 2015 https://eur-lex.europa.eu/eli/reg_del/2016/127/oj/ deu?locale=en, latest access on 24 August 2020
Commission Regulation (EC) No 889/2008 5 September 2008: https://eur-lex.europa.eu/legal-content/EN/ ALL/?uri=CELEX%3A32008R0889, latest access on 

24 August 2020
EFSA Panel on Contaminants in the Food Chain (CONTAM) (2013): Scientific Opinion on Mineral Oil Hydrocarbons in Food
www.efsa.europa.eu/de/press/news/process-contaminants- vegetable-oils-and-foods
Issue
Related organisations