Salt levels in salads up 13 per cent in four years
Action on Salt has called for mandatory colour-coded nutrition labelling in restaurants and fast food outlets, after a survey revealed the lack of nutrition information on menus and at the point of sale.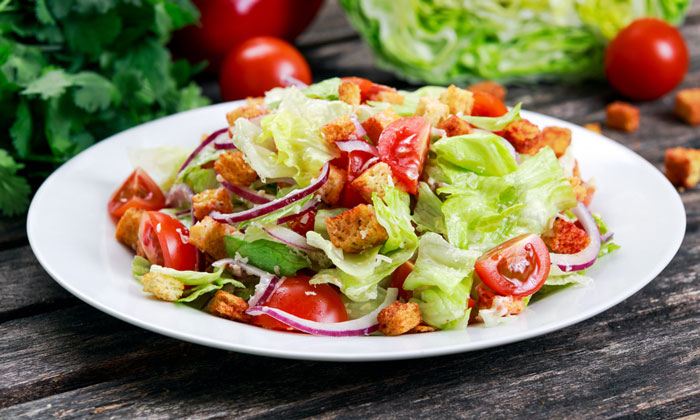 Salt levels in ready-to-eat salads bought in restaurants and fast food out lets have soared by 13 per cent in just four years.
This revelation comes out of a nationwide survey conducted by Action on Salt, a public health campaign group based at Queen Mary University of London.
More than a third (36 per cent) of the 213 restaurant, sandwich/coffee shop and fast food salads surveyed contained 2g of salt or more per salad.
The worst offender, according to Action on Salt, was Abokado's Teriyaki Chicken on Rice with Teriyaki Dressing, with 6.5g salt – more than an adult's entire daily recommended limit of salt in one salad. The dressing itself (25g) contains 4.75g of salt alone.
Pizza Express Grand Chicken Caesar Salad with Dough Sticks contains 5.3g salt per serve – more than their Classic Margherita Pizza – and McDonald's Grilled Chicken and Bacon Salad with Balsamic Style Dressing contains the same amount of salt as their Cheeseburger. Even salads deceivingly branded as 'healthy' contain high amounts of salt, such as Benugo's Supercharged Omega Salmon with 3.5g salt, over half of an adult's maximum recommended daily limit.
A full breakdown of Action on Salt's findings can be seen here.
Sarah Alderton, Nutritionist at Action on Salt, said: "Salads are typically considered to be a healthy option, but restaurants and retailers are continuing to add unnecessarily high amounts of salt and saturated fat to their salads and putting the health of their customers in jeopardy.
"We want the food industry to be transparent by displaying clear, colour-coded nutrition information on front of pack or at the point of sale, to help consumers make a more informed decision wherever they choose to eat."
Graham MacGregor, Professor of Cardiovascular Medicine at Queen Mary University of London and Chairman of Action on Salt, added: "It's shocking to see that certain restaurants and supermarkets have failed to take responsibility to reduce salt – especially after our 2014 survey exposed their dangerously salty salads. Reducing salt is the most cost-effective measure to reduce the number of people dying or suffering from strokes or heart disease. We are now calling on PHE to take immediate action."