Charity claims milk formula companies are violating aggressive marketing code
Among the accusations Save the Children has levelled at baby formula suppliers is the suggestion that some had representatives visit and give presents to doctors.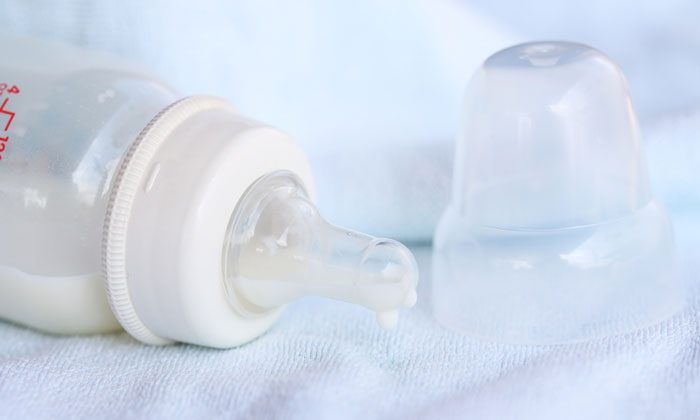 PRICE TAG: Save the Children estimate that six companies spend £5 billion on marketing infant formula every year
A major British charity has claimed milk formula companies are putting lives at risk after analysis showed just six companies spend an average of £36 per new born on marketing.
In its report Don't push it, Save the Children said Nestlé, Danone, RB (Mead Johnson), Abbott, Kraft Heinz and FrieslandCampina routinely violated a World Health Organisation (WHO) code set up to stop aggressive marketing to new mums and that parents were 'bombarded' with adverts that included false health claims. The charity also said that doctors had reported receiving gifts and incentives to promote infant formula.
The WHO code, established in the aftermath of a Nestlé boycott of the 1970s, states there should be 'no promotion to the public' of breast milk substitutes because of evidence that breastfeeding provides children with the best start in life.
Save the Children estimated 823,000 child deaths would be prevented each year if almost all babies were breastfed.
Kevin Watkins, CEO of the charity's UK arm, said: "[This] report uncovers a 'battle for baby bucks' in which companies are deliberately using aggressive marketing to create a fog of uncertainty around breastfeeding.
"This a first in the history of human evolution. Never before has the way babies and small children are nourished changed so dramatically and on such a scale.
"It's a matter of life and death – there is little doubt many babies in low and middle income settings are dying as a result. It's time the breast-milk substitute industry put babies before profit.
"With the right commitment these companies can show the leadership needed to change the industry. We are hopeful this will be the wake-up call they need to do so."
The charity said WHO code violations included:
In Bangladesh private doctors interviewed described monthly visits mostly from Nestlé representatives and reported receiving gifts and invitations to training on at least an annual basis.
In Thailand, Dumex, owned by Danone, sent mothers promotional text messages. One read "Introduce Dumex Dugrow 1 plus for child 1 year old and up… This helps your child to be strong and happy. Call to get free sample at 02-740-3400."
A 2018 study found more than 3,000 violations in Thailand, including at least one on each of the 119 BMS products assessed.
In 2015, Mead Johnson agreed to pay $12 million to settle charges that in China its subsidiary allowed the use of "off-the-books slush funds" to pay doctors and other healthcare professionals so that they would recommend their milk formula.
Also in China, Abbott markets its Similac product as benefiting brain development, growth and bone development for premature babies. This is in direct contradiction to WHO advice.
Responding to Save the Children's allegations, a spokesman for International Special Dietary Foods Industries (ISDI) said: "ISDI, the leading international expert association on special dietary foods, is aware of the report Don't push it.
"Companies producing formula and foods for infants and young children are analysing the contents of the report, and, if they deem appropriate, they will respond individually to the detailed recommendations spelled out in the report.
"ISDI would like to stress that our member associations and companies producing formula recognise
the importance of responsible marketing practices.
"When marketing follow-up formula (incl. growing-up milks) in countries where this is regulated by local legislation, our industry agrees that it needs to be ethical, unambiguous and done transparently.
"Our industry is dedicated to improving infant and child nutrition around the world. We understand
that good nutrition needs to be addressed on both a global and a local level, using a whole of society
approach.
"We welcome an open dialogue with regulatory authorities, academia and civil society to
achieve our common goal of providing optimum nutrition for infants and young children."