UK household cost-cutting led by choosing cheaper food brands
The number of Britons changing their spending habits to cut down on household expenses has hit its highest level for two years, according to Nielsen's latest Global Survey of Consumer Confidence and Spending Intentions.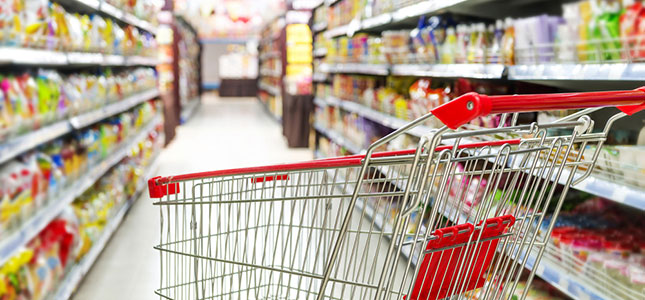 Over half of Britons (53%) admitted to taking cost-cutting measures in the second quarter of this year, the highest level since 56% did so in Q2 2015. This is in stark contrast to last year when household cost-cutting activity hit its lowest level on record (40%), two months after the Brexit vote.
 
Nearly half of Britons (45%) think the country is in a recession. Fifty-five percent of these people think it will last for at least another year.
 
"A variety of factors has contributed to people tightening their purse strings," said Steve Smith, managing director, Nielsen U.K. and Ireland. "The pound's weakness against both the dollar and the euro is finally feeding through to shop prices which means real inflation is running at over 2.5%. In turn, this remains ahead of general wage growth and consequently, real household disposable income is being squeezed."
Switching to cheaper grocery brands is now the most popular tactic for saving money (cited by 30% of Britons), followed by saving on gas and electricity bills (27%) – both of which have overtaken spending less on new clothes, which was the most popular cost-cutting tactic two years ago.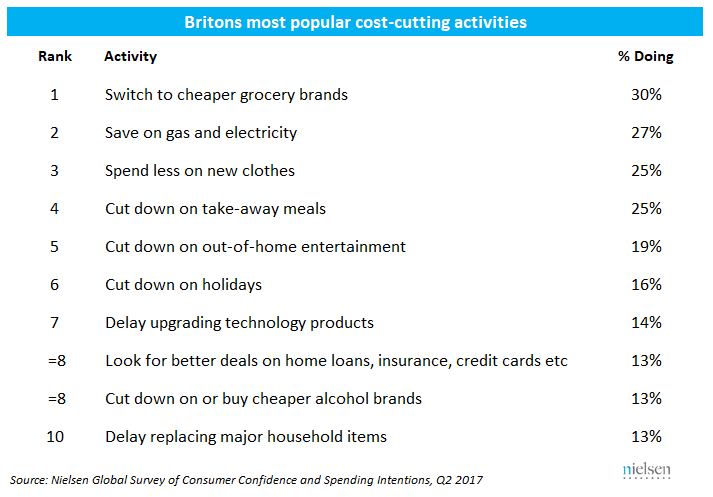 "Shopping behaviours are changing in a way that is reminiscent of the aftermath of the financial crisis in 2008/9," notes Smith.
"Shoppers are well trained to use their household grocery budgets as a way to manage overall household costs, particularly as the desire to treat themselves remains. This is shown by the fact relatively fewer people are willing to sacrifice entertainment, holidays, and takeaway meals."
 
How the UK compares
British Consumer Confidence fell seven points from 106 in the final quarter of 2016 to 99 in Q2 2017, but still remains higher than the European average of 85. Global confidence increased two points to 104. A score over 100 indicates degrees of optimism, below 100, degrees of pessimism.
 
Immediately before the Brexit vote, the UK was the second most confident country in Europe (behind Denmark), now it's the ninth.
 
The Philippines (130) has the highest score globally, Greece the lowest (52).
The scores are derived from Nielsen's study, established in 2005, which measures attitudes each quarter on topics including personal finances and job prospects among 30,000+ internet consumers in 63 countries.
Related topics
Related organisations
Related regions