FUEL10K 'Quark with Fruit' bursts into breakfast category
Insight into the launch of 'Quark with Fruit' into the breakfast category from the FUEL10K brand, owned and developed by Food & Drink specialists Fresh Marketing.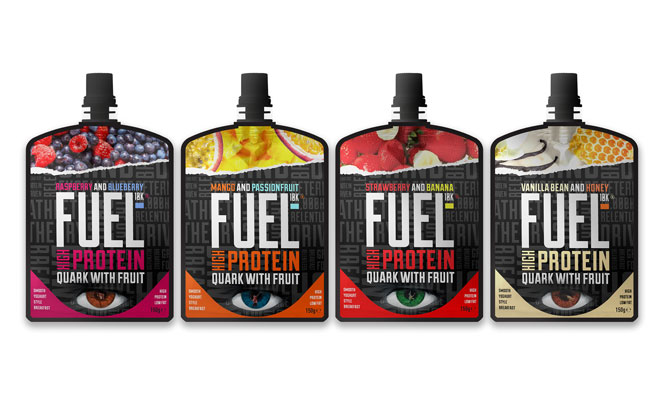 The FUEL10K brand, owned and developed by Food & Drink specialists Fresh Marketing, launches the revolutionary ambient 'Quark with Fruit' into the breakfast category.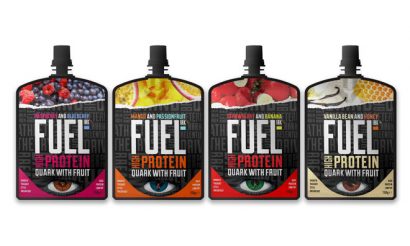 The new 'Quark with Fruit' squeezy pouches deliver delicious 'yoghurt style' high protein meals in handy resealable packs that are low in fat with no added refined sugar. 
FUEL10K 'Quark with Fruit' will launch in Sainsbury's followed by ASDA in the last quarter of 2016 with four flavours: raspberry and blueberry; mango and passion fruit; strawberry and banana; and vanilla bean and honey. The 150g pouches have a RSP of £1.49.
Co-founder of FUEL10K, Barney Mauleverer says, "FUEL10K is all about delivering fast, easy and healthy protein breakfasts that taste great. Quark has some fantastic qualities that are a perfect fit. It's an excellent source of natural protein that helps you feel fuller for longer and its low in fat. We have been working on the project for over 18 months so it is great to finally have something for both our retailers and consumers.
"The resealable pouches are great for breakfast-on-the-go making them ideal for younger shoppers who have been skipping breakfast and avoiding the cereal isles. Breakfast-on-the-go is a relatively new breakfast category that's in high growth. At FUEL10K, we now have a range of porridge pots, breakfast drinks and pouches which are bringing younger shoppers back to the category and helping to drive incremental sales.
"All of the retailers we have presented FUEL10K pouches to have been really excited about this innovation which is in response to the growing on-the-go category and consumer need for convenient breakfast solutions that don't compromise on taste or health."
An integrated marketing campaign will support the launch of FUEL10K 'Quark with Fruit' including a massive sampling exercise as part of FUEL10K's role as the Official Breakfast of Tough Mudder – the 10-12 mile 'muddy' endurance races designed to challenge the toughest of the mudders. FUEL10K Breakfasts will be on hand to encourage, fuel and draw more than 100,000 mudders into the brand at events around the country.
FUEL10K has now grown to become a full range of protein-boosted breakfast options. Alongside the new Quark with Fruit are the Liquid Breakfast drinks, Porridge Pots, Ready to eat Granolas, Wheat Biscuits and Multigrain Flakes.    
Related topics
Related organisations