Safari camp's microfactory eliminates 18,000 plastic bottles
A safari operator has taken to installing a microfactory in one of its lodges capable of producing fresh drinking water and even beer for its guests to reduce waste and transport emissions.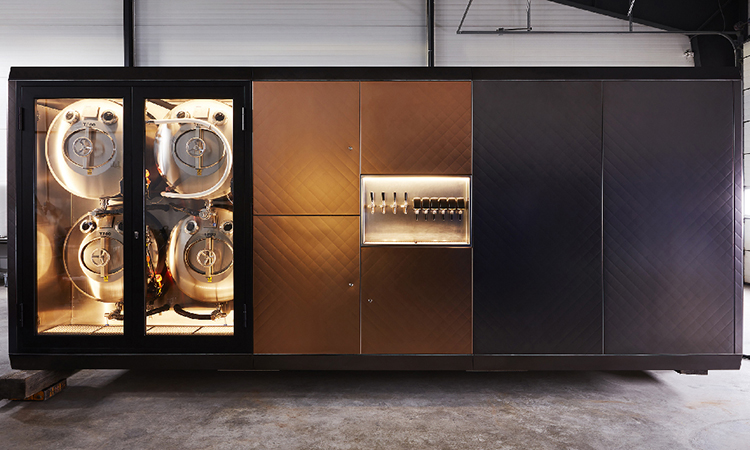 The microfactory at Sayari Camp has saved an estimated 18,000 plastic bottles in less than a year Credit: Wayout International
Swedish start-up Wayout International has developed a plug and play beverage microfactory that allows for sustainable, localised production of water and beverages. The manufacturing company says the solution reduces environmental impact by avoiding unnecessary transport and waste management.
The East African safari operator Asilia Africa has recently announced the opening of its newly reimagined lodge, Sayari Camp in the northern Serengeti (near the Kenyan/Tanzanian border). In partnership with Wayout, the camp is opening with the first-ever solar powered microbrewery in the bush.
By having its own microbrewery, Sayari Camp will now be able to produce its own beer and soft drinks, as well as purifying and producing sparkling water using renewable energy. This removes the need for bottles and cans in camp, reducing waste along with its transport carbon footprint. The brewery is already producing four unique beers to refresh safari goers once the sun goes down.
As a result, Wayout International says that in less than a year, Sayari Camp has eliminated more than 18,000 single use plastic water bottles. Guests, staff and the local community now have access to clean, locally produced drinking water.
The concept of micro-factories is simple. Instead of shipping bottles across the globe and polluting the air through fossil-fuel transportation, micro-factories allow communities, restaurants, and breweries to produce beverages and purified water in-house, reducing the need for transportation and logistics. The goal of this concept is to localise drink production everywhere, so that even communities with limited resources can produce safe drinking water, without contaminating surroundings with plastic or glass bottles.
Aside from its environmentally friendly attributes, it's hoped the microfactory model will boost profitability and efficiency as well. Monthly, the machine can hold up to 3,000 litres of brewed beverages and store up to 70,000 litres of water. Because distributors only need to purchase extracts and ingredients for the amount they use, they can tailor costs according to their enterprise's individual needs. Wayout says the microfactory "offers an exciting combination of accessibility, sustainability, and cost-effectiveness, launching the next wave of innovative manufacturing."
Related organisations
Related regions