Craft brewery embraces new identity amid sustainability efforts
BrewDog commits to sustainable beer production and sets out new course for business which balances profit with people and planet.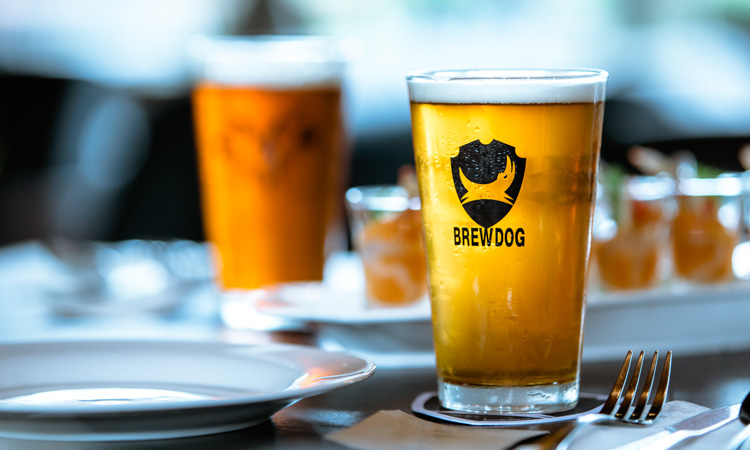 Earlier in 2020, independent craft brewer BrewDog unveiled a new visual identity, and a renewed purpose for the next chapter in its story. 'BrewDog Tomorrow' is a plan that outlines actions and BrewDog's commitment to ensuring ''we have a planet to make beer for in the future".
The brewery's business journey is said to have always gone against the grain of the traditional model. Its 'Equity for Punks' shareholder programme is a community of over 130,000 worldwide investors and recent commitments include being a Living Wage Employer, Pawternity leave and the Unicorn Fund. 
James Watt, BrewDog Co-Founder, commented: "It's been a crazy journey so far. We've made it here by shaking up brewing and crafting a community owned business that is 100 percent powered by people. This marks a new dawn, welcome to the new BrewDog." 
BrewDog Tomorrow charts a new course for business as it balances profit with people and planet. It is centred around a six-point plan:
"CANS FOR EQUITY – the brewery will invite anyone to trade in 50 empty beer cans to become a BrewDog Equity Punk, turning waste into equity
INDIE TRASH CANS – while aluminium is 100 percent recyclable, in 2018 over 45 billion cans ended up in landfill in the US alone. BrewDog is pledging an upcycling revolution; old cans from any brand will be refilled with craft beer and given a new lease of life
ONCE BEER VODKA – imperfect beer makes great vodka. Instead of wasting beer that misses their industry-leading quality standards, BrewDog will distil it and turn it into Vodka to reduce wastage
DIY DOG – the best transport miles are measured in footsteps. BrewDog is set to unveil a revolution in responsible brewing at home, encouraging everyone to "brew their own goddamn beer" with DIY Dog brewkits
BREWDOG FREEHOUSE – when BrewDog first revealed the recipes to every single one of its beers back in 2016, it marked a sea-change in how companies view their intellectual property. This spirit is set to continue, with all of the company's beer knowledge made available and opensourced
TOMORROW FUND –the BrewDog Tomorrow Fund will invest an additional £1 million a year to support research and initiatives that help the brewing industry to have a positive impact on the world as well as charitable initiatives chosen by their crewmembers and shareholders."
"BrewDog may have grown up a bit, but our underdog spirit is as alive as ever. We want to make sure that we're working to inspire a new kind of business, with sustainability at its core. Real change takes time. But just because change doesn't happen overnight, doesn't mean it can't – if not now when? BrewDog Tomorrow is our commitment to continuously raising the bar and setting a new standard for beer and business," Watt added.
Related topics
Related organisations
Related people