The importance of water quality for distilleries
Posted: 22 February 2016 | Jeff Arnett, Master Distiller, Jack Daniel's | No comments yet
The founder of the Jack Daniel Distillery, Jasper Newton 'Jack' Daniel, was known for his belief that "every day we make it, we'll make it the best we can". This tradition continues to guide the way that Jack Daniel's makes its Tennessee whiskey. Resource conservation has been part of this tradition since 1866, and Jack Daniel's has now depended on the same natural cave spring water to make Jack Daniel's for 150 years.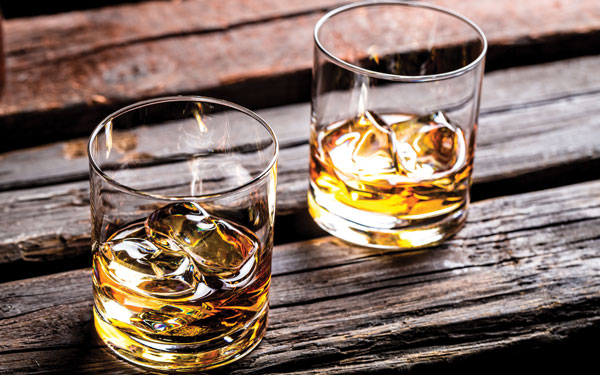 At the Jack Daniel Distillery, clean and readily available water has always been a vital ingredient of its Tennessee whiskey. As the oldest registered distillery in the United States, Jack Daniel's ensures consistent product quality by always starting with the pure, iron-free cave spring water that runs year-round at 56 degrees from the Cave Spring Hollow at the distillery in Lynchburg, Tennessee. Every drop of Jack Daniel's Tennessee whiskey is crafted using this water source before it is shipped nationwide and to more than 160 countries.
It was this mineral-rich, limestone-filtered water source that served as the primary reason why its founder initially set up his operations and why it has remained there ever since. In fact, the Cave Spring is so important to Jack Daniel's that the distillery purchased approximately 250 acres above and around the spring to protect the integrity of the water following an extensive study in the early 1980s.
Jack Daniel's and its parent company, Louisville-based BrownForman Corporation, have always had a strong interest in protecting its water quality and availability. From the farmers who grow their grain to its own production and operations to what goes into the bottle itself, water is an essential resource.
In 2012, Brown-Forman completed the CDP Water Survey for the first time, and the Company continues to pursue its goals to reduce water use as an input and wastewater generated by 30% per unit of product by 2023, both from a 2012 baseline, for all of the brands it owns including Woodford Reserve Kentucky bourbon, Finlandia vodka, Herradura tequilas, Korbel California champagne and Sonoma-Cutrer wines.
Concerning water use in its operations at its distillery facilities, the main water needs are as an ingredient in the products it makes, and for the cleaning and the cooling of the equipment. By focusing on both the quantity of water that is brought in, and the amount that is discharged as wastewater, the Company is always working to use this essential resource more efficiently.
In 2014, Brown-Forman completed a water use benchmarking assessment through the
Beverage Industry Environmental Roundtable (BIER), a global partnership of leading beverage companies. The assessment was an input to the publication of industry water efficiency metrics and provides a basis for comparison among bottlers, breweries, wineries and distilleries. While industry water efficiency improved over a five-year period, the distillery sector remained relatively flat. Distilleries require more heating and cooling processes that use more water than other beverage types. The study also factored in water scarcity, evaluating beverage production in water-stressed regions using the World Business Council for Sustainable Development's Water Tool and the World Resources Institute's Aqueduct Water Risk Atlas. Brown-Forman uses the results of the benchmarking study to evaluate its performance compared to the industry and to identify any sites that may need additional work on water efficiency.
The Jack Daniel Distillery is a leader in the way of water reduction and is one of Brown-Forman's first facilities to achieve our zero-waste goal, by identifying alternate uses for many of its waste streams, which are often a double win for its business through reduced waste management costs and new revenue streams.
Water quality and availability, unlike climate change, are local or regional issues, and must be managed according to more targeted conditions and needs. Brown-Forman is working to understand where its operations face the greatest risk of water shortages. To better understand local water risk, Brown-Forman is in the process of developing a watershed management strategy using water accounting methodologies and water risk assessment tools from non-profit organisations like the World Business Council for Sustainable Development and the World Wildlife Fund.
Most of Brown-Forman's facilities discharge wastewater to municipal treatment authorities. At three locations where they treat their own wastewater, the Company met all local water discharge quality standards in Fiscal 2014 and 2015 and ensured that the quality and the quantity of wastewater does not alter the local ecosystem.
Water reuse is one of the most effective ways for the Company to reduce the amount of water consumed and discharged as wastewater. At the Brown-Forman Distillery in Louisville, Kentucky, they have implemented a water reuse project that captures and reuses clean water from the water softener system that was previously discharged to the sewer. The Company estimates the practice will reduce annual water consumption and wastewater discharge by three to four million gallons. The Company plans to share all relevant learnings with other Brown-Forman production sites so that similar projects can be implemented elsewhere.
In addition to its water conservation efforts, Jack Daniel's sells grain and yeast by-products from the distilling process as cattle feed, and used charcoal from mellowing vats are turned into BBQ briquettes for use in homeowners' backyard grills. And while the American white oak barrels used to store and mature its Tennessee whiskey can only be used a single time, Jack Daniel's sells used barrels to other distilleries that reuse them to mature their products.
It's for all of these reasons that, even after a recent distillery expansion and gigantic growth in case volume sales, Jack Daniel's remains committed to the belief that "every day we make it, we'll make it the best we can", and that process will always begin with the pure, limestone-filtered water straight from the original source that convinced a young whisky maker to lay claim to the site more than 150 years ago.
About the author
A native of Jackson, Tenn., Arnett received a degree in industrial engineering and worked in the food and beverage manufacturing industry for 11 years before moving to Lynchburg in 2001 to begin his career at Jack Daniel's distillery as quality control and overseeing. In 2008 he became Master Distiller. His supervision of the entire whiskey-making process of milling, yeasting, fermentation, distillation, charcoal mellowing and maturation ensures the world's top-selling whiskey label is both in constant supply and true to Jack's guiding belief that "Every day we make it, we'll make it the best we can".