"Farming needs to become more fashionable"
Speaking to New Food about the best of British agriculture, Annabel Makin-Jones explains why she thinks the UK Government need to do more to educate about farming.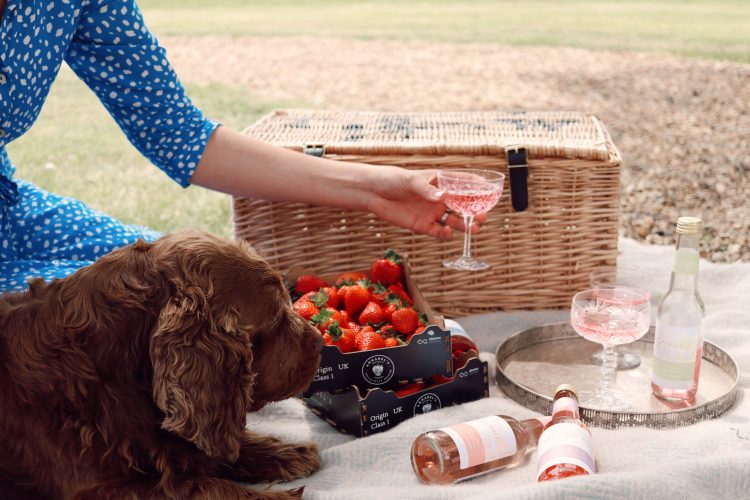 The phrase "best of British" is used often, but what does it actually mean? Well according to Annabel Makin-Jones, Founder of Annabel's Deliciously British, it's all about supporting "our own country and our own farmers".
As a fifth-generation farmer and using her knowledge of the farming industry, Makin-Jones now oversees the sustainable production of Cornish yellow daffodils, strawberries and Yorkshire Forced Rhubarb.
But what makes British produce great when it comes to agriculture? Why is it important to farm sustainably? Do changes need to be made by authorities to save the future of sustainable British farming? These are all questions that Makin-Jones had the answer to.
Keeping the farming legacy alive
Being a fifth-generation farmer isn't easy, according to Makin-Jones. "It's hard work, it's long hours, it's seven days a week," she said. 
"There's not many of the young generation that want to do it as a career, so I think it's vital that the industry and the government get behind agriculture. If we want to produce our own food in the UK and be sustainable and self-sufficient, we have to grow our own."
There are approximately 92,100 farmers working in the UK as of 2022, however, Statista has said that there were 113,200 in 2010, a decrease of around 21,100, thus suggesting that interest in pursuing a career in farming has become less popular over time.
To Makin-Jones, it is important to make sure that there are people in the next generation who want to work in the farming industry, even if, in her words, there "isn't a great big pot of gold at the end".
Currently in the UK, there are numerous universities and colleges that offer courses in agricultural farming. The Times Higher Education has said that "any courses will be closely associated with local industries, and may even maintain a micro-farm on site for students".
So with the option there to immersive themselves in farming with the reward of a qualification, why might the young generation opt out and choose a different course instead? Makin-Jones had some suggestions, including the fact farming involves "antisocial hours" and the fact its "really hard work and very cutthroat".
Turning to the positive aspects of the career, Makin-Jones claimed that it's an amazing opportunity for those with a passion for agriculture and the countryside.
"For me personally, I love everything about farming life, whether it's the job or agriculture as a whole. If the people that are making a living from the countryside aren't protecting it, then nobody will".
Suggesting that farmers should be "champions of what they do", Makin-Jones said "farming needs to become more fashionable and be more in the twenty-first century, and the next generation has the strength to do that."
Sustainable strategies
New Food previously reported that, amid the cost-of-living crisis, consumers have started to prioritise price rather than sustainability when shopping. However, Makin-Jones highlighted the benefits of buying sustainably grown items. These included the fact they let shoppers know they are environmentally friendly and reportedly also allow for better crops.
"What we say about our business is that we care as much about what we produce as what we leave behind.
"If you damage the soil, if you strip all the nutrients, you're going to be left with a farm that doesn't produce anything. You've got to take it and you've got to give back to it. You've got to nurture and look after it."
Hypothesising why some farmers might chose to farm in a way that is not sustainable, Makin-Jones suggested it all came down to generational differences.
"I think that, because farming is not very attractive to the younger generation, you have a much older set of people that are doing the job. I think there's an element of being old school and 'this is the way we've always done it'".
However, Makin-Jones also reasoned that farmers of an older generation are "not necessarily aware of the changes that are on offer". Citing seminars as an option to educate all ages of farmers, Makin-Jones thought it would be fruitful for the UK Government to offer educational opportunities to rewrite the sustainable farming narrative.
"I think support from the government, whether that's in terms of seminars or investment, [would help in] getting people interested in agriculture.  So, courses that encourage food production through manufacturing, food growing and how you can take something and create it into something else, I think that would be a real benefit to people."
Dig for victory
Telling New Food exactly why it's important for the UK to make the most of its farming land, Makin-Jones explained that "we have an amazing climate, especially when it's around 20 degrees."
With the UK having a maritime climate (mild winters, warm summers, and high total rainfall), Makin-Jones observed that, in terms of strawberries, "it allows them to ripen slowly".
"If it's really hot, [strawberries] ripen way too quickly and you actually don't get the sugars, that's why people go 'oh, that's not very sweet'. On the other hand, if it's really cloudy you don't get the sugars either because the sunlight can't get through."
Describing British farming as a "balancing act", Makin-Jones was optimistic that all her hard work will paid off, suggesting that by offering products that are farmed locally, people would hopefully commit to buying local produce too.
Next stop: The United States
Planning for the future, Makin-Jones told New Food that she hopes that Annabel's Deliciously British will expand to the US within two years, claiming "there would be a real following for it".
However, bringing things a little closer to home, Makin-Jones said that she wanted the trust and approval of British consumers.
"The most important thing to me is that British consumers recognise Annabel's brand and trusts it. It means that it's British and trustworthy and we can believe what she's saying."
Disapproving of the current food labelling system in the UK, Makin-Jones emphasised that she thinks food labels as they stand are "absolutely disgraceful" and "a huge lie".
With The New York Times reporting that lawsuits concerning 'misleading' food labels were 'surging' in 2021, and the UK Government allowing food businesses more time to comply with post-Brexit food labelling requirements in 2022, consumers may not have full faith in the transparency of the food labels that they are looking at.
"If I could get into the government lobby I absolutely would. We are lied to day in, day out and I don't want anyone to ever view me as that. I want [consumers] to say: 'We absolutely know what we get from her is what it says on the tin'."
Whether it's punnets of strawberries or jars of chutneys, it's clear that Makin-Jones is hoping to win consumers over with labelling transparency but also educate both the existing and future farming sector that sustainable strategies are crucial to a producing a good crop yield and keeping Britain farming well into the future.
Biography

Annabel Makin-Jones, founder of Annabel's Deliciously British, is a curator, innovator, and champion of exquisite produce. With a natural gift for spotting the potential of beautiful British products and, as a fifth-generation Yorkshire farmer, Annabel began growing premium strawberries with her father at their family farm whilst she was at university. Quickly establishing a reputation for excellence, Annabel began supplying the finest luxury retailers such as Harrods with her strawberries. Almost a decade later, Annabel's Deliciously British was founded, providing exquisite chutneys and preserves for those who care about taste and provenance. With an irrepressible enthusiasm, Annabel creates delicacies that celebrate and sustain the diversity of the British countryside.
Related regions
Related people