Are beverages the key to greater consumer participation in cannabis?
As cannabis becomes available to more and more people through gradual legalisation, does the beverage represent the most familiar and easiest delivery system to new consumers? New Food's Joshua Minchin finds out.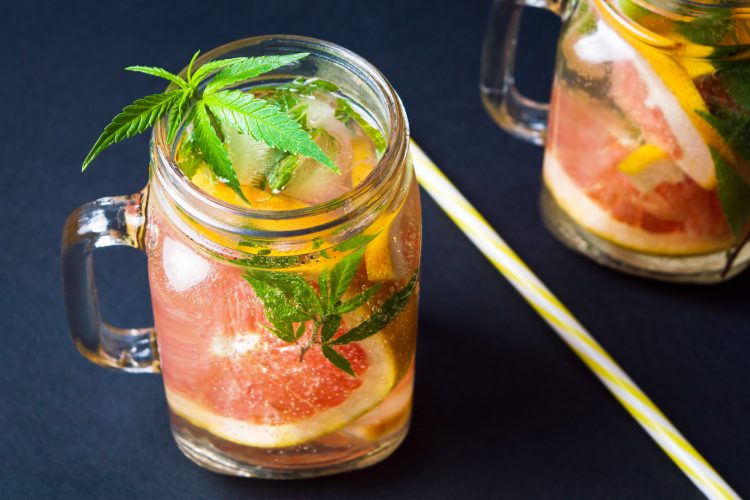 More and more US states are legalising cannabis for adult use. The direction of travel is clear on this side of the Atlantic, but even in Europe (ie, Germany), we are seeing large strides towards legal adult use.
Whilst there are many in these newly legalised markets that have been consuming cannabis illicitly for some time, like every new legal market, there are also plenty of consumers who have never experienced such things. With this in mind, for newbies, the industry can seem quite a daunting one. Wandering into a Coloradan or Californian dispensary, you are met with an incredible variety of products and strains, which without significant knowledge can be very difficult to navigate.
A familiar bridge
Enter the beverage. As Jake Bullock, CEO and Founder of Cann, revealed during his keynote speech at Cannabis Products Exchange 2022 (CPX 22), beverage is one of the fastest growing sectors within the cannabis industry. While it may not be as big a market as the flower or vape markets, it is a space within the cannabis industry that is becoming impossible to ignore.
It could yet play a bigger role still, especially when those new markets begin to come online and bring with them large populations that are perhaps not as well versed with cannabis consumption as more mature markets in California or Colorado. For those people, entering a dispensary and seeing flower and inhalables abound might well be intimidating, but, as Cresco Labs' Stephanie Gorecki put it: "Most people know how to eat and drink".
The truth is many that dip their toe into the cannabis reservoir are in fact regular consumers of alcohol – drinking a few bottles, cans or glasses during an evening is not a new delivery system for them. Microdosing (low levels of THC, under 5mg and often between 1 to 2.5mg) is not new for consumers when current recreational "drugs" are considered. Coffee, after all, is a delivery system for caffeine, just as a 330ml bottle of beer is a delivery system for 4.5 percent ABV alcohol.
That's the market Bullock is trying to reach with Cann. As he describes it, the firm's goal is not to attract cannabis smokers from their joints, but rather alcohol drinkers from their beers.
There is a growing sober-curious movement, and a significant portion of the cannabis consumer market is 'Cali-sober", ie, not alcohol drinkers but cannabis consumers. Bullock foresees a scenario in the future where cannabis-infused beverages are available at social occasions just as alcoholic drinks are. Indeed, he claims that some Los Angeles house parties already cater for this, as stated: "You'll find a cooler full of cannabis beverages".
Barriers to the market
However, the US cannabis market is bottlenecked significantly by the way in which product can be sold, ie, in dispensaries. THC beverages cannot be sold at your local Walmart or Whole Foods along with Coca-Cola, Coors Light or Nescafé. Instead, the only route to consumers is through bud tenders – the people that sell products from dispensaries. Yet there is a fear that budtenders, who are often experienced cannabis users themselves, will not give as much credence to relatively low THC products than they do to the more traditional, high dose formats, such as flower and even gummies.
Travis Tharp, CEO and President of Keef (one of the US' largest cannabis beverages by market share), recognised that. His company's ethos is to get into a new market early and be part of the conversation, no matter how turbulent the early stages may be.
Tharp also revealed that Keef made a conscious decision to stay at the 10mg THC mark, rather than delve into the microdose space like so many have. "We want to appeal to the canna-curious," Tharp said at CPX 22, "but first you have to take care of the canna-connoisseurs." It's an interesting school of thought, and perhaps it is the secret to Keef's success. In a market with just one route to consumers, you have to ensure that route (the budtenders) is open.
There are logistical hurdles that can stop beverages taking their place in the dispensary line-up too. Some state regulations make it very difficult for retailers to stock beverages. Colorado, for example, has recently passed a law requiring inventory to be locked away in a safe every night. That task is arduous enough each evening if you sell small packets of gummies and flower, but carrying cases of heavy cans to and fro each day is understandably perhaps not an attractive proposition for many budtenders. The other consideration for dispensary operators is just sheer real estate. One could argue that it's not unreasonable – when a significant majority of their clients are experienced cannabis users – that many dispensaries want to fill their stores with products that provide maximum THC per square foot.
Rapid growth and excitement
Despite the trials and tribulations, the cannabis beverage category is an exciting one to be involved in. It's one of the fastest growing sectors, with Jessica Lukas of BDSA telling the CPX22 audience that it had registered 63 percent year on year growth in 2021. That is considerable, as is the statistic that 45 percent of cannabis 'acceptors' (ie, those that consume or are open to consuming) would consider edibles as a cannabis delivery format, whereas just 23 percent would consider inhalables.
If, or even when, federal legislation comes, there will be many who will be looking for their first cannabis experience (or at least the first in a long time), and it appears that it'll be beverages that will provide the most familiar delivery system to them. Will Bullock see his vision of cannabis beverages and alcoholic drinks side by side at a function or bar? Who knows, but it is definitely a sector to keep your eye on.