How food producers can decarbonise and shorten their supply chains
Dominie Fearn, Founder of the Wild Hare Group, a sustainable food producer, looks at how food producers can decarbonise and shorten their supply chains through supporting local British farms and adopting carbon tracking technology.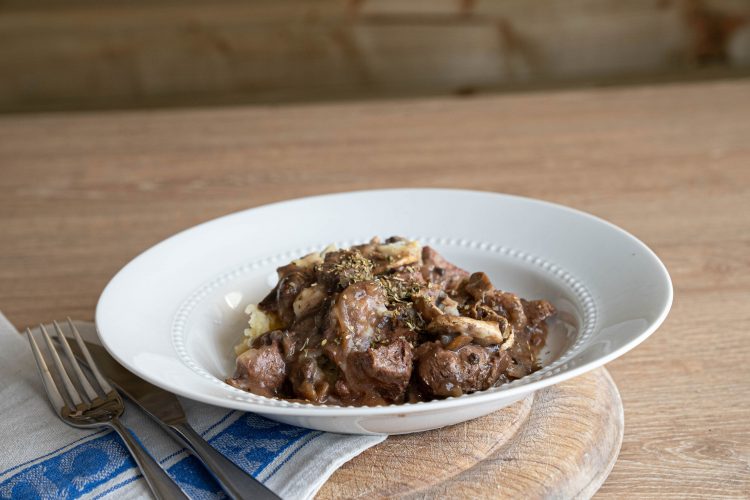 Dish from Wild Hare
In the build-up to the much-anticipated COP26 global climate summit and as the conference plays out over this week and the next (Sun, 31 Oct 2021 – Fri, 12 Nov 2021), sustainable supply chains have become a key talking point. With global powers discussing a range of initiatives designed to address the issue, it has become clear that national collaboration on climate change is essential to making significant progress. However, the key message I want to illuminate is that the carbon conscious decisions that happen at a micro-business are equally as important.
Decarbonising and shortening your supply chain is an effective way of lowering your carbon footprint and something we have worked particularly hard on at Wild Hare. Here are some of the key steps toward shortening supply chains and introducing the idea of employing carbon tracking technology to identify and offset your own emissions.
How and why you should shorten your food supply chain
Integrating British grown produce into production is a fundamental first step towards a shorter supply chain. At Wild Hare, British farms are the backbone of our business and our reasoning for this goes beyond their geographical location. We, as food producers, can help support an industry that creates more than four million jobs and contributes more than £120 billion to the UK economy. UK agriculture is also a global leader in welfare and quality standards with more than a third of growers incorporating renewable, low carbon energy into their farming practices. Supporting this forward-thinking system is a key step towards creating a sustainable UK food industry.
Shortening the supply chain serves to reduce the carbon emissions associated with how far your produce has travelled and therefore, by minimising this distance, you are actively reducing your business' carbon footprint. According to Our World in Data, supply chains account for roughly 18 percent of the total share of global greenhouse gas (GHG) emissions food is responsible for. Given that food accounts for 26 percent of all global GHG emissions, you can begin to rationalise how important it is to consider addressing the issue. Creating a strong network of local food suppliers is a key step that will underline all of your efforts to shorten the supply chain.
At Wild Hare, we are constantly communicating with local high welfare farmers and when two enterprises are working towards a common goal, there is a unique sense of community — with core values that represent a strong stance on climate change.
How to decarbonise the supply chain
As previously mentioned, the first step is to integrate domestic ingredients from British farms into your supply chain where possible. If you want to take this a step further and strive towards achieving carbon neutrality and Net Zero, then carbon tracking technology can help refine your approach and explore the minutia of production. We've partnered up with carbon tracking start-up, Reewild, and this
has been the key ingredient in seeing us achieve carbon neutrality. By outlining our carbon output, we are now in a position to offset it via an array of sustainability projects. Reewild's technology, aside from detailing our carbon output, also allows customers to instantly track, reduce and offset their individual carbon footprint. With the click of a button, Reewild's technology simply outlines itemised carbon scores throughout a product's lifecycle. This allows the customer to immediately offset their exact carbon footprint by supporting nature-based solutions, such as tree planting and restoring peatlands. Allowing this sort of interaction with customers is a great way to broaden the scope of climate education and encourage carbon conscious consumerism.
By undertaking this level of carbon analysis, brands can position themselves as an organisation that consumers can trust – with full confidence that their meal was responsibly sourced and contributing to the wider fight against climate change.
The attention of the entire world has shifted towards the climate crisis and there has never been a more appropriate time to re-evaluate your business model. Climate tracking technology is a thorough way of managing your carbon footprint and eliminates the laborious task of managing this in house. Legislation, such as the EU funded project 'Smartchain', has provided a framework for the sustainable future of food supply chains and it's now time for businesses to start actively making a difference — a message that will surely resonate at the COP26 climate summit.
Our approach at Wild Hare
Our range of ready meals is produced using high-quality, fresh, nutritious British-grown ingredients, which are all of a sustainable origin – with practically all of the ingredients traceable and transparent, and with provenance at the heart of the supply chain.
As a brand, we will always stand by our values and are strongly committed to becoming completely Net Zero. On top of this, I am determined to educate people on the importance of sustainability and hope that through a combination of public speaking and our exciting new children's range, we can encourage collective action in an industry that could make a big difference to the overall carbon footprint of the UK. 
Going forwards, we will also be working with Agreena who reward and support farmers with yearly payments for carrying out sustainable farming techniques — such as the use of herbal ley systems and flood risk programmes. The carbon certification from their regenerative farming cluster adds another layer of reward to the work we do and represents the forward-thinking approach to current climate issues, whilst also offering another benefit for carbon conscious businesses to take advantage of.
About the author
With more than 20 years' experience in sustainability, Dominie Fearn, Founder of The Wild Hare Group studied the environment at university. Writing her dissertation on the environmental impacts of plastics, she's always been a foodie with an interest in sustainability. For many years, she worked with construction businesses, managing sustainable supply chains. 
Inspired by a local farmer friend who specialises in grass-fed meat and determined to find a way to produce fresh convenience foods using nutritious, natural and fully-traceable ingredients, she set on her way to producing fresh, nutritious, sustainable ready meals – and the Wild Hare was born.
Related topics
Related regions