Kellogg's UK announces new sustainable packaging actions
Measures include a solution to allow people to recycle Pringles cans and the introduction of recycle-ready cereal pouches.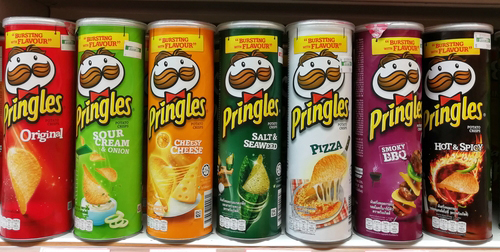 Kellogg's in the UK today (25 Oct) launched a raft of measures to help make its packaging greener, including a new sustainable packaging commitment, a new solution to allow people to recycle Pringles cans and the introduction of recycle-ready cereal pouches.
The cereal and snack giant will work towards 100 per cent of its packaging being reusable, recyclable or compostable by the end of 2025.
This goal, which is being rolled out to all Kellogg's global markets including the UK, builds on its current sustainable packaging commitment to continue to ensure 100 per cent of all timber-based packaging is either recycled or certified as sustainably sourced.
People in Britain will also now be able to recycle their Pringles' cans thanks to a new deal struck in the UK between the Kellogg's-owned crisp brand and recycling company, TerraCycle. 
From December 2018, empty Pringles cans can be sent into TerraCycle using freepost labels, with the sender rewarded with a charitable donation for each can, which can be redeemed for the school, charity or non-profit of choice. The cans are then recycled and the resulting pellets used to create new products such as benches and fence posts.
In a linked moved, Kellogg's has launched a project to change its cereal pouches to a recycle-ready material by late 2019.  This action will remove an estimated 480 tonnes of non-recyclable packaging from its British and European supply chains each year.  This development comes on the back of work the company is undertaking with suppliers to identify packaging designs that minimise waste while ensuring the quality and safety of its foods.
Kellogg's has already taken steps toward making its own facilities more sustainable.  In April, the company announced the transition to compostable and paper food service products in all its factories and offices globally by the end of 2018, fully removing all remaining single-use foam and plastic catering ware, plastic straws and plastic water bottles. 
Related organisations
Related regions