Make Sure Your Moisture Analyzer Works Correctly with Our New White Paper on Routine Testing
To conform to standards such as ISO, GLP/GMP and IFS/BRC moisture analyzers must be routinely tested to assure proper function. But which tests are necessary? And how can you be certain you are testing often enough to meet quality requirements? A new, free METTLER TOLEDO white paper can help answer these questions—and more.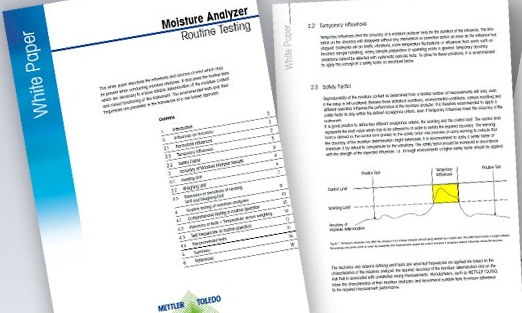 This white paper in 6 parts discusses the routine tests necessary to ensure reliable moisture content determination using your halogen moisture analyzer.
Greifensee, Switzerland—24 May, 2018—METTLER TOLEDO is pleased to present a new white paper entitled "Moisture Analyzer Routine Testing." This informative 6-part paper discusses the routine tests necessary to ensure reliable moisture content determination using a halogen moisture analyzer. The recommended tests and testing frequencies are presented in a framework that takes into account the amount of risk of the process in which the moisture analysis is being performed.
Deviations in moisture analyzer performance arise from three primary areas: the performance of the heating unit, the performance of the weighing unit, or how the sample itself has been prepared. The paper explains that temperature deviations are more likely than weighing deviations and have a bigger impact on the moisture result.
For this reason, tests of heating unit performance typically need to be performed with higher frequency. Further, the degree of possible measurement error due to temperature deviations depends on the temperature elasticity of the sample. Only by understanding this sample characteristic and other influences on moisture analyzer performance together with the related process risk and quality-control goals can a decision be made as to which tests are required and how often to perform them.
The paper also details who is involved in maintaining the accuracy of the instrument and reducing the risk of being out of specification. This includes testing by the service provider, the user and the moisture analyzer itself using built-in reference weights.
To learn more about what influences moisture analyzer accuracy and how you can eliminate the primary sources of measurement error via appropriate routine testing, download the white paper now. 
Related topics
Related organisations