Nutritionists to be unleashed on the aisles in Waitrose stores
The latest steps to boost consumer health follow the store becoming the first to ban the sale of energy drinks to under-16s, a move which was quickly replicated by many supermarkets.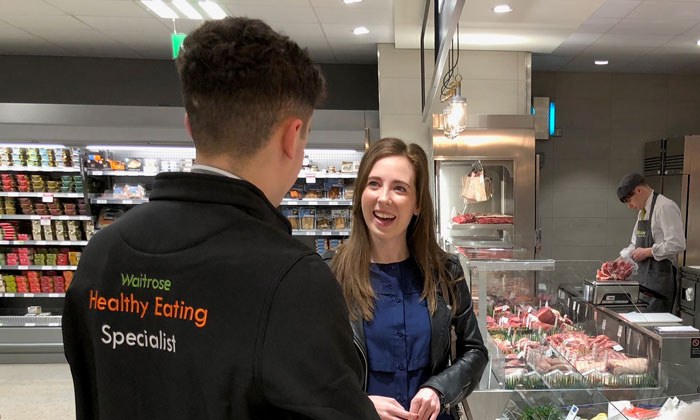 HERE TO HEALTH: The announcement was one of a series
The British supermarket chain Waitrose has announced a fleet of nutritionists will be released on its shop floors to give advice to customers.
The move, which will see 11 so-called healthy eating specialists in stores next month and a further 89 installed by the end of the year, is one of a series of steps the company is taking over the coming months. These include the launch of a new magazine 'Waitrose Health' and the extension of its personal nutrition consultations to a store outside of London, namely to Basingstoke.
Its announcement came alongside the release of the results of a consumer survey it conducted among 2,000 adults concerning their attitudes towards health and wellbeing. 
Moira Howie, Nutrition & Health Manager, Waitrose, said:  "Many shoppers have the best intentions to be healthier but busy lives get in the way. We know that small steps, top tips and nuggets of good advice can help them get started and importantly stay on track. Research shows that changes do not have to be radical to have a positive effect and can have a lasting impact on health."
Half of the survey's respondents said they didn't feel on top of their health; with a third saying they didn't have enough time to focus on their health.
Social media plays a part in our attitude towards health with almost 1 in 10 of those surveyed saying that seeing friends online being healthy motivated them to get started. For 18-24 year olds, social media's influence was higher, with almost a fifth of those surveyed saying it would kick start a new approach to health.
The research also looked at the challenges facing parents which can be the point in life where their health gradually, and often imperceptibly, drifts.
For many parents there's the drive to get healthy for their children's sake, but more than half find the pressures of juggling family life an obstacle to maintaining a healthy lifestyle.
Half of parents (49 per cent) admitted their health had drifted since having children but they plan to focus on it when the kids are older. Yet 40 per cent of parents say their children can actually help them to get healthier, for example by learning about health in school and pestering the family to make positive changes.
Many have found the key to feeling healthy is cutting themselves a bit of slack by aiming small; enjoying good food and wine in moderation; spending time outdoors; or time with those they love.
Nearly two thirds (63 per cent) of those currently feeling in good control of their health say they feel more positive when taking a long term approach to creating healthy habits.