Valentine's Day meal deals aren't good for the heart says survey
Many Valentine's Day meal deals exceed recommended daily amounts of salt, sugar and saturated fat according to a survey conducted by a public health campaign group.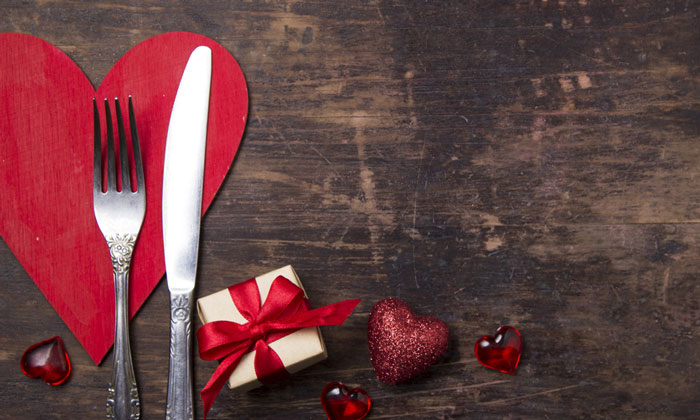 CANDLE-LIT DINNER: The survey found there were healthier options across the retailers
It may put a damper on an otherwise perfectly romantic evening, but a new survey shows that Valentine's Day meal deals are no good for the heart.
The work by Consensus Action on Salt and Health (CASH) based at the Wolfson Institute, Barts & The London, Queen Mary University of London, has revealed the amounts of salt, sugar and saturated fat (saturates) found in the majority of meal deal combinations.
From the Valentine's meal deals surveyed, the saltiest meal deal combination is from Marks & Spencer, offering customers a starter, main, side dish and dessert for two, including a bottle of wine/sparkling wine and a box of chocolates.
Opting for their Italian Antipasto Delicatessen Selection, Gastropub Gammon Shanks with a Rich Orange & Cranberry Sauce, Truffled Cauliflower Cheese and Dutch Apple Tarts would provide a shocking 7.16g salt per person – more than an adult's daily maximum recommended intake for salt in just one meal. 
The meal would also provide you with 23.9g saturates – 120 per cent daily maximum recommended intake – and more than 10 tsp of sugar (41.9g).
CASH said swapping to lower salt options in the deal at Marks & Spencer could not only cut salt content by 78 per cent (7.16g vs. 1.6g per person), but also calorie intake, sugars and saturates.
Other meal deal combinations to raise your blood pressure include:
Waitrose Scottish Cooked Mussels in a Bisque Sauce, Easy to Cook Coq au Vin, Cauliflower Cheese and a Salted Caramel & Chocolate Tart – 998kcal, 23.5g saturates (118 per cent daily maximum recommended intake), 33.2g sugars ( i.e.8tsp) and 5.49g salt per person (92 per cent of an adults maximum recommended intake); more salt than 8 servings of McDonald's medium fries.
Morrisons Champagne & Scottish Hot Smoked Salmon Risotto, Salmon, Smoked Haddock & King Prawn Fish Pie, The Best Maris Piper Chunky Chips and Belgian Chocolate & Blood Orange Tarts – 1600kcal, 34.4g saturates (172 per cent daily maximum recommended intake), 41.8g sugars (i.e. 10tsp) and 5.45g salt (91 per cent of an adults' maximum recommended intake); more salt than 15 bags of Walkers Ready Salted Crisps.
ASDA Extra Special Cornish Camembert with a Sloe Gin & Cranberry Dip, Extra Special Slow-cooked Pork and Chorizo Stew, Extra Special Garlic & Herb Creamy Mash, Extra Special Broccoli & Cauliflower Cheese and Extra Special Red Velvet Melting Puddings – 1552kcal, 37.6g saturates (nearly twice an adults maximum recommended intake), 53.8g sugars (over 13 tsp) and 5.24g of salt (87 per cent of an adults' maximum recommended intake); more salt than two store bought Pizza Express Margherita Pizza.
The findings reveal that there are some healthier meal deal combinations available across all retailers, providing customers with significantly fewer calories, saturates, sugars and salt. Unfortunately, most retailers completely fail to promote healthier choices to their customers. Of the retailers surveyed, only Marks & Spencer, Iceland, The Co-operative and Waitrose provided a small choice of unprocessed fruit and vegetables as a side dish/dessert option as part of the meal deal.  
Sarah Alderton, Assistant Nutritionist at CASH said: "Valentines is a special occasion and therefore it is no surprise that the meals offered in these 'dine-in' deals are of a more indulgent nature.
"However, our survey has shown that you could easily reach your daily calorie intake and consume way over the maximum recommended daily amount of salt, saturates and/or sugar in just one meal, so choose wisely.
"Healthier combinations are available; we found those that were lower in salt were also typically lower in calories, saturates and sugar too, so it pays to read the label and compare the different options available".
Graham MacGregor, Professor of Cardiovascular Medicine at Queen Mary University of London and Chairman of CASH, added: "Salt is the forgotten killer as it puts up our blood pressure, leading to tens of thousands of unnecessary strokes, heart failure and heart attacks every year.
"Reducing salt is the most cost effective measure to reduce the number of people dying or suffering. The UK was leading the world in reducing salt intake, however the current Government has done little so far to continue to reduce salt. The Government now needs to come up with a new robust plan that slowly reduces the salt content of all foods and stop the food industry from promoting unhealthy products and causing thousands of unnecessary deaths".
Related organisations
Related regions
Related people