A fine year: Top eight trends for wine in 2018
Go big and don't write off prosecco just yet – a list of the top eight up and coming trends from one of the UK's foremost wine sellers.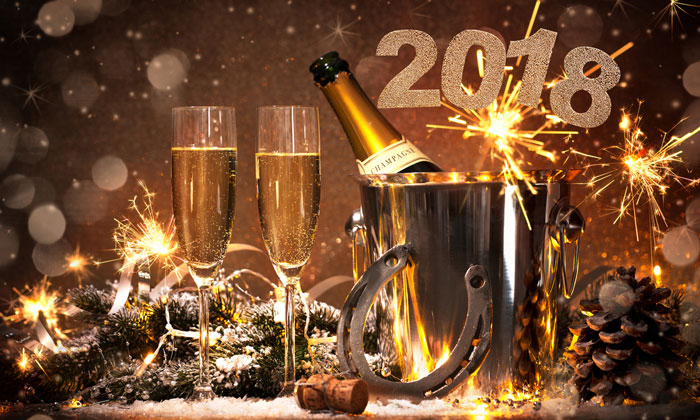 AULD LANG WINE: Weather has played its part in next year's food trends
With the new year fast approaching, food and drink retailers are on the lookout for the next trend to climb aboard. British wine seller Majestic Wine has put together a list of eight trends to keep an eye on when stocking shelves in 2018.
Bigger = better
Magnums are big news. In 2017 already, we've seen a 378 per cent increase in year-on-year sales of super-sized bottles under £20. Rosés and house reds in 1.5 litre measures are proving particularly popular for weddings and parties, where a big celebration warrants big bottles.
Wines in magnums also take longer to reach their optimum drinking age, this adds to the intensity, making them the connoisseur's choice for premium wines. So expect BIG things for 2018. "It's is all about socialising around a bottle," explained Richard Weaver, Buying Director at Majestic.
"Magnums create brilliant centrepieces for dinner parties and events – particularly if you're cutting back on your eating-out spend."
El Niño hits South American wines
Abnormal weather in South America has resulted in low yields that have dismayed winemakers on both sides of the Andes, so Chile and Argentina may no longer be safe bets for wines at the £6 or under price point. In the immediate future, the emphasis for these regions is likely to shift from quantity to quality.
Eastern Europe makes a brilliant bet to beat harvest blues
Eastern European wines have been steady ships on the choppy waters of dismal European harvests and Brexit-related supply blues. Sales were up +1365 per cent year-on-year in the £5 – £10 price band at Majestic in 2017. Initial reports suggest Hungary's harvest is down only 3 per cent (compared to an EU-wide average drop of 14 per cent), whilst Romania is looking at a 60 per cent harvest increase. Your mid-week bottle may increasingly originate from Hungary's Central Valley – rather than Chile's.
Beyond the pale
It may well be time for pale ale, the star of the craft beer movement, to leave the limelight – according to Majestic. A recent survey of buying habits across all of Majestic's 210 stores suggests customers are increasingly interested in local red ales or stouts, with only 8 per cent choosing pale as their beer of choice.
Prosecco isn't going anywhere… yet
Sales of this light sparkling style is still booming despite warnings from dentists that the bubbles and sweetness can be a challenge for teeth. However, with another difficult harvest in Northern Italy (where some yields are down as much as 30 per cent), sparkling wines from Sicily or Central Italy will be good value alternatives to stave off price increase pains and bring some sparkle back to your wine bill.
Forget gin, Brits are favouring a new tipple for 2018
Majestic have recorded a 25 per cent increase year-on-year in sales of sherry in 2017.  What used to be Granny's favourite has dropped its age appeal by 50 years, with it being entirely acceptable for those in their 20s and 30s to be seen with a sherry glass in hand.  And it's not just sherry that's undergoing a renaissance. Other fortified friends are making a comeback with port sales seeing an 18 per cent volume increase in 2017 and the unsung Madeira currently up 224 per cent, versus the same period in 2016.
The craft whisky scene is about to discover brandy
Brandy looks set to be the next spirit to receive the 'craft' treatment, following in the footsteps of whisk(e)y. Iconic brandy branding, a focus on provenance and increasing appearances in the ingredients lists of top cocktail experts has led to a new experimental take on the spirit. Majestic points to Armagnac as heir-apparent to flashy whisky brands. Try it in cocktails.
Honey gin
Experimenting with different botanicals and flavours has made gin the success story of 2017, with sales up 110% vs last year at Majestic with over 120 new lines added throughout the year. Some may feel that gin hype is a load of rhubarb – but rhubarb itself has been key in driving the trend, with rhubarb gin sales up 170 per cent year to date. Expect more flavours in 2018, like the newly launched honey gin, which is set to hit the shelves in the New Year.
Related organisations
Related regions
Related people