GEA supplies lights-out packing for 200 micron powder in South-East Asia
GEA has once again supplied its limited intervention powder filling system, RBF-500 Li, to a specialist powdered product application.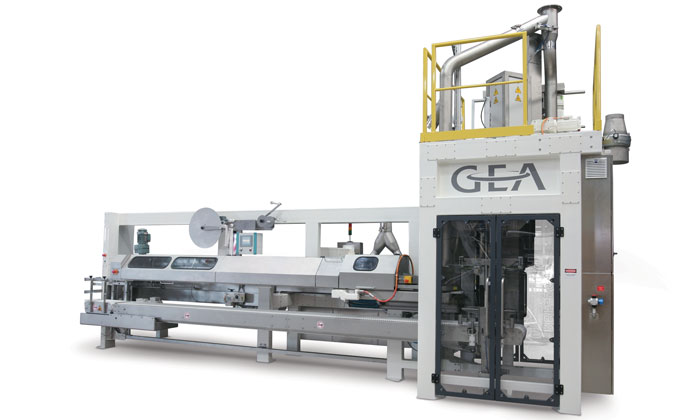 The system provides lights-out packing for a 200 micron powder, thereby reducing the opportunity for human error during packing, protecting the plant operators  and providing the dust control and accuracy required by the company.
The customer, based in South-East Asia, was looking for a highly accurate solution for its product. The powder has a micro-particle size and, in its bulk form, must be handled carefully to avoid creating dust that is both wasteful and which could contaminate the working environment. Although the customer already has a number of packing lines, none can match the accuracy, consistency and dust control features of the GEA RBF-500 Li.
As a result of the ever increasing market for the product, and the requirement to continue to protect the environment by minimising power losses, the customer selected the 500 Li unit as the only solution suitable for this application.
Eliminating dust migration, improving product safety
The GEA RBF-500 Li is a compact, single-head, lights-out filling machine that delivers benefits from improved reliability and absolute product integrity. It brings together the separate elements of the filling line into a single machine. The design offers complete control of the bags throughout the process and includes a de-aeration station for improved bag stability and automated neck stretching, heat sealing and weight checking. It has a fully enclosed filling area that eliminates dust migration and eliminates the risk of product contamination. The weight data from the check-weigher is used to auto-tune the filling process and maintain the filling accuracy. Its automatic, 'lights-out' operation provides exceptional productivity and aims to reduce human intervention, and therefore the risk of contamination and human error, to an absolute minimum.
The GEA system uses a vertical filling technique in which the filling head is lowered into the bag and withdrawn as the bag fills. This discharges the powder into the bag carefully, thereby significantly reducing the creation of dust that would otherwise contaminate the working area and waste valuable product. Before sealing, the system removed excess air from the package to minimise the packed volume and ensure product freshness. Bags are filled with a guaranteed accuracy of up +/- 10 to 20 grams at 1 Sigma depending on the product being filled.
Derek Williams is the GEA sales manager in Singapore who has been working on the project from the start. "The material is extremely dusty so our bottom-up filling system works much better than ordinary horizontal systems as the powder doesn't fall into the bag, it's placed there," he said. "Our machine is also capable of reliably and consistently meeting the customer's accuracy specification which has not proved possible on any other machine."
Related topics
Related organisations