Exporting canned drinks in 2017
Post-­Brexit, it has been argued that there has never been a better time for British businesses to explore new markets and export their products.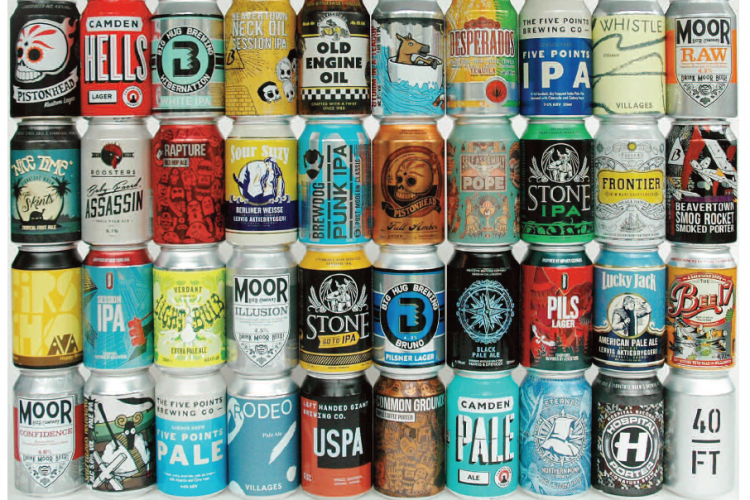 Brand Britain is currently worth almost £1.5 trillion, with the UK shipping goods in excess of £300bn across the globe annually.
In total, Britain exported £18bn of food and drink products in 2015. The Government wants to increase that figure by £2.9bn by 2020, with the aim that 75% of this would be to countries outside the EU. In its UK Food and Drink International Plan 2016­-20 the Government states its plans to work with the industry to deliver a boost to the export market. British brands will be supported through trade and 'cultural activity' to promote UK food and drink, and open new and build existing markets.
In this paper, the Can Makers takes a closer look at the trends driving the UK export industry, expressly relating to canned drinks, heading further into 2017 as well as the opportunities offered by export. 
Market trends
With regards to trends in the wider food and beverage market, the sector contributes £26.9bn to the UK economy and employs 850,000 people. According to the Food and Drink Federation, in Q3 2016 exports of food and non­-alcoholic drink reached £3.4bn, up 12.1% on 2015, while total year-­to-­date exports increased 10.2% to £10.1bn against the same period in 2015.
The data tells a positive story, one in which food and drink brands in the UK, encouraged to export, are experiencing significant success. Certainly soft drink brands have seen an upturn. A weakened, post-­Brexit pound has driven UK soft drinks exports in the second half of the year, after first-­half sales soared by 13%. In fact, the Food & Drink Federation says soft drinks alone hit £200.4m in overseas sales during this time, while volumes increased 3%.
Turning to alcohol exports, data sourced from HRMC by the British Beer & Pub Association showed a total of 4,495,954hl of beer exported between January and September 2016, up 512,743hl since the equivalent period in 2014. Cans made up a significant 53% of the export volume, an increase on the 51% they represented in 2011.
In the last two years, sales from craft breweries have been booming as increasing international demand for craft products has coincided with a growing thirst for British beer. More than 220 million pints of ale, including from Yorkshire's Ilkley Brewery and Aberdeenshire's Brew Dog, were shipped to the States in 2015 worth a record £164 million. That's up 35% since the year before. No doubt the figures will show another increase when 2016 figures are revealed.
In the craft segment, British brands are also expected to see domestic competition ease as foreign competitors, affected by weakness in the pound and the long­-term threat of trade barriers, reduce exports into the UK. And, while a number of associations already exist to support brands with exporting, we have seen craft associations launch their own schemes. The Society of Independent Brewers (SIBA) launched its Export Club to help members send their drinks across the world; the club promises to open doors for independent breweries to sell the 'best beer in the world' outside the UK.
Opportunities offered by exporting
The UK craft drink sector, alcohol and soft drinks, has seen significant growth since 2014. The number of small breweries, for example, has risen from 1400 to 1700 during the last two years. That's more breweries per capita than any other country in the world, and is a figure still increasing by approx 10% per year. With more than 500 new breweries launched in the UK in 2016 alone, there is a risk that the UK market will reach a saturation point. That is, unless breweries look to other export markets.
Also in this time, the number of craft brands in a canned format has gone from a few, to a few hundred. The can is the ideal pack for any drink brand that exports its product. Cans are lightweight, easily stacked and take up less space than bottles. This provides storage and shipping efficiencies and limits overall transportation carbon emissions through logistics and supply chains.
Cans have an unparalleled safety record. Sturdy and unlikely to suffer breakages, their tamper­resistant and tamper­evident packaging provides consumers with peace of mind that their products have been safely prepared and delivered.
Naturally, having more drink producers in the UK is leading to greater domestic competition. Export is therefore a logical and natural next step for many to take. According to UK Trade & Investment (UKTI), companies that export see a 34% increase in productivity within their first year of exporting and are 11% more likely to survive if doing business overseas. By expanding the scope of their market, brands are less dependent on any one single territory and can minimise the sale fluctuations that occur naturally in combination with changing seasons, weather and events.
Success in exporting can also lead to opportunities for brand expansion. Research by UKTI shows that, since exporting, 59% of companies either develop a new product or service, or modify an existing one. Interestingly, it has been seen that firms that export are more likely to experience higher productivity in the workforce, alongside stronger financial performance.