How restaurants can improve profits with correct food temperature control
Proper temperature control is essential for restaurants looking to improve safety scores say Testo a leading specialist on HACCP (Hazard Analysis and Critical Control Points)…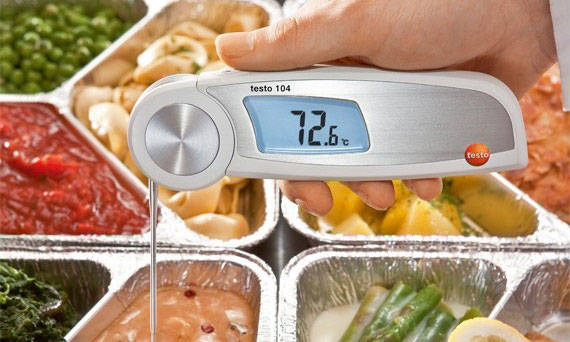 A closer look at… GBBO The Final: Candice takes the crown
Testo, a leading specialist on HACCP (Hazard Analysis and Critical Control Points) and food safety consider how efficient temperature control can provide food-serving institutions with financial benefits and consumer satisfaction.
When it comes to restaurants and cafes, there are many factors that determine just how successful they will be. Having delicious food, great customer service and a pleasant atmosphere are certainly important, but those factors aren't necessarily plain to see for potential first-time customers. As the number of options increases, people are becoming more and more reliant on rankings and statistics when making their lunch and dinner choices.
Apart from a glance at its initial aesthetic look, when people first walk up to a restaurant, there are typically two things they consider before making a decision about whether or not to ask for a table: the menu and the health inspection rating. While it is fundamentally up to the restaurant to market its appetisers and entrées as delicious, a HACCP-certified digital thermometer and temperature data logger can play a key role in earning top marks from health inspectors.
Why the grades matter
It should come as no surprise that diners expect their preferred restaurants to maintain optimal procedures for food safety, cleanliness and hygiene. In many cases, a customer's perception about the cleanliness of a dining establishment is through their own experiences and word of mouth. That is starting to change however, due to the increased awareness of the newly-savvy customer as well as greater transparency in health and safety inspections.
Initiatives around the world and in the UK are putting restaurant and cafe grades out front for increased consumer visibility. Restaurants are encouraged to prominently display the results of their health and food safety inspections. While this is not obligatory in the UK it is compulsory in some areas, for instance in Wales any business that has received a new rating after November 2013, must by law, display a sticker showing their rating in a visible place to "all entrances to the premises". 
Proper temperature control is essential for restaurants looking to improve safety scores
By openly posting results, it is widely considered that restaurants and cafes with high grades are perceived as more reliable and will therefore likely see an increase in their number of customers.
The UK Food Standards Agency for instance, states on its website: "Putting a hygiene rating on show is a good advertisement for businesses that meet the requirements of food hygiene law. A good food hygiene rating is good for business."
Another major example is a study conducted on restaurants in Los Angeles, which provided some compelling evidence to support this claim. Professor Phillip Leslie, an economist at Stanford University, examined the relationship between revenue and health inspection grades – which must be publicly displayed – in Los Angeles restaurants.
The findings, as reported by The Economist, showed that the displayed grades certainly affected where diners chose to order their meals – restaurants with a C grade saw a 1 per cent decrease in revenue, while those with a B and A saw increases of 0.7 and 5.7 per cent, respectively. The 5 per cent jump in revenue increases between B-rated and A-rated restaurants crucially demonstrates that scores do carry weight with consumers. This is therefore proving to have a real impact on the financial success of different eateries.
How can restaurants increase their scores?
Overall cleanliness and safe food handling and storage procedures are vital areas of focus for any restaurant. Common issues within restaurants include:
A lack of adequate cover for stored food.
Hand-washing areas that are not up to standards.
Issues with pests.
Unclean food equipment and preparing locations.
Ensuring that food is kept at proper temperatures.
 
How can companies such as Testo help?
Proper temperature management is hugely important for all businesses in the food industry. Careful monitoring of temperatures in many areas around the kitchen, cool rooms and fridges is absolutely essential for food safety. Temperature control systems like the Testo's Saveris 2 WiFi data loggers can make those tasks stress-free for any establishment.
The Testo Saveris 2 system allows for careful monitoring of temperatures by connecting data loggers through a secure cloud storage system. For added convenience, this data can be accessed from anywhere in the world from a PC, tablet or smartphone.
The stats really do show just how important food safety is for the consumer and temperature control correspondingly remains a decisive factor in is assurance.