Planet Hemp range launched by Hempco Superfoods
Posted: 13 May 2016 | Victoria White, Digital Content Producer | 1 comment
Hempco Canada Superfoods has launched a new range of hemp oil, seeds, superfoods, supergreens and snacks under its first consumer facing brand, Planet Hemp.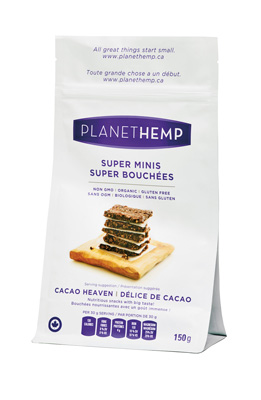 Hempco is a sector leader and key innovator facilitating Canada's entire hemp seed trade. It has successfully launched a number of world first products including; hemp protein powder, filtered hemp seed oil, hemp Milk, hemp Ice Cream and hemp yoghurt. Hempco use a unique five stage clean-up process (vs two stage industry standard) to remove the majority of the seed shell or husk; this delivers a much better flavour profile for both the seed itself and all products manufactured from it.
The new range includes:
Hemp Protein Superfood. Planet Hemp's Protein Superfood is boosted with alfafa and is available in three flavour varieties; Original, Maple Cinnamon, and Vanilla Chai
Shelled Hemp Seed. This shelled hemp seed is certified organic and grown at a 'state-of-the-art' processing facility
Hemp Oil. Planet Hemp's Hemp Oil is cold pressed and filtered, ensuring no additives contaminate the product or goodness is depleted from the hemp seed itself
Hemp Snacks. Planet Hemp's Super Mini Bouchées are little snacks designed for healthy indulgence.
Supergreens. Packed full of hemp, spirulina, barleygrass, wheatgrass, alfafa, chlorella, and cinnamon.
The Planet Hemp range is presented in clean and distinctive packaging, designed to reflect the natural, organic and environmentally-friendly values of the business and products. Hemp seed production is itself carbon-negative, as it absorbs more carbon from the atmosphere whilst growing than all of the equipment used to harvest, process and transport it.
Hemp is one of the best plant-based protein available, containing 37g of protein per 100g. Tony Reeves, Managing Director of HempCo Europe, commented on how this and hemp's sustainability will appeal to consumers in the UK: "One of the goals of HempCo is to reduce the amount of animal products we consume as humans. 15% of all greenhouse gases are currently created by meat production – more than cars, trains, planes and ships combined. The public are increasingly in-tune with this message; the rise of flexitarians in the UK and the fact that 12% of the British population, the highest ever, follows a vegetarian or vegan diet is testament to this fact. It is with this in mind that we are so passionate about making environmentally-friendly hemp products available to UK consumers who are concerned with reducing their impact on the planet and the amount of meat they eat."
Related topics
Related organisations